The Chapel of Mary Magdalene at the Bargello Museum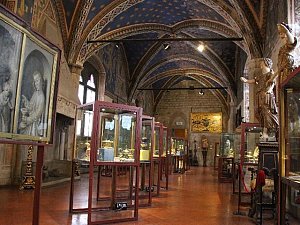 The Museum of the Bargello contains now priceless statues, but once it was the prison of the city of Florence. The rooms where today you can admire works by Michelangelo and Donatello were then used as cells. From here sentenced prisoners left to the higher penalty, the death penalty. Among the various rooms that make up the museum there is also a chapel on the first floor, called the Chapel of Mary Magdalene.
The Chapel was built after 1280 and housed prisoners on death row in their last night in prayer before being taken to the gallows. From here they departed in the morning on their way accompanied by the "Battuti de' Neri", that were part of the Society of Saint Mary of the Cross from the Temple.
The frescoes decorating the chapel, dating from 1340 and attributed to the school of Giotto, well reflect its function. They show in fact mostly stories of penitents and redeemed sinners. As the stories of St. Mary of Egypt, St. Mary Magdalene and St. John the Baptist painted on the side walls. On the wall at the entrance it is represented the Hell, while on the bottom we find the Paradise, that counts among its elected also the Florentine poet, Dante Alighieri, represented with his Comedy in hand. Finally, on the back wall there are two frescoes of the late XV century depicting the Madonna and Child by Sebastiano Mainardi and San Girolamo penitent by Bartolomeo di Giovanni.
The environment was subsequently divided into two floors, one to house those sentenced to death and the other used as a pantry. Only in the mid XIX century the chapel was restored and adding the choir and the lectern of Bernardino della Cecca coming from San Miniato al Monte. On the althar it was placed the triptych by Giovanni di Francesco and in the windows were exposed pieces of sacred gold. All of them are admirable even today during the visit at the museum.