The Drunken Bacchus at the Bargello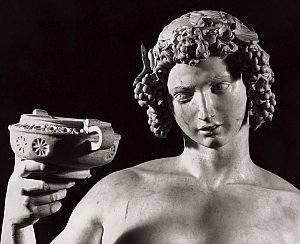 The Drunken Bacchus, at the Museo del Bargello, is the most mysterious and debated work by Michelangelo. The statue was requested by Cardinal Raffaele Riario around 1496, after the scam of the Sleeping Cupid, that had been passed off as an archaeological excavation. Discovering the prank, the cardinal wanted to trace the author of a so beautifully forged piece, thus he came to Michelangelo and commissioned him a statue with an ancient style, a Bacchus.
Michelangelo started immediately to work and completed the statue in a year, ending in July 1497. The artist created a complete work, slightly larger to natural measures and demonstrated a quick assimilation of classical statuary style, such as anatomy, classical harmony and balance.
However, no one knows why, the work was rejected by the Cardinal, and was instead bought by Jacopo Galli, who placed it in his backyard. Subsequently, in 1571 it was purchased by Francesco I de' Medici, was then transported to Florence and destined to the grand ducal collections in the Uffizi and then in the Bargello in 1865 when all the sculpture collections were moved here.
The statue evokes the pagan myth of Bacchus, represented as a "drunk young god", that stagger holding a cup while behind him a little satyr, sitting on a log, cunningly take advantage of his status to taste the grapes that he holds in the left. In this way the work articulates a complex spatial relationship between the god of wine and his little companion, producing a dynamic effect, giving a sense of swing and instability that suggests typical movement of drunk people.