Villa San Michele in Fiesole, the most beautiful hotel in the world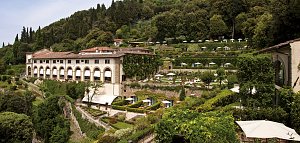 Villa San Michele in Fiesole, a five-star luxury hotel, has always been considered as one of the best hotels in Florence and also one of the most romantic places in the world. Now, however, we can safely say that this hotel is even the most beautiful in the world.
The ancient hotel in Fiesole in fact has been recently awarded in Madrid from Conde' Nast Traveler Spain as the best out of town hotel in the world. The magazine, specialized in travel, has collected questionnaires from all hotels in the world and Villa San Michele was the winner of more than sixty thousand readers, reported, just as the best by its customers.
Already last year the hotel had been reported by the same magazine as the number one in Europe, and it was already a beautiful goal. After all, how can we deny the extraordinary beauty of this place? From the top of the hill of Fiesole, in a panoramic position, this former monastery, surrounded by terraced gardens, overlooks the entire city of Florence and the Arno Valley.
The facade of the building dates back to the fifteenth century and is attributed to none other than one of the greatest exponents of the Italian Renaissance, Michelangelo. The perfection of the forms of the Renaissance can be felt everywhere in the building, in architectural details that have been preserved intact. Such as the small and sturdy wooden doors with metal locks in the monks' cells. Once decidedly spartan, these cells have now been transformed into luxurious rooms, equipped with all modern facilities and decorated with furniture and antique details.
Among the suite, the Michelangelo, which extends along the front of the villa enjoying a truly breathtaking view of Florence and the countryside, was even chosen by Napoleon as his headquarters.
Here, surrounded by the Tuscan countryside, peace reigns supreme. You can relax in the pool or stroll outside among the scents of lemons and roses in the Italian garden. Those who are fond of cooking and gastronomy can take cooking courses taught by renowned and famous chefs.
At the hotel's restaurant, La Loggia, you can taste the best dishes of Tuscan cuisine. In summer months, you can also dine in the open air in the cloister of the old monastery, which offers a magnificent panorama.
This hotel is a nice luxury that certainly not everyone can afford, but for those who can, it will definitely be an unforgettable experience. At best, you can always enjoy a cool cocktail at the bar with views of Florence.