Van Gogh and his farmers on display in Milan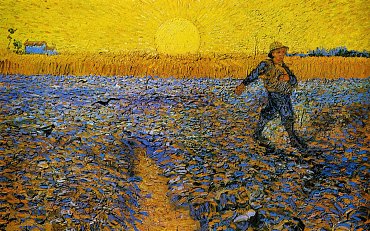 Until March 8 at the Palazzo Reale in Milan there's a show not to be missed. "Van Gogh. The man and the earth" is an exhibition that presents a completely new interpretation of the works by Van Gogh, focusing on issues related to Expo 2015, then the earth and its fruits, rural life, the cycle of seasons marked by the activity of plowing, sowing and harvesting.
In the era of the European industrialization, the late XIX century, when almost all the artists turned their interest to the urban landscape, the attention of Van Gogh was focused instead on the rural landscape, the rural world, the life and the duties of the rural tradition in a perspective that considered land workers as glorious and heroic figures. From the first drawings made in the Netherlands, the encounter with Impressionism and Neo-Impressionism, until the last years in Arles, he expresses in fact a deep affinity and empathy in respect of the humble and their dignified demeanor.
Through more than 50 works, including famous works and others that have never been exhibited before, the visitor is led to a path that make him understand and explore the relationship between man and nature, effort and beauty. While letters to his brother Theo recount the highlights of his life and the genesis of his works.
Following the theme that gives the show its title, "The man and the earth", the exhibition explores in depth the history of the painter and brings out the darker side of the artist in a setting that can be called "crepuscular."
The exhibition is divided into six sections: The man and the earth, Life in fields, The modern portrait, Still lives, The letters, Color and life. The corpus of the exhibition consists of works from the Kröller-Müller Museum in Otterlo including The self-portrait of 1887, the Portrait of Joseph Roulin, 1889, View of Saintes Marie de la Mer, 1888, the Head of fisherman (1883) and Weed burner, sitting on a wheelbarrow with his wife of 1883. But also Landscape with wheat sheaves and rising moon, Portrait of Joseph Roulin, Still Life with a plate of onions.