The winter charm in Rome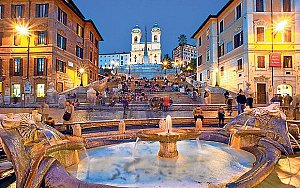 Most tourists visit Rome in summer, schools are closed and even some offices, so you can take your time to visit a foreign city in July and August. Actually, however, it is true that Rome is always an extraordinary city, but in winter it has a special charm, which remains hidden to most tourists.
First of all during winter temperatures in the Eternal City remain relatively mild, so it can be really pleasant to walk around the city and discover its archaeological sites; activities that become really difficult under a blazing sun and with 40°C in July and August. Another considerable advantage is the price of hotels, hostels, B & B, which, given the low season, in this period are much lower.
Furthermore in summer the Roman life flows quite differently. The city is mostly in the hands of tourists, while the real Romans move to the sea for the holidays. This is another advantage of winter: to fully experience the city in his everyday life and discover his true soul and peculiarities.
Book a hotel or rent an apartment in the historic center of Rome and enjoy the Roman life: breakfast with croissant and cappuccino, the morning market, lunch at the tavern, and all the artistic and monumental beauties of the city in total relax.
A pleasant walk in the center of Rome will take you to discover many characteristic corners, such as Campo de' Fiori, a typical market of seasonal fruits and vegetables. Do not miss a walk to Villa Borghese that, with its 80 hectares, is the third largest park in Rome. Ideal if you are traveling with children, who will surely enjoy on carousels or pony while you can sip your coffee at the House of the Rose.
The museums, monuments and archaeological sites to visit in Rome are really endless and, while in summer you must often wait for hours in queue before entering, in winter everything becomes much simpler and "people-friendly", or better, "tourists-friendly". Queues and stress, halves, making your holiday more enjoyable.
So, book your accommodation in Rome - hotel, apartment or B & B - during the winter months and discover the most authentic and original side of the city.