Validity: 1 day
Mobile Ticket
Priority access
Photos without flash
Videoguide with Tablet available
Accessible
What to expect
Admire the Cathedral of Siena
Discover its beautiful marble pavement
Admire the frescoes inside the Piccolomini Library
Skip the line and don't waste your time
A coffer of masterpieces
Cathedral
Beautiful example of an Italian Romanesque-Gothic art, the current Cathedral was built on an ancient church built around the 9th century, and was consecrated in 1179.
Outside it is majestic and imposing with a facade richly decorated in white marble, "red of Siena" and "serpentine of Prato", and a central rose window.
The interior is equally astonishing, with columns and pillars in white and black marble in honor of the colors of the Siena coat of arms.
Important names have worked here, for example for the sculptural part we find Nicola Pisano, author between 1265 and 1268 of the famous octagonal Pulpit supported by lions, as well as his son Giovanni author of the lower part of the facade and sculptures of prophets, sibyls and philosophers today preserved in the Museo dell'Opera; Donatello also worked here (statue of the Baptist), together with Michelangelo and Gian Lorenzo Bernini.
Pavement
(only open from August to October)
The marvelous floor of this Cathedral is a unique work of art and is composed of 56 panels to which important Sienese artists worked: Pinturicchio, Sassetta, Domenico Beccafumi, to name a few.
The techniques used for the realization of this masterpiece are two: the graffito, where on the white marble are executed grooves with the chisel and the drill, which are then filled with black grout; and the commesso marmoreo technique, in which the colored marbles are juxtaposed together as in a wooden inlay.
The figures represented in the squares of the aisles are taken from themes of classical and pagan antiquity (Hermes Trismegistus, the founder of human wisdom, Sibyls, the She-wolf suckling the twins, etc.), while in the choir and the transept is represented the history of the Jewish people.
Piccolomini Library
This small space inside the Cathedral was built in 1492 in honor of Enea Silvio Piccolomini (Pope Pius II),
What strikes as soon as you enter, is the richness and liveliness of the enamelled colors of the frescoes made by Pinturicchio between 1503 and 1508. On the walls we find ten squares that celebrate the life and actions of Pius II, where it is evident the attention to detail and an exceptional care in the realization of landscapes, costumes and characters (including Pinturicchio himself and Raphael); on the vault, decorated with grotesques, there are some allegorical figures represented with the same precious colors that will leave you speechless.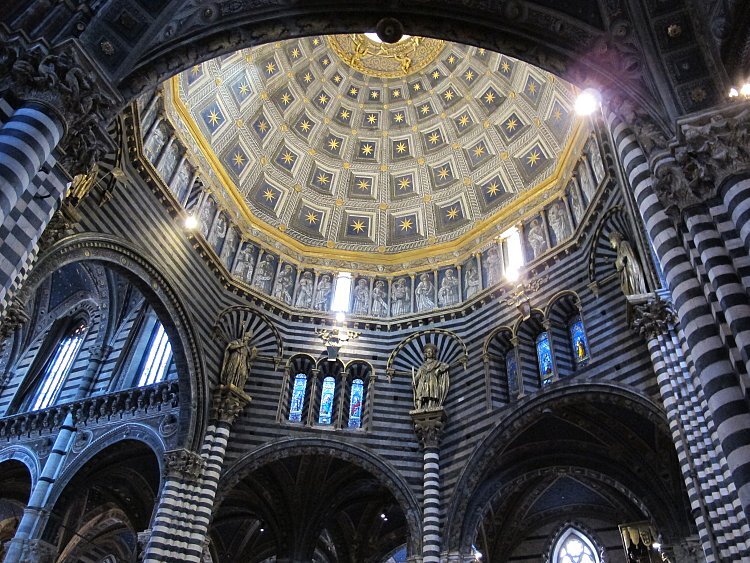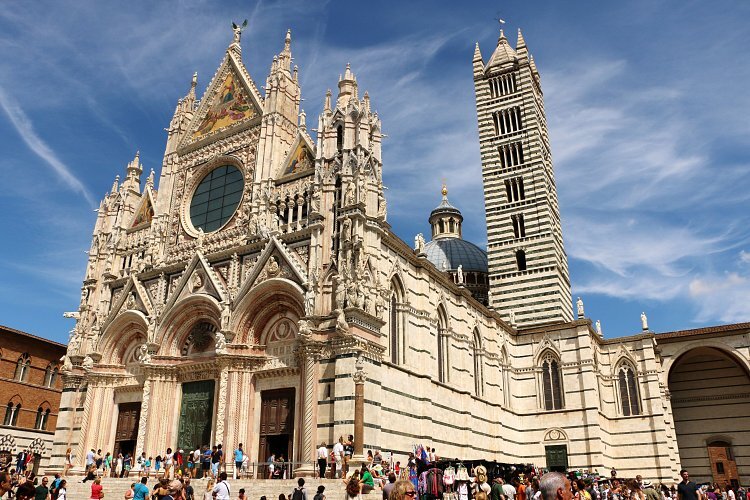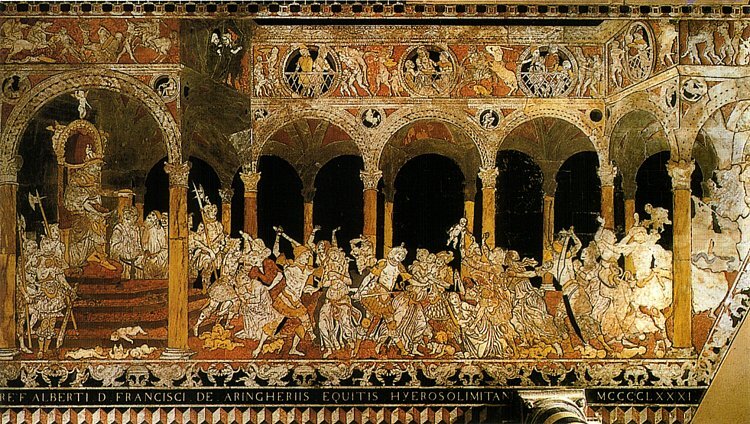 ---
What is included
Entrance with priority access
Full-time entrance and you stay how long you want
Reservation fees
Access to temporary exhibitions
Access to the Cathedral, its pavement and the Piccolomini Library
Available options
The following options can be purchased in addition to the tickets in the booking Wizard on this website.
Videoguide with Tablet: available in Italian, English, French, German and Spanish
Price reductions
Reduced/Half Ticket:
Groups of more than 14 people (only during the floor uncovering)
Free Ticket (it is still required to pay the presale to skip the line) :
Children up to 6 years old (valid identity document needed at the entrance)
Disabled persons and their escort
To remember
The ticket is valid 1 day starting from the time of issue.

The entrance time written on the tickets may be subject to small changes depending on the actual availability of the Cathedral and for activities related to the liturgy.

The tickets will be sent via email within 24-48 hours after purchase (on weekdays) with instructions on how to get there and what to do to enter.

We inform you that, once booked, the date and time selected are binding. Please pick up your ticket at least 15 minutes before the reserved entrance. Who does not respect the time booked will not enter. To pick up the tablet, you need a valid ID.

The pavement is open and can be visited only from August to October, for specific dates please write to us from the Contact Us page.

This ticket only gives access to the Cathedral of Siena, its pavement and the Piccolomini Library. All these attractions are also included in the Opa Si Pass ticket which allows you to access the whole Complex: go to OPA SI PASS Ticket