Duración: 6 horas
Comida con especialidades toscanas
Degustación de aceite de oliva y vino
Visita guiada
Fotos
Qué le espera
Disfrute de la "Dolce Vita" en el campo de la Toscana a bordo de un verdadero icono italiano: la Vespa

Descubra los extraordinarios paisajes de la región de Chianti

Pruebe lo mejor de la cocina toscana: platos tradicionales, aceite de oliva y vino
Description
The authentic Tuscany by Vespa tour
Duration
6.5 hours
About
The only Original Vespa Tour from Florence, the very first and most beloved shared Vespa Tours in Italy! On the go for over 10 years, with over 25,000 elated clients who enthusiastically vouch for us, and our ever-growing passion and dedication this is the most carefully planned and entertaining experience you can get. Join the Vespa Club, live the Italian Dolce Vita!
Helmets on, all off for an exciting day on the road!
Led by a local guide drive your own Vespa along the quiet, cypress-lined country roads of the Chianti area, capturing the best of the scenery, the countryside aromas and soft breezes!
Our Tuscany Vespa tours start from Florence: depart from downtown aboard our minivan in the morning, for a pleasant drive to the nearby hillside. A line of state-of-the-art Vespas will be there waiting for you.
After a briefing with your English-speaking escort, a Vespa pro, you will take a practice drive in the safety of our dedicated space. Once you feel at ease and confident … whizz off, following your local guide!
Enjoy the feel of the fresh country air as you admire the gentle fields dotted with silvery olive groves, tiny ancient parish churches and golden-hued farmhouses.
Take in the beauty of luxuriant vineyards and stop along the way for photos, and for a lovely visit to a famous local winery.
Explore their cellars and learn all about wine production techniques from the expert winery staff.
Drive on along flower-filled meadows and reach the delighful boutique winery where you will enjoy a typical Tuscan lunch (or dinner). Relish the unique flavors of seasonal local specialties, learn about the estate's approach to winemaking and savor the best, with a guided tasting of the estate wine and olive oil.
More info
Tuscany by Vespa tour: drive along scenic and silent country roads through the hillside of Tuscany on a scooter admiring the sights, smells and sounds of the Chianti region!
N.B.: We have a limited number of Electric Vespas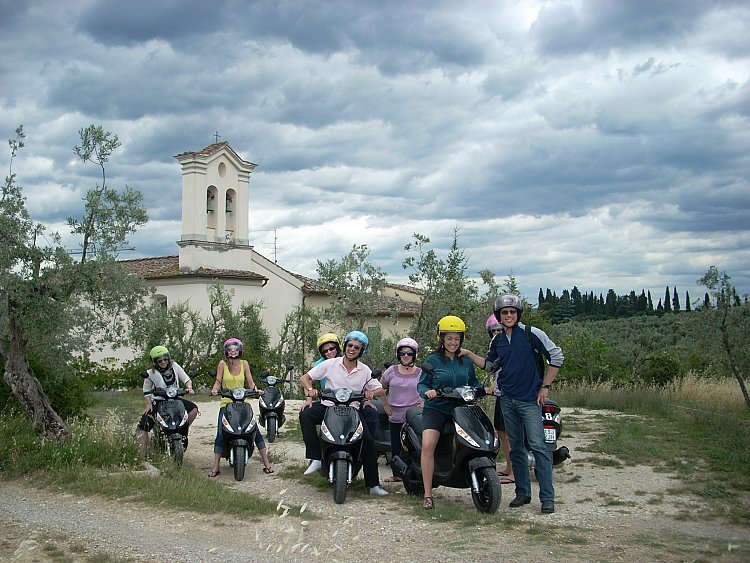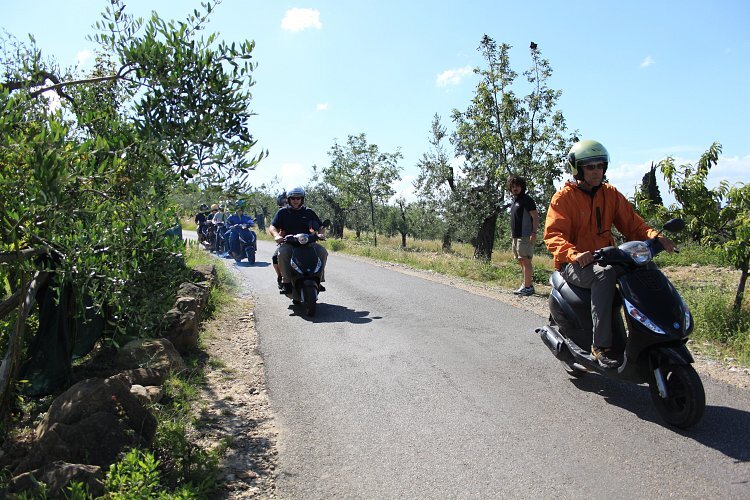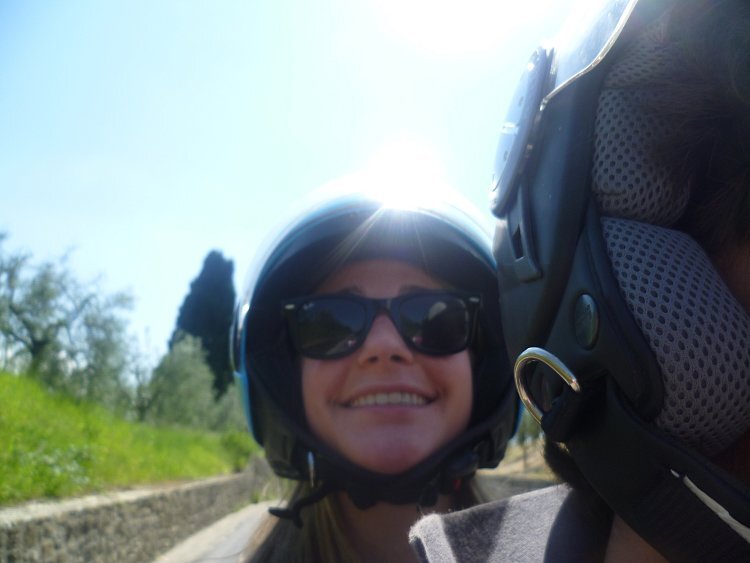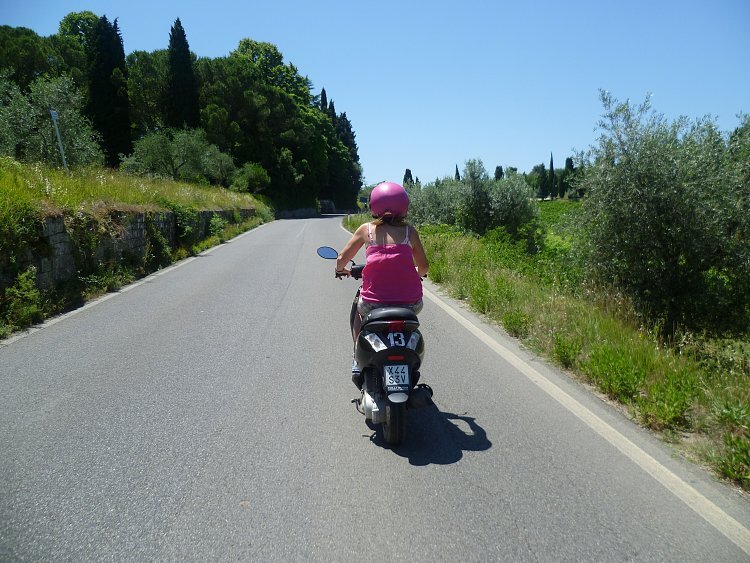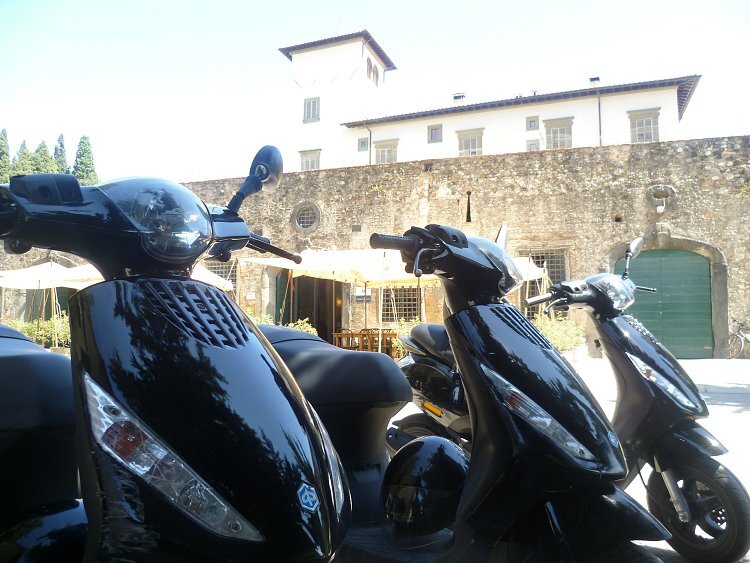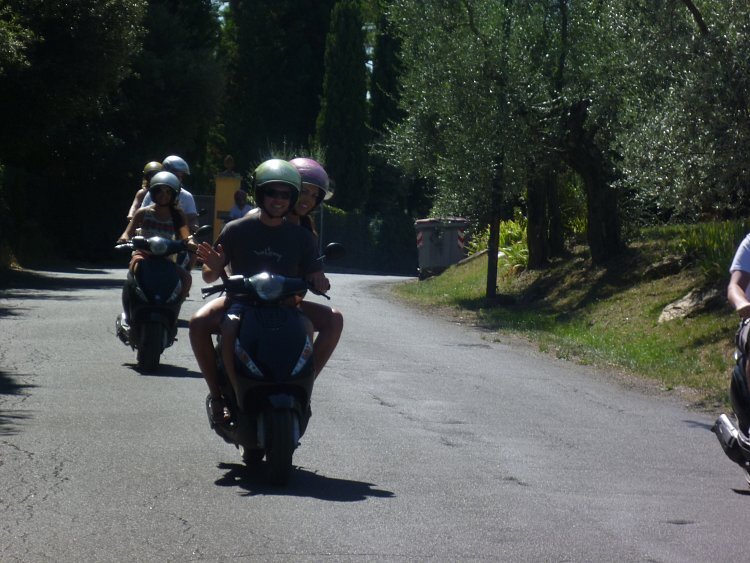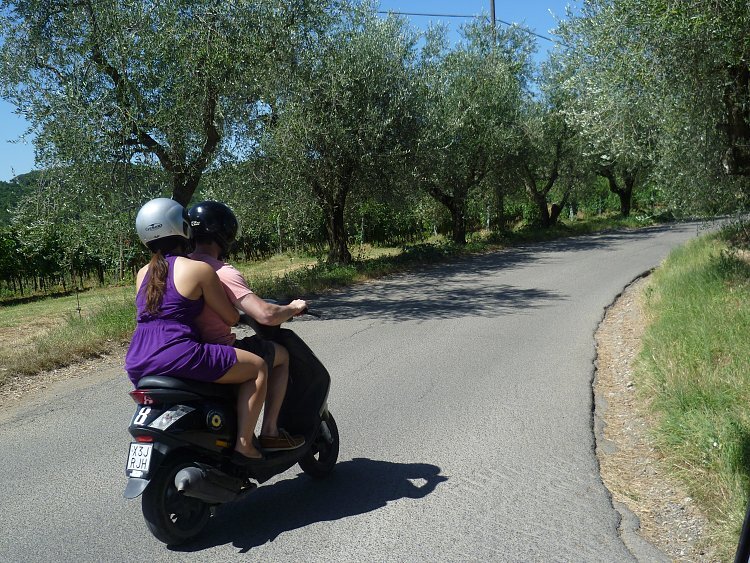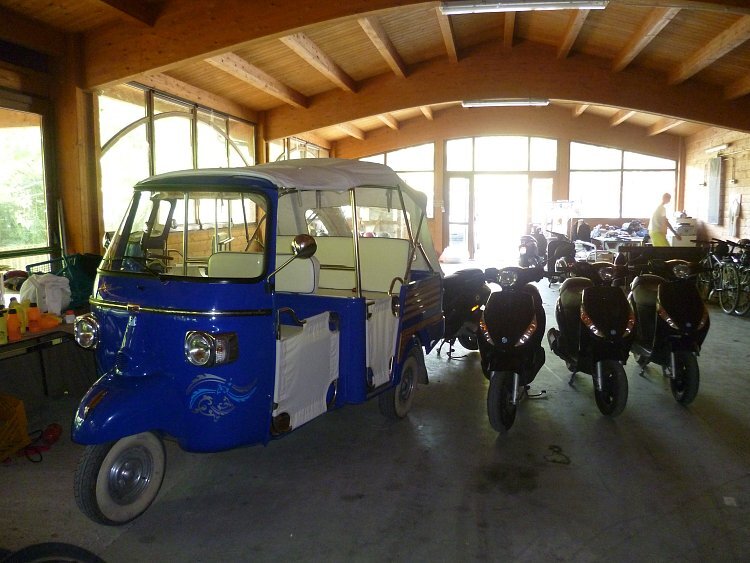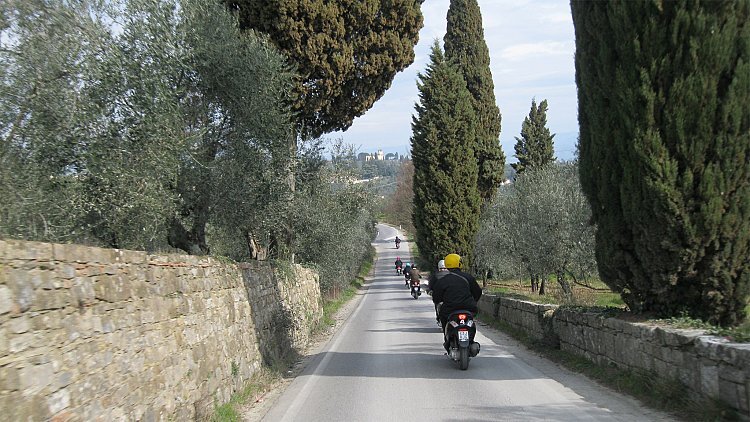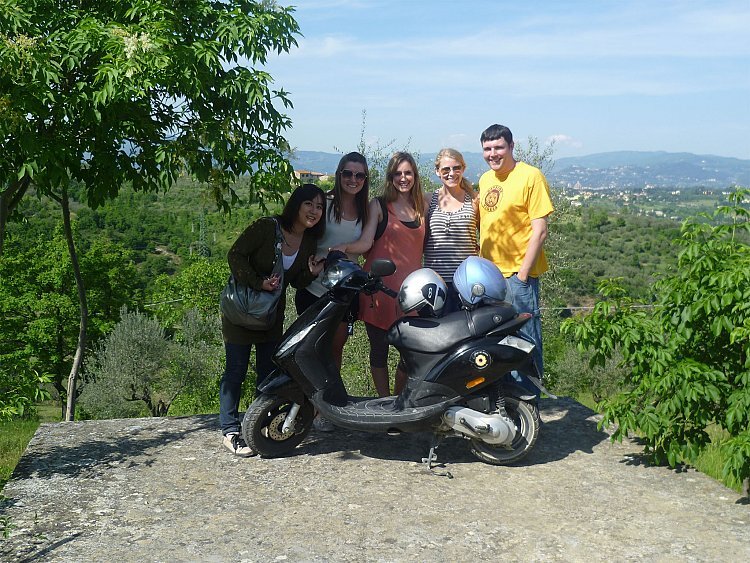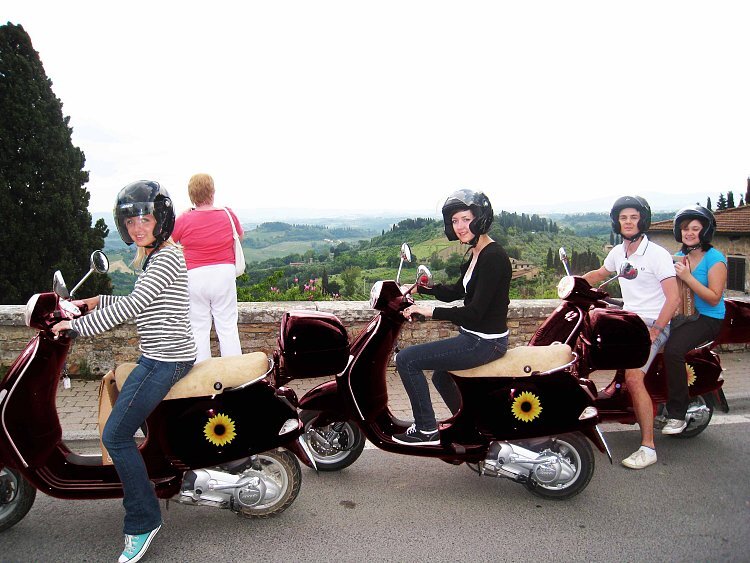 ---
Una aventura inolvidable
Imagine: las colinas del Chianti, viñedos y olivos, una de las vistas más bellas del mundo desde una perspectiva verdaderamente original, que es también un icono italiano: la Vespa.
Nuestro minivan cómodo le llevará fuera de la ciudad, en el campo de Chianti. Antes de comenzar el viaje le darán toda la información necesaria para conducir la Vespa en seguridad total. Así que estará listo para descubrir las maravillas de Chianti.
El tour le llevará a través de itinerarios extraordinarios entre colinas onduladas llenas de viñedos y olivos, pequeños pueblos pintorescos e iglesias antiguas.
Usted visitará una bodega famosa donde se produce el vino y disfrutará de una visita guiada para aprender algunos secretos sobre la producción de vino y aceite. Luego visitará una granja familiar donde producen vino orgánico.
Al final, descubrirá los sabores de la cocina toscana con una comida basada en productos típicos (almuerzo o cena dependiendo de la salida), acompañados de una cata de vinos en nuestra bodega favorita.
Incluido
Visita guiada de 6 horas
Transporte en minivan desde/hasta el punto de salida
Vespa Piaggio 50cc (Zip para la opción SMART)
Casco
Comida toscana (almuerzo o cena dependiendo de la hora de salida)
Degustación de aceite de oliva y vino
Official T-Shirt (not included in the SMART option)
Seguro de responsabilidad civil
Opciones Disponibles
Usted puede elegir una Vespa para dos y llevar un pasajero, por lo tanto, pagar un precio más bajo
La opción SMART ofrece, a un precio más bajo, un scooter Piaggio Zip en lugar de una Vespa (camiseta oficial no incluida)
Usted puede elegir una Vespa para dos y llevar un pasajero, pagando así un precio más bajo
Si no se siente seguro de conducir o no tiene una licencia de conducir válida, participe en el tour a bordo de un Ape Calessino (una Vespa para tres personas conducida por un guía)
Seguro opcional contra daños al vehículo
Tour privado: viva esta experiencia con un pequeño grupo de personas que conoce
Punto de encuentro
BOOKING OFFICE, Piazza Mentana 2 rojo, FIRENZE (frente al río Arno)
Cancellation Policy
The tour runs rain or shine (but please see below).
The tour departure will never be cancelled due to rain.
We will do our best to proceed with the tour, avoiding the rain and thus possibly carrying out the tour with our minivan until and if the rain should stop and street conditions will guarantee a safe ride. If it does not stop raining, the entire tour will be conducted in the safety and comfort of the minivan.
Guest options on rainy days, to be communicated immediately at the Front Desk staff during check-in operations:
1) Proceed with the tour hoping for clearing weather – PARTIAL RIDE or NO RIDE due to heavy RAIN
Customers can decide to proceed with the tour hoping for clearing weather with the understanding that if scooters are not ridden at all due to rain, or if the Vespa tour is dramatically abbreviated due to rain, customers will NOT be granted any refund or discount. We will do our best to get you on a scooter, weather permitting.
2) Reschedule the tour for another day, subject to availability. Please apply to the reception desk in order to ask availability for rescheduling the experience.
If no suitable date / time is available for the reschedule, you will be able to choose any other experience available, with an equal or less value, or eventually an experience with a higher value, paying only the difference.
3) A credit, called Rain Check, (of the same amount clients paid) to be used the following days or at any other time, subject to availability. The Rain check is a voucher given to the client. The voucher is transferable and may be sold or given to others to use at a future date and lasts up to 1 year from date. It has a value that can be possibly used in any other tour provided by our company.
Please note that clients' safety and comfort are of utmost priority, and proper rain gear is mandatory for guests choosing to ""ride in the rain"".
We ask clients to be at the meeting point 15 minutes before the tour departure, to check the weather conditions and choose accordingly.
No-shows will not be refunded.