The Spatial Concepts by Lucio Fontana in Turin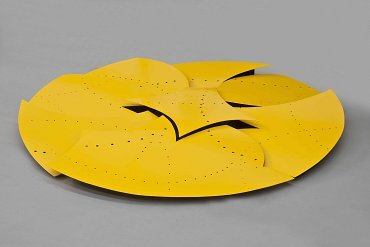 After a recent restoration the great Lucio Fontana's Spatial Concept (1952) is again visible to the public. Wunderkammer space in the Gallery of Modern Art in Turin dedicates to the Italo-Argentine artist an exhibition that brings together, after many years, some of his most significant works in the collections of the museum.
With the great yellow disk of Spatial Concept, Lucio Fontana has revolutionized the way we think about sculpture. The sculpture develops exclusively on horizontal dimension, combining eight thin drilled a saturated metal sheets in a brilliant yellow. A strongly anti-naturalistic color chosen specifically to create a surreal contrast in its original location - a lawn - with blades of grass sticking out of the holes.The exhibi
tion Lucio Fontana. Spatial concepts, shows the sculpture Spatial Concept close to Spatial Concept Theatres, Waiting and 30 drawings not exposed since a long time.These are sheets dating back from 1946 to the early sixties, through which you can get to the heart the creative work of Fontana, who experiments in design motifs to be reproduced on canvas or in sculpture. On the sheets there are in fact all the ideas that will be transformed then in graffiti, cuts, holes, or silhouettes of various shapes and texture.
Lucio Fontana calls for a change in the essence and form of art with the overcoming of painting, sculpture and poetry. He is famous for his clean cuts on monochrome canvas. Wunderkammer of GAM is an extraordinary opportunity to approach one of the most fruitful research of Lucio Fontana, in which the artist experiments, with different materials, the opportunity to go beyond the surface of the canvas, paper, metal and to lead the viewer in an experience that exceeds the physical work and opens new horizons.