Valabilitate: 3 zile
Bilet electronic
Accesul prioritar
Fotografii fără bliț
Catedrala accesibilă
La ce să te aștepți
O plimbare in apropierea tavan pictat al Catedralei, observand de la inaltime podeaua unica in lume si o extraordinara panorama spre Siena
Capodoperele Catedtralei din Siena
Frescele din Libreria Piccolomini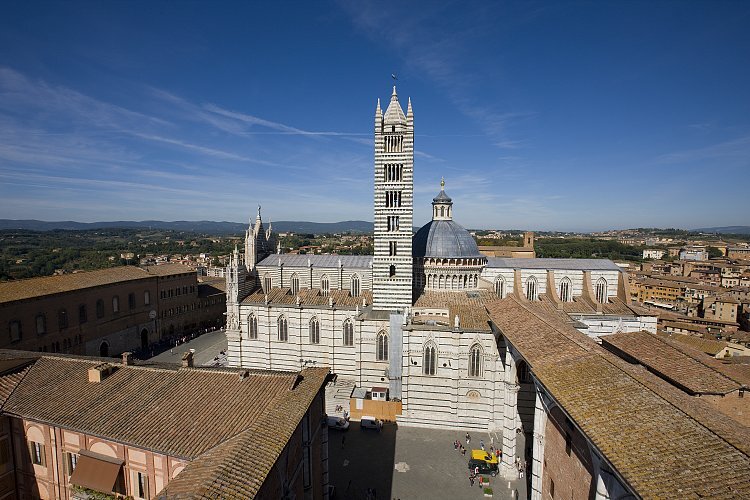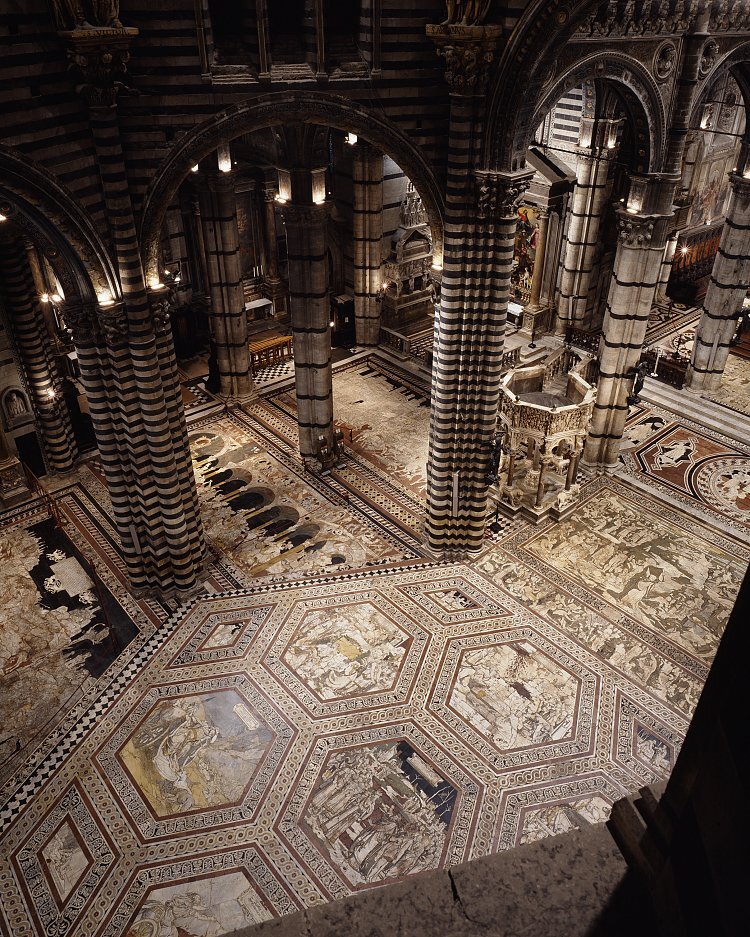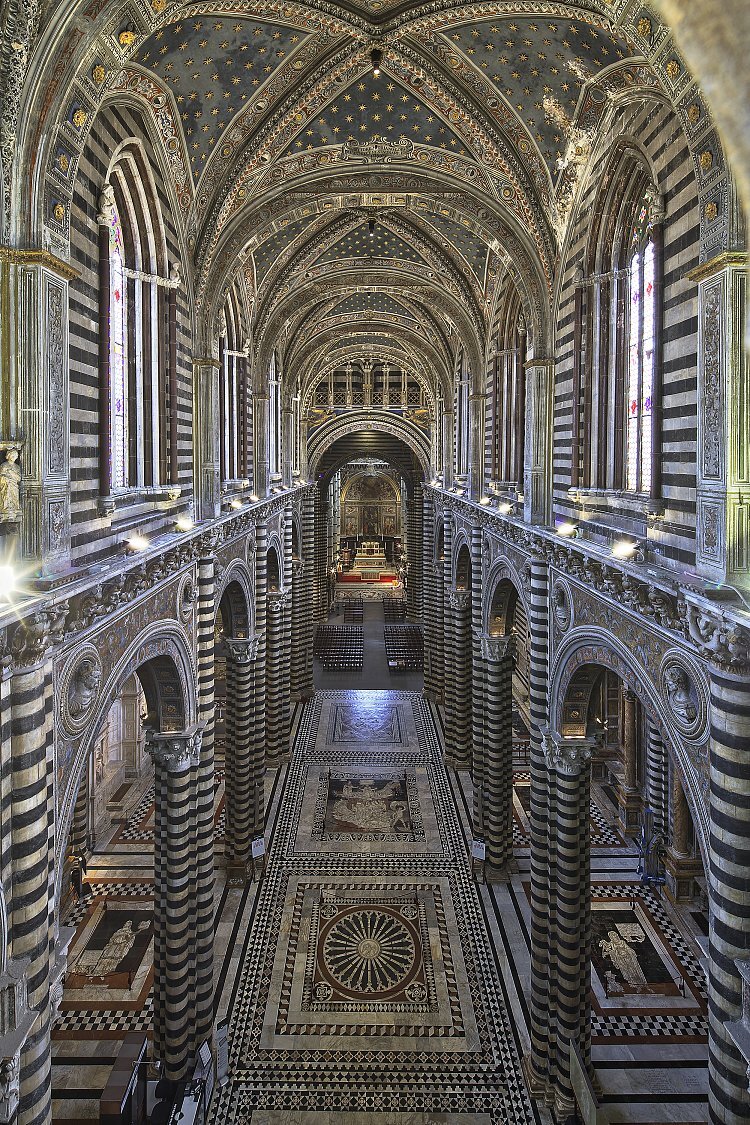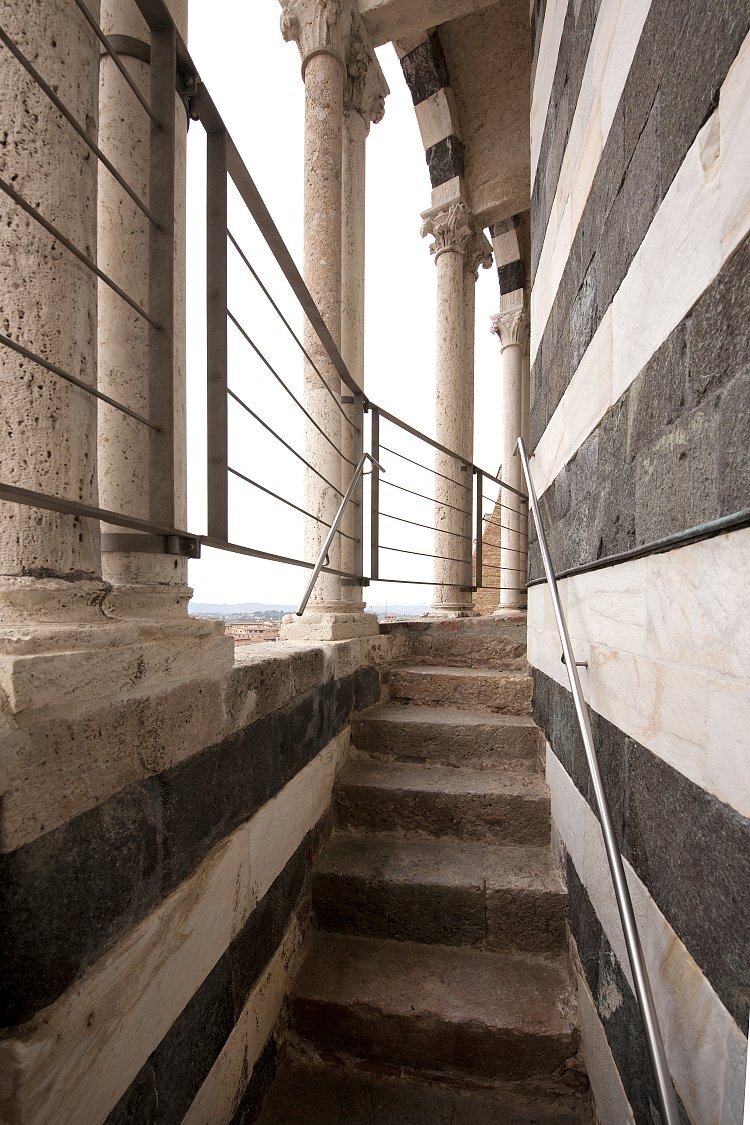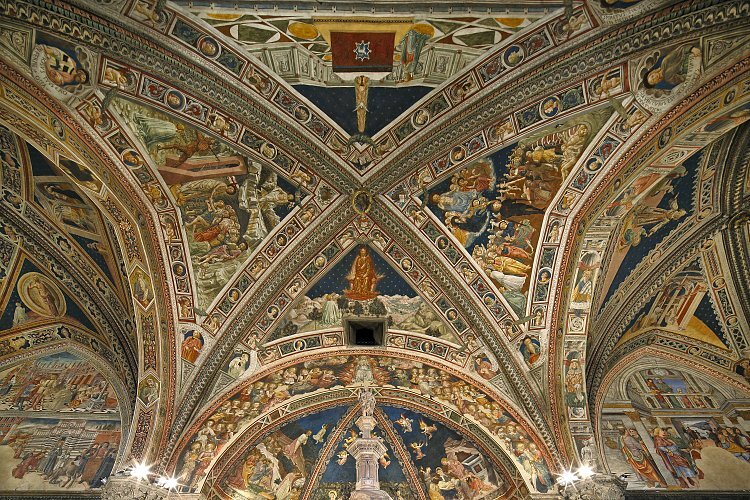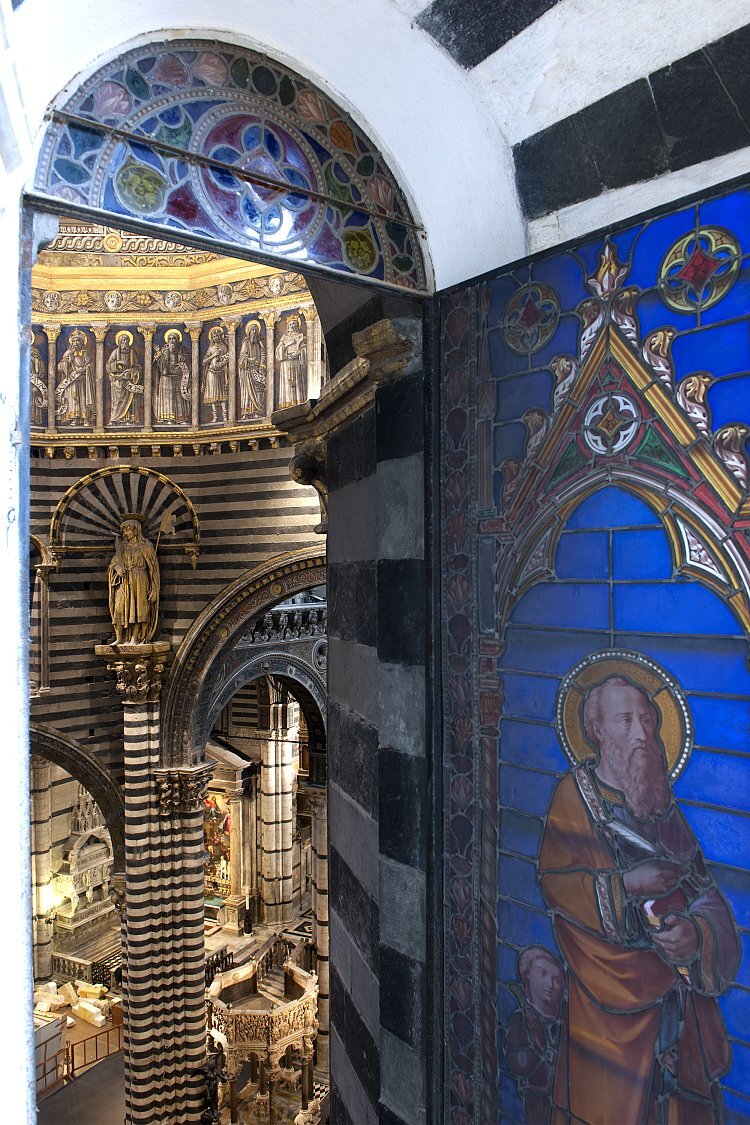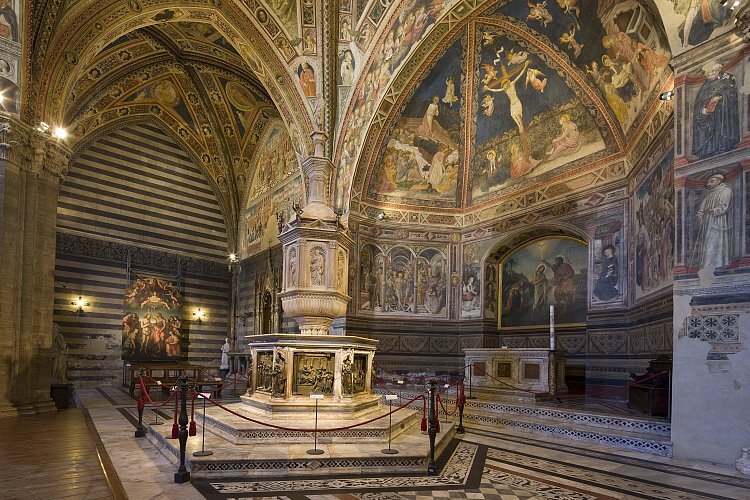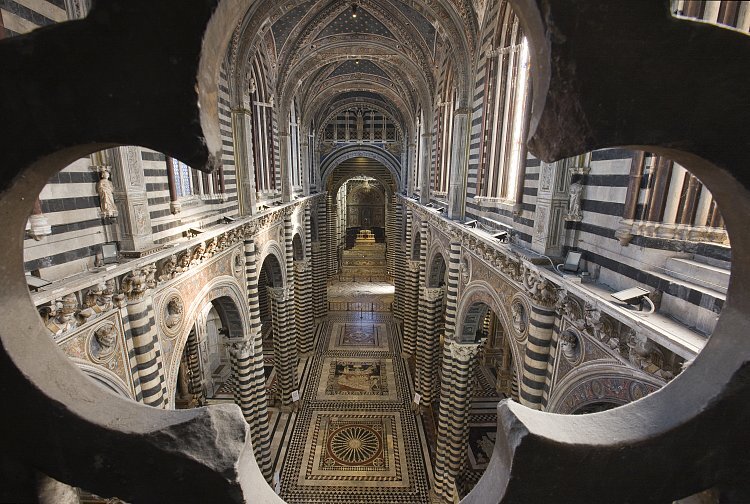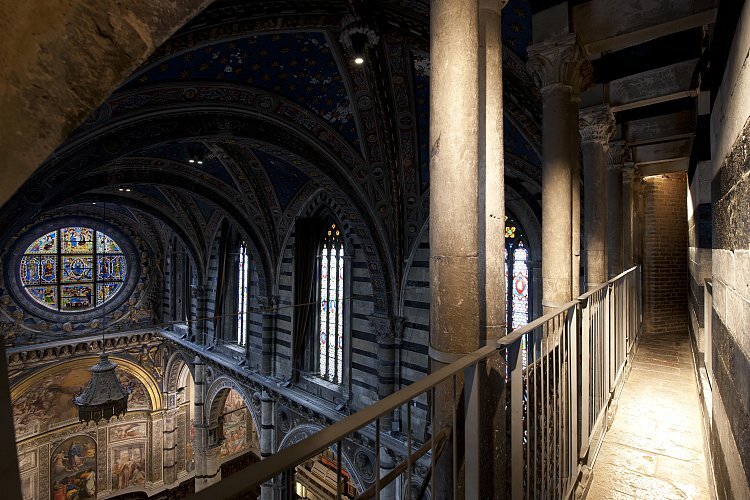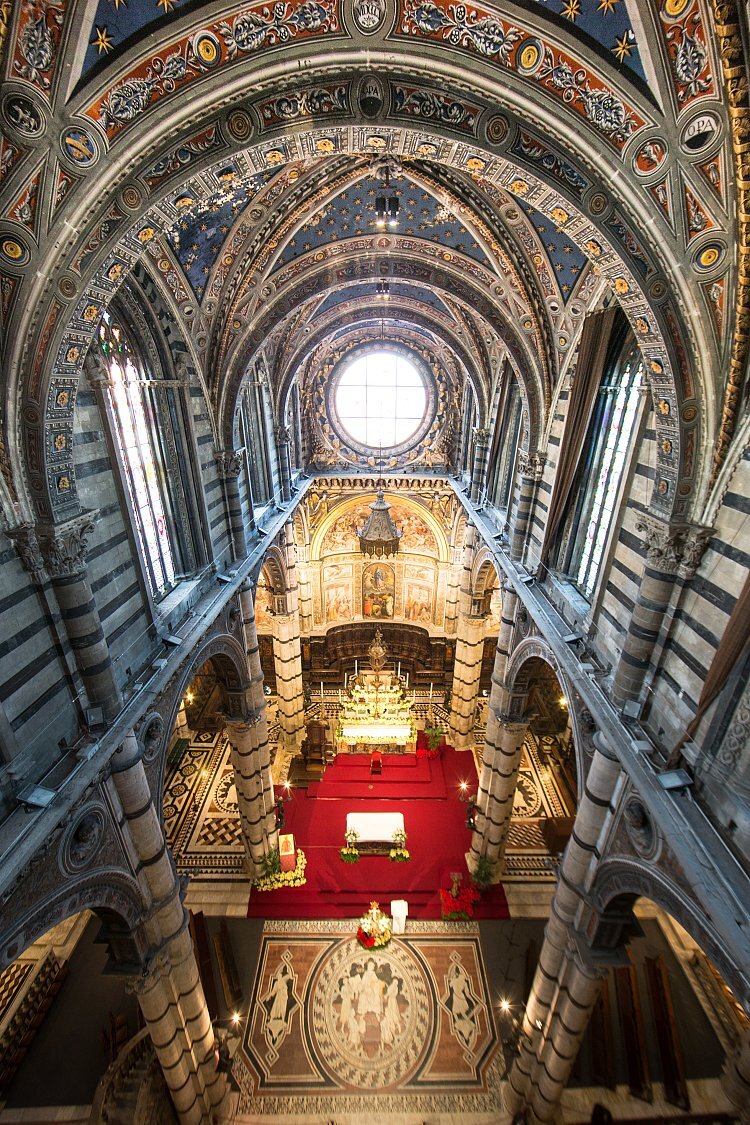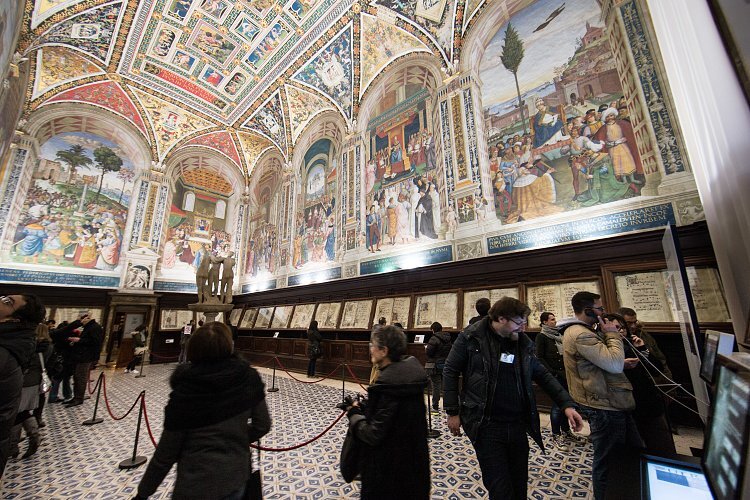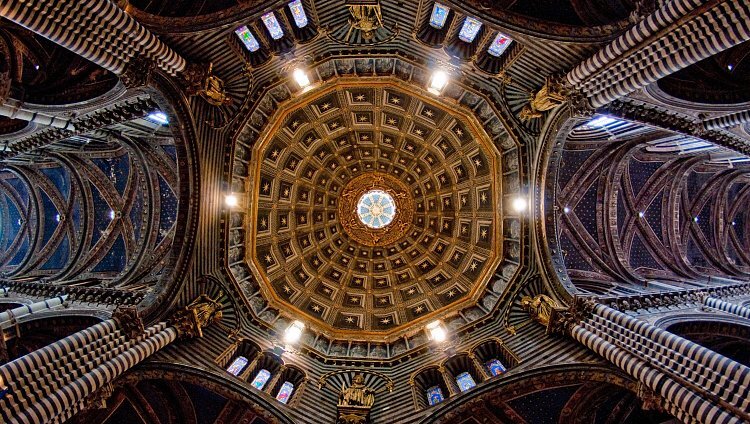 ---
Un pas de cer
Poarta Raiului
Laturile fatadei del Duomo sunt doua turnuri.Deasupra ei începe un itinerar minunat: mici grupuri de turisti, insotiti de un ghid expert, se pot plimba pe langa tavanul afrescat al Catedralei, observand de sus podeaua unica in lume, in interior, si panorama extraordinara, la exterior.
Cateva din incaperi, dupa o importanta restaurare, acum sunt deschise publicului, dupa ce au fost inchise mai multe secole. Acum puteţi mers pe jos pe balconul cupolei şi sa admirati vitraliul de Ulisse de Matteis, importante sclupturi ce reprezinta cei Patru Patroni din Siena.
Podeaua
Podeaua Catedralei, in marmura, este o capodopera unica in lume. Numerosi artisti, ca Beccafumi, Pinturicchio, Domenico di Bartolo, au lucrat din secolul XIV pana in secolul XVIII . A fost folosita tehnica "graffito". Acum podeaua este la vedere din august pana in octombrie.
Catedrala
Multi artist au lucrat la aceasta biserica ,care acum este un fel de antologie artistica din diferite perioade. Putem admira opere de Nicola Pisano, Duccio di Buoninsegna, Michelangelo, Donatello, Gian Lorenzo Bernini, si multi altii.
Libraria Piccolomini
Papa Pio II, Enea Silvio Piccolomini, era un fin intelectual. Pe peretii Librariei, frescele lui Pinturicchio povestesc viata lui Pio II. In vitrine sunt expuse carti din secolul XV si din secolul XVI.
Cripta si Battistero
Vizita continua in cripta bisericii: aici gasim o serie de fresce din secolul XIII, a scolii de pictori senesi.
In Battistero se pot admira opere de Donatello, Jacopo della Quercia si Lorenzo Ghiberti.
Muzeul Operei din Duomo
Vizita se termina in muzeu. Aici sunt expuse Maestà di Duccio de Buoninsegna, sclupturi de Giovanni Pisano, originale pe fatada Catedralei, si alte opere importante de Bernini, Donatello, si altii.
De aici se poate urca spre fatada neterminata a Duomo Nuovo (Noului Duomo), si sa admirati fantastica panorama spre Siena şi peisajul rural toscan, ce înconjoară.
Ce este inclus
Intrarea cu acces prioritar
Biletul este valabil 3 zile
Taxele de rezervare
Accesul la expoziții temporare
Access to the Gate of Heaven + all the sites of the Duomo of Siena Complex
30 minutes guided tour of the Gate of Heaven
Reduceri de preț
Bilete reduse:
Copii cu vârsta între 7 și 11 ani (prezentati un document de identitate la intrare)
Bilete gratuite (este încă obligată să plătească presale pentru a sări peste linia) :
Copii cu vârsta până la 6 ani (prezentati un document de identitate la intrare)
Purtatorii de handicap ce detin certificat de dizabil si un insotitor
A ține minte
The ticket is valid 3 days starting from the time of issue, but the admission to the Gate of Heaven is allowed only for 30 minutes.
Each monument of the complex observes its particular opening hours, which may vary for activities related to the liturgy.
The tickets will be sent via email within 24-48 hours after purchase (on weekdays) with instructions on how to get there and what to do to enter.
We inform you that, once booked, the date and time selected are binding. Please pick up your ticket at least 15 minutes before the reserved entrance. Who does not respect the time booked will not enter. To pick up the tablet, you need a valid ID.
This ticket gives access to the Gate of Heaven and to all the other sites of the Duomo of Siena Complex (the Cathedral and its pavement, the Piccolomini Library, the Opera Museum, the Baptistery, the Crypt and the Oratory of San Bernardino).
---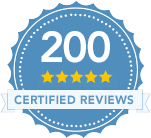 What means?
9 Reviews

Belgium
6 years ago
Daniella
"Superbe visite , mais finalement on n'a jamais retrouvé ma réservation. j'ai donc payé plus cher que le prix normal et la visite s'est faite plus tard que prévu. Heureusement que nous étions en juin et qu'il y avait de la place ."

United States
6 years ago
Angela
"It was everything and more. The tickets were easily emailed and as instructed I printed them off. Directions for the entry and time were easy enough. We showed up at our allotted time and proceeded with the tour. The behind scenes tour was interesting and well directed. Enough time was given to take pictures and ask questions. The view from the Gate of Heaven overlooking the interior of the church below was breathtaking. Also the tour walks outside along the exterior walls which give you vistas of Siena and close-up viewing of the angels. It does involve some closed in spaces and walking up a very steep staircase. Overall, the tour is worth the price. I would highly recommend it to anyone. Don't miss it!"

Netherlands
6 years ago
Robert
"Fine wat to book the tickets in this way"

United Kingdom
6 years ago
Jill
"absolutely excellent must do in siena. However, be aware the ticket dos not get you into the crypt, baptistry or museum - as indicated on web page - only gates of heaven and main part of cathedral. we had to upgrade our tickets at ticket office at extra cost. "

Canada
6 years ago
John
"Well worth it! We thoroughly enjoyed the tour through the upper reaches of the duomo which gave us close up views from balconies inside and out that were previously inaccessible to the public. The english speaking tour guides were friendly and happy to answer questions. Definitely prebook your tickets and double check the times as soon as possible as the times printed on my ticket didnt match the the times on their computer. Luckily we were able to rebook at a later time which may not be possible on busier days.. "

Poland
6 years ago
Wiesław
"Very tresting"

Germany
7 years ago
Susanne
"Perfect Organisation, very exciting and Special Tour ! "

Australia
7 years ago
Susanne
"Walk up to the roof was fantastic, the organization to get up and down was safe and fair. Booking the tickets however did not make it clear that the ones we bought online were not all inclusive. "

Argentina
7 years ago
Marcela Liliana
"Excelente todo. Saque los tintes desde Argentina y ningún problema! Y la puerta del Sol inolvidable!!! Lo recomiendo!"