David's Tribune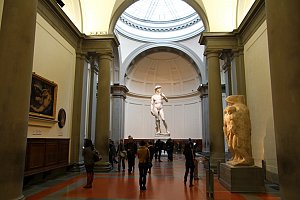 From 1504 until the mid XIX century, the David, the extraordinary sculpture by Michelangelo, had been placed outdoors, in front of Palazzo Vecchio. In 1872 there was an intense debate on its conservation and the need to protect the masterpiece by placing it in an indoor place. Florence City Council then decided its transfer at the Accademia Gallery.
It was therefore designed a special architectural space to host the David, a task that was assigned to Emilio de Fabris. He planned a square-shaped space to be placed at the end of what was then called "the old pictures gallery", that currently is the Corridor of Prisons, with a closure at the top by a skylight for natural lighting on the sculpture.
David was removed from Piazza della Signoria in 1873 but at that time, because of bureaucratic and construction contingencies, the Tribune was not ready yet, lacking the walls and the clerestory roof. So, after the ten days spent for its transportation, the statue was closed in a wooden structure that stood near the Academy, in the camps, for 9 years. In fact the Tribune was completed and opened to the public only in 1882.
Michelangelo's David continues to be placed in the Tribune, under the large skylight that gives natural light and flanked on either side by some Mannerist sculptures, as well as several works by Michelangelo, posed as ornament of his best known sculpture.
The statue is also ideally framed by works painted by artists of the XVI century as Cecchino Salviati, Bronzino and Alessandro Allori, exposed in the two side wings. These authors have been chosen to mark the contacts and the cultural influence that Michelangelo had on the artists of the period. We can therefore admire the Madonna and Child, St. John and Angel by Francesco Salviati, a pupil of Andrea del Sarto, who developed a long and extensive career in Florence, Rome and France. On the left we find interesting Florentine paintings of the XVI century. The work of Santi di Tito, the Deposition presents the Christ's body together with symbols of the Passion. On the right there is a work by Bronzino, another Deposition commissioned by Cosimo I de' Medici for the church of Portoferraio on the Elba Island, in which the dead Christ expresses anatomical knowledge and attention of Bronzino for the Pietà by the great Michelangelo. Then there is a painting by Alessandro Allori, the Annunciation, set in a sober room from the XVI where the Archangel Gabriel occupies much of the painting, transported in flight on a soft cloud. Another work by Alessandro Allori is the Coronation of the Virgin, with a triumph of angels in flight and colorful floral species that frame the scene painted for the monastery of Santa Maria degli Angeli.