Mercantia Certaldo: Street Theatre Festival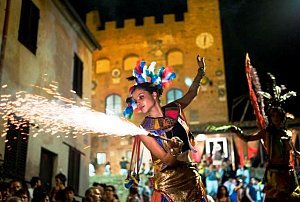 There are times when we really need to get away from the problems at work, from the traffic in the city and the bad news at the TV, moments when we only feel the need to be surrounded by beauty and magic, to be transported out of reality, at least for some time. Well, if you feel in this way, then there could be no better time to plan a holiday in Tuscany. From July 15 to 19 in the delightful village of Certaldo, in the center of the Chianti region, there's Mercantia, an extraordinary street theatre festival that, every night, when the sun disappears below the horizon, turns the medieval town in a fairy tales land.
Every street and every possible space is used by the actors as a stage - streets, balconies, hidden gardens and secret cellars. Mimes, dancers, acrobats and musicians mingle with the crowd in ancient and original costumes. Cabaret, dance, experimental theater, masks, fakirs, waders, soap bubbles and balloons fly in the summer sky in a thousand of different artistic influences. Everything is color, noise and fantastic illusion with companies of actors scattered across the town and musicians playing on every corner. From the top of the towers appear bizarre characters, or you can come across in the street, in a conversation between a solitary actor and the stars above.
Mercantia is an important international festival. The artists come from far and near. There are companies from the 5 continents and other born right here, in the heart of Certaldo.
It is definitely something different from anything you've ever experienced. Then put aside any skepticism and immerse yourself in this magical atmosphere. For the occasion, you can stay in Certaldo, but also in Florence, which is about 45 minutes by car. Of course then, once in the area, you can explore the Chianti and enjoy its wonders: extraordinary, breathtaking scenery and lots of goodness for the palate.
A farmhouse in Chianti will allow you to enjoy all this natural beauty at your leisure and have the flexibility to attend festivals like Mercantia (which in summer are many) in neighboring towns. Not to mention the cities of Florence and Siena, full of artistic and architectural treasures. What more could you want from a holiday?