Duration: 8 h
Photos allowed
Qualified Driver/Guide
5 places visited
Wine tasting available
What to expect
8 unforgettable hours
Private DeLuxe Minivan
Small groups
Qualified Driver/Guide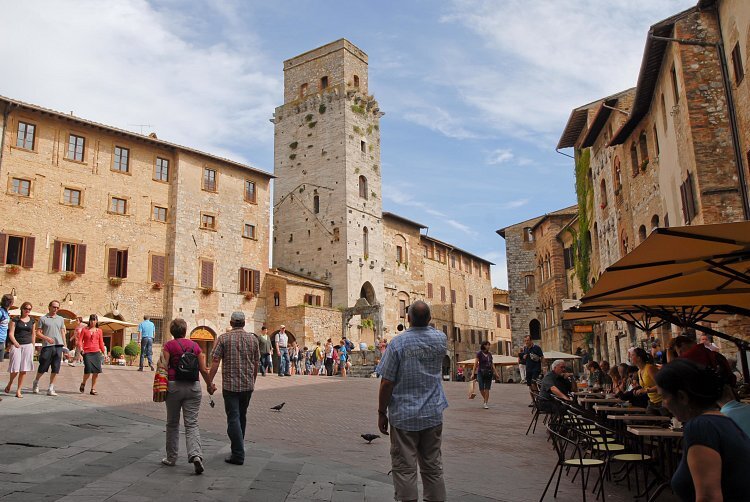 San Gimignano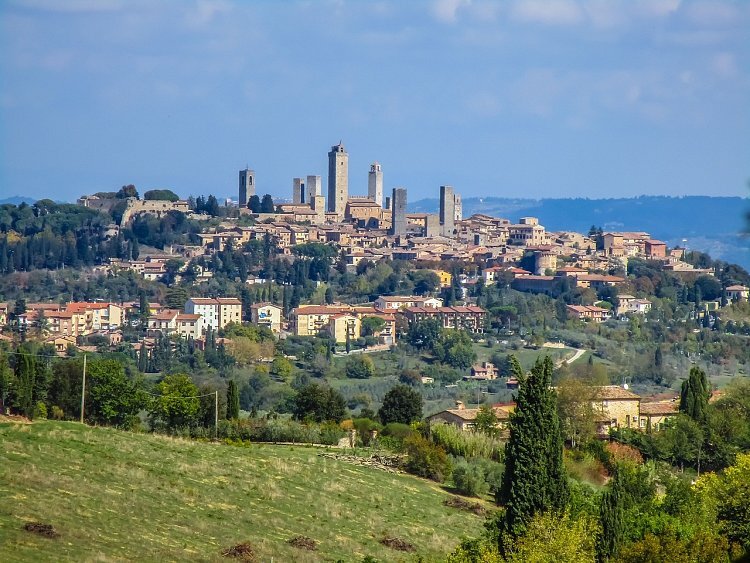 San Gimignano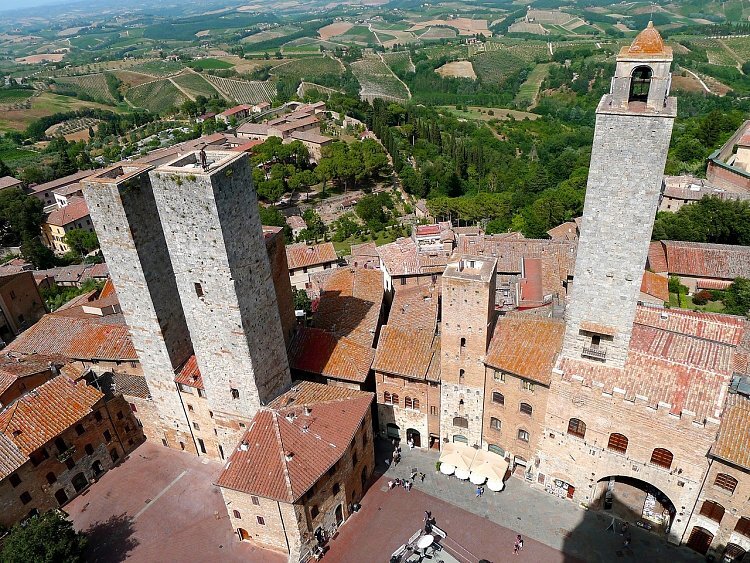 San Gimignano
---
Main attractions
Badia a Passignano

: set among the Chianti Hills, this Benedictine Abbey was founded in 1049 and is composed of: the San Michele Arcangelo Church (12th century) with frescoes by Domenico Cresti (properly called The Passignano) and by Alessandro Allori, the Cloister, the Capitular Rooms, the kitchen and the refectory.
Montefioralle

: developed around the highest part, the ancient feudal settlement, it has an elliptical plan from which originate numerous passages; all around there are the walls (13th-14th century) which show the remains of some towers, today converted into residences, and the three access doors.
Greve in Chianti

: it was born near to the major communication and commerce networks that ended up at Via Volterrana and Via Francigena, in an intermediate position between Florence and Siena, and its oldest nucleus is located on the current hill of St. Francesco where today rises up the Museum of St. Francesco inside the former convent; important is the Mercatale, the current Market Square, which is one of the reference points of the valley, risen in the middle of a densely populated area, rich in rural churches, castles and feudal villages.
Panzano

: quiet village already inhabited in the Etruscan era, it still retains the Castle (documented since the 11th Century, controlled by the Firidolfi family and involved in the fights between Florence and Siena for the control of the Chianti), parts of the ancient city walls, an access door and the Tower of Cassero. Remarkable also the Santa Maria Church rebuilt in the late 19th century which houses a painting of the Madonna with the Child (in the middle of another larger painting made by Bernardo di Stefano Rosselli), and an Annunciation attributed to Michele Ridolfo del Ghirlandaio.
San Gimignano

: inhabited since the Etruscan times (3rd-2nd century B.C.), its historic center has been declared World Heritage from the UNESCO; nicknamed the Manhattan of the Middle Ages for its numerous towers that still characterize it, took its name from the bishop of Modena that would have save it from the barbarian hordes. The town has developed in the Middle Ages thanks to the Via Francigena that crossed it and today it presents the Cathedral (with works by Ghirlandaio, Benozzo Gozzoli, Jacopo della Quercia), the Palazzo Comunale, the Museum of Sacred Art, the Archaeological Museum and many others.
What is included
Private DeLuxe Minivan licensed to enter restricted areas
Qualified Driver/Guide
Pick up and Drop off directly from your Hotel or Apartment in Florence
What is not included
Entrances to museums, castles and villas
Meals, food and beverage
Sightseeing tours with local guides
Tips
Available options
The following options can be purchased in addition to the tickets in the booking Wizard on this website.
Wine tasting: 6,00 € per person to be paid on spot
To remember
Departures are guaranteed even with 3 participants only and with a maximum of 8 passengers

Minimal walking required

The tour is conducted only in English

Driver/Guide will thoroughly introduce the places being visited, from a cultural, historical and artistic viewpoint while walking or driving to and through them, but he is not licensed to give in depth explanations at sights or guide you inside churches, or museums