Sacred Splendors. The Treasure of the Chapel of the Relics on display at Palazzo Pitti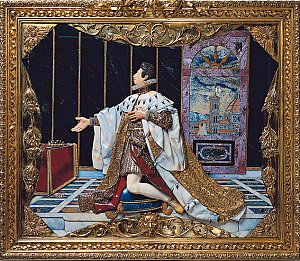 From June 10 to November 2 at the Silver Museum in Palazzo Pitti, Florence, you can admire precious religious artefacts from the Chapel of the Relics.The historic residence of the Medici family hosted in the past, since 1616 - the year in which it was consecrated with solemn ceremony - the Chapel of Relics, a symbol of the devotion of the Grand Duchess of Tuscany and of the last Medici grand dukes.
The chapel was built by Cosimo I and embellished by his wife, Archduchess of Austria, Grand Duchess of Tuscany and Maria Maddalena d'Asburgo, for storing precious relics which formed an important part of its collections. Maria Maddalena was devoted to the acquisition of relics since her arrival in Florence in 1608, taking advantage of the contribution of distinguished correspondents.
Maria Maddalena was able to gather in her 'Chapel of the Relics' already in a few years an extraordinary body of work.The content of the chapel was then further enhanced by the Grand Duchess Vittoria della Rovere and his son, the Grand Duke Cosimo III, becoming one of the largest sacred treasures in Europe.
The exhibition at Palazzo Pitti wants to restore an image of this valuable collection, evidence of deep religious devotion of the family and, at the same time, a symbol of its economic power and prestige.
The first section is entirely devoted to Maria Maddalena and brings together a series of works from the over 400 originally contained in the chapel which, moreover, boasted cabinets decorated with panels painted by Giovanni Bilivert, Filippo Tarchiani, Fabrizio Boschi and Matteo Rosselli in which there were sacred remains, liturgical objects and rare profane artifacts made with precious materials such as coral, semi-precious stones of every color, Baltic amber until the exotic ebony and ivory.
The exhibition continues with sections devoted to Vittoria della Rovere and Cosimo III, who devoted himself incessantly in search of relics, especially those belonging to people from very distant regions, which were preserved in enclosures specially built and decorated by experts sculptors and workshops masters.
The treasure of the 'Chapel of the Relics' remained almost unchanged until 1785, when the Grand Duke Pietro Leopoldo of Lorraine ordered the delivery of over one hundred relics of the Basilica of San Lorenzo in exchange for eighteen vessels in precious stones belonged to Lorenzo the Magnificent for the Uffizi Gallery. Since then, the collection began to disintegrate, the most valuable items were even dismantled to recover the gold, silver and precious stones; those that remained were moved to the Palatine Chapel and delivered to the archbishop of Florence in order to be assigned to the churches of the diocese.
Only after more than two hundred years, a considerable part of these sacred treasures has been recognized and recovered, just as a result of the research linked to the exhibition, finally returning to Palazzo Pitti.