The Bargello's courtyard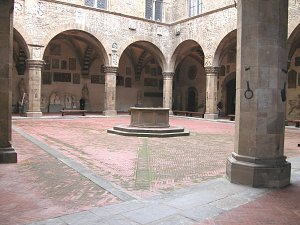 The Bargello museum consists of several rooms, each of which is home to extraordinary artistic masterpieces. But entering, the first thing that strikes the visitor is its courtyard.
Built in the XIII century, the courtyard of the palace develops around a porch on three sides with round arches on octagonal pillars. Later, in the XIV century, the courtyard was further enriched with the balcony and the staircase built by Neri Fioravanti, in the Gothic style.
For a long time the Bargello was the city jail and, during this period, the arches of the porch and of the balcony were closed, only to be reopened and restored in the second half of XIX century, when the entire building underwent restoration.The backyard was probably the most valued part from restoration, for the reopening of the lodges and the restoration of the symbols of the podestà and judges that had remained. Moreover, on that occasion, the courtyard was embellished with new frescoes under the arcades by Gaetano Bianchi, with the banners of the neighborhoods and some symbols of podestà.
Today the layout of the courtyard of the National Museum of the Bargello, presents several sculptures from Palazzo Vecchio, the Boboli Gardens and Castello Gardens. Upon entering, you immediately notice at the center of the courtyard an octagonal well. Here there are also marble statues of great artistic and historical importance, including the six allegorical sculptures by Bartolomeo Ammannati, the Ocean by Giambologna, some reliefs by Benedetto da Maiano and the so-called Cannon of San Paolo by Cosimo Cenni.
During the summer the spectacular courtyard of the Bargello Museum is transformed into an exceptional stage for an event, Summer in the Bargello, which houses an interesting cultural offer by opening the doors of the museum to theater, dance, classical, contemporary and folk music.