The fortunes of the Primitives on display at the Galleria dell'Accademia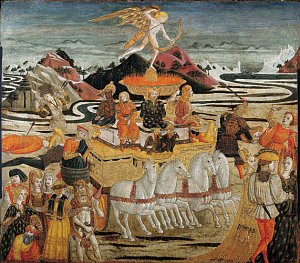 Until 8 December, the Galleria dell'Accademia, the Florentine museum which houses the original Michelangelo's David, is hosting an exhibition entitled "The Fortunes of the Primitives. Italian art treasures from the collections of the XVIII and XIX centuries".
The works on display belonged to 42 collectors - aristocrats, intellectuals and prominent figures - who "saved" Italian works of the XIV and XV centuries, otherwise destined to dispersion. These true pioneers of collecting, admirers and scholars, between the XVIII and XIX centuries, get circulate works of the Christian Late Antiquity, the Middle Ages and the early Renaissance. The works of Bellini, Simone Martini, Andrea Mantegna, Fra Angelico, Arnolfo di Cambio and others, were thus freed from the severe judgments by Vasari, who instead affirmed that these artists, like all the others preceding Raphael and Michelangelo, were representatives of a dark state of the art.
Right in front of the opera-symbol of Michelangelo, are presented the so-called "Primitives", a number of artists hanging in the balance between the Byzantine tradition - as Lippo Memmi and the Master of the Magdalene - and Reinassance innovation, as Mantegna.
The circulation of the works of these artists became established thanks to major historical events: the arrival of the Napoleonic government in Italy, for example, who had plundered religious centers, as churches and monasteries, rich in works of art, designating them to the private market .
The exhibition will guide visitors through this labyrinth of collecting that simulates the lavish homes of art traders that have had the merit of preserving these works, not properly appreciated by the critics of the time and that therefore would have been lost.
It also analyzes in this way an important cultural phenomenon that relates to the history of taste and collecting in Italy in those years, where Florence appears to be a privileged place, given the wealth of the Tuscan-Florentine production of works between XIV and the XV centuries.
At the Accademia Gallery the exhibition examines the main personalities who acted actively in this recovery: church leaders, nobles and scholars who didn't escape the lure of these precious art. The rooms contain paintings, sculptures and art objects belonging to the collections of Francesco Raimondo Adami, Stefano Borgia, Angelo Maria Bandini and many others in a path that is also a walk in the Italian collecting between the end of the XVIII and the beginning of the XIX century, that invites us to understand tastes and aesthetic sensibilities of the different collectors.
The paintings form the majority of the works on display, but there are also miniatures and sculptures that demonstrate the breadth and variety of interests of these collectors. So that the public can enjoy a selection of works of high quality and value that do nothing but confirm the vertices of quality achieved by Italian art from the XIII to the XV century.