The myth, the sacred, the portrait at the Palatine Gallery in Florence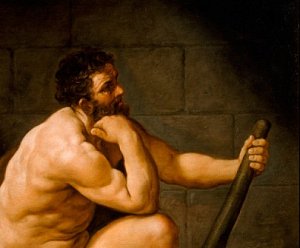 Until August 31st, the Sala delle Nicchie in the Palatine Gallery hosts the exhibition "The Myth, the Sacred, the portrait, paintings from the repositories of the Palatine Gallery", an anthology, which houses important works of art collected thanks to the Medici family, and to the deep link that this family had with the city of Florence, where they bequeathed their treasures "as ornament of the State, for Public utility and to attract the curiosity of Foreigners".
On display there are 19 paintings depicting the history of places, palaces and villas of commissioners who requested them to the most popular painters of the moment, or who purchased them in order to enrich their collections.
The exhibition is divided into four different sections that mark a path that illustrates the most common themes for the taste of collectors in the years 1560-1650. The central painting, among those exposed, is Hercules and the Hydra of Lerna by Guido Reni, dated around 1638-40. The work comes from the collection of Cardinal Giovan Carlo in the Casino Mediceo in Via della Scala. The painting represents the hero Hercules, the maximum symbol of strength in the Medici era. Even the two canvases with Tarquin and Lucretia by Simone Sprockets can be related to the myth, and allude to female chastity and fortitude.
Another section, dedicated to the Sacred Stories, features subjects from the Old and New Testament, designed by Flemish artists such as Frans Floris, and Italian artists, as Artemisia Gentileschi and Jacopo Ligozzi from Verona.
A third section is a brief tribute to Don Lorenzo de' Medici, the son of Ferdinando I and Christine of Lorraine. Known as a refined and attentive art lover, dedicated to the patron of the greatest thinkers of his time, Don Lorenzo commissioned several works for his home, the Villa Petraia. Here stood out extraordinary works like the large canvas with "Orlando in the Brigand's cave" and a series of ovals with Hylas, Zephyr, and Youth in a Blue Doublet and the Allegory of Comedy.
Finally, the last section features the Portrait, as an expression of family and political ties, but also as a gift, or symbol of the moral virtues of the person portrayed. On display there are five paintings: Gaston of Orleans, Henrietta Maria and Elizabeth, the younger children of Maria de' Medici and Henry IV of France, together with Cosimo III de' Medici and Margherita de' Medici as Saint Margaret, executed by two of the leading specialists in the genre, Frans Pourbus the Younger and Justus Suttermans.
The portraits show some of the most important moments in the history of the grand ducal family, documenting the role and importance in the stage of European politics.