Memling, the Flemish Renaissance at the Quirinal Stables in Rome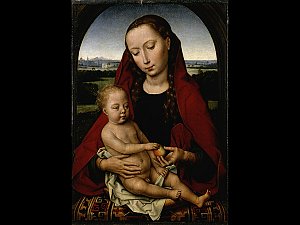 An ambitious initiative is underway at the Quirinal Stables in Rome, where for the first time, until 18 January 2015, the Italian public will have the opportunity to discover Hans Memling, the artist who, in the second half of the fifteenth century, became the most important painter of Bruges - the financial heart of Flanders and major Flemish art center - and that influenced many Italian artists, such as Leonardo and Raphael.
Memling was Rogier van der Weyden's assistant until 1464, the year of his death. Among the first important assignments he received there are important committents like the abbot of the Abbey of Ter Duinen Jan Crabbe, the Bishop Ferry de Clugny or Angelo Tani, representative of the Medici Bank in Bruges. Angelo Tani introduced Memling to Tommaso Portinari, who commissioned him a devotional triptych and a Passion of Christ. At that point Memling began to be known by other members of the circle of Italian merchants in Bruges, becoming the most celebrated portraitist and revolutionizing portraiture with the introduction of the backgrounds to his portraits.
Such a monograph has never been presented in Italy, so it is the first time that an exhibition highlights the artistic qualities of this protagonist of the Flemish Renaissance examining every aspect of his work. It ranges from monumental altarpieces to small portable triptychs, and to the famous portraits - a genre improved by Memling, that exerted a strong seduction also on numerous Italian artists of the early sixteenth century.
The exhibition also explores the forms of patronage that were the engine of the artist's career. Memling in fact, more than any of his contemporaries, became the favorite painter of Italian merchants and commercial Italian agents in Bruges, becoming automatically the heir of Flemish masters such as Rogier van der Weyden and Jan van Eyck, two names that were held in the highest regard by the Italian nobility. Memling impressively managed to equal them in success and in results.
In the exhibition you can admire masterpieces of religious art from the most important museums in the world, as the Triptych Pagagnotti, the Triptych of Jan Crabbe and the monumental Triptych of the family Moreel; but also a magnificent series of portraits, including Portrait of a young, Portrait of a man and the magnificent Portrait of a man with a Roman coin.
Throughout the exhibition the artist's deep connection with Italy and with Italian artists is very evident as is the impact that his paintings had on the local artistic production, in Venice as in Florence.
Among the masterpieces on display stands the Triptych of the Last Judgement housed in the National Museum of Danzig and made for the chapel dedicated to San Michele in the Badia Fiesolana in Florence, where, however, it never came. Only now, after nearly 600 years, the most famous work of Memling, touches for the first time the Italian soil.