Geldigheid: 1 dag
Elektronisch ticket
Prioritaire toegang
Foto's zonder flits
Audiogids beschikbaar
Toegankelijk
Wat te verwachten
Bezichtig de prachtige Medici graven met beeldhouwwerken van Michelangelo
Bewonder de Prinsenkapel
Sla de wachtrij over en verdoe geen tijd
Blijf zolang in het museum als u wilt
De Medici graven
Museum
Achter de San Lorenzo kerk bevindt zich het Medici kapellen museum wat het volgende bevat: de Medici crypte, de Prinsenkapel en Michelangelo's nieuwe sacristie. Behalve de gebeeldhouwde en architectonische decoraties stelt het museum de Schatten van de San Lorenzo basiliek ten toon: relikwiehouders en liturgische objecten, grote voorbeelden van de kunst van het goudsmeden uit de renaisssance en de barok .
Geschiedenis
De grote crypte, waar de leden van de Medici familie zijn begraven, leidt naar de Prinsenkapel waar zich de indrukwekkende grafmonumenten van de Medici groothertogen van Toscane bevinden. Het is een achtvormige zaal, compleet bedekt met halfedelstenen en zeldzaam marmeren inlegwerk, overdekt met een grote, met fresco's beschilderde koepel. De werkzaamheden begonnen in 1604 door de architect Matteo Nigetti en gingen meer dan twee eeuwen door. De rijke inlegdecoraties werden gemaakt door de groothertogelijke ateliers, die tesamen de Opificio delle Pietre Dure vormden (halfedelstenen atelier).
Volgens de wens van de Medici pausen Leo X en Clemens VII werkte Michelangelo aan de decoratie van de nieuwe sacristie van 1520 to 1534, op verschillende momenten. De architectuur en de beeldhouwwerken, inclusief de grafmonumenten van leden van de Medici familie, werden ontworpen en en aanvankelijk gemaakt door Michelangelo voordat hij naar Rome vertrok. De nieuwe sacristie werd verder afgemaakt en opgesteld zoals we het vandaag nog kunnen zien door Giorgio Vasari en Bartolomeo Ammannati .
Meesterwerken
Prinsenkapel:
De sarcofagen van zes Medici groothertogen bevinden zich langs de wand van de grote achthoek. Boven het graf van groothertog Ferdinando I en CosimoII bevinden zich, in niches, twee colossale vergulden bronzen beelden, gemaakt door Pietro en Ferdinando Tacca tussen 1626 en 1642. Onderaan: zestien wapens van Toscaanse plaatsen gemaakt van halfedelstenen, parelmoer, lapis lazuli en koraal.
Nieuwe sacristie:
Michelangelo: graftombe van Lorenzo- hertog van Urbino en Giuliano- hertog van Nemours met symbolische figuren (Dag en Nacht, Dageraad en Schemering )
Michelangelo: Madonna en Kind, op de graftombe van Lorenzo il Magnifico en zijn broer Giuliano.
Inbegrepen
Entree met toegang prioriteit
Full-time en binnen blijven zo lang als je wilt
Boekingskosten
Toegang tot de tijdelijke tentoonstellingen
Beschikbare opties
De volgende opties kunnen worden gekocht in aanvulling op de tickets in de begeleide boeking op deze website.
Audiogids: beschikbaar in het Italiaans, Engels, Frans, Duits, Spaans, Russisch en Japans
Guide boek: beschikbaar in het Italiaans, Engels, Frans, Duits, Spaans en Japans
Prijsverlagingen
Gereduceerd/ half tarief:
Inwoners van de Europese Gemeenschap tussen de 18 en 25 jaar (geldig identiteitsbewijs nodig bij de ingang)
Gratis Ticket (het is nog steeds nodig is om de voorverkoop te betalen aan de lijn overslaan) :
EU en niet EU-burgers onder de 18 jaar (geldig identiteitsbewijs nodig bij de ingang)
Temporary and permanent teachers of Italian public and private schools equipped with the appropriate documentation issued by MIUR
Ieder persoon met een handicap, in het bezit van een certificaat betreffende de handicap en een begeleider
Om te onthouden
The ticket is valid all day until closing time of the Chapels starting from entrance time.
The entrance time written on the tickets may be subject to small changes depending on the actual availability of the Chapels.
For a satisfying experience it is recommended to reserve at least 1 hour to visit the Chapels.
The tickets will be sent via email within 24-48 hours after purchase (on weekdays) with instructions on how to get there and what to do to enter.
We inform you that, once booked, the date and time selected are binding. Please pick up your ticket at least 15 minutes before the reserved entrance. Who does not respect the time booked will not enter. To pick up the audio guide, you need a valid ID.
The Chapels have a maximum capacity of people, in some periods of the year or special days you may experience short delays or waits not dependent on the Chapels or Italy Tickets.
---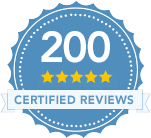 What means?
36 Reviews

Italy
4 years ago
Roberto
"Sempre emozionanti, peccato il traliccio. Michelangelo fantastico"

United Kingdom
4 years ago
Iwona
"Breathing "

United States
4 years ago
Cheryl
"The relics in the chapel are so weird and wonderful. The ornate vessels with gold and gems to display the jaw bones, fingers, skulls were amazing. The Michelangelo's statues for the tombs were awe inspiring. There was no line."

United States
4 years ago
Denise
"I ordered the reserved-time tickets from home before the trip. All I had to do was print the voucher and show it to the ticket office. As a result, we got right in. This is such an important place in Florence history. Try to not miss it. Not always open, so check in advance. "

Spain
5 years ago
Oscar
"Nice place to visit if you have some free time in Florence, but if you are there for just a couple of days, you can skip it and visit the biggest art galleries in the city. I would take you around an hour to visit it. The most important part is the chapel itself, where you can see the great sculptures of Michelangelo and the tombs of the Medici family. "

Argentina
5 years ago
Evangelina
"muy bello...excelente!!!!"

United States
5 years ago
Anne
"I'm so glad we visited the Medici Chapel! Michaelangelo's sculptures were wonderful. The two Medici carvings are above two reclining figures of dawn and dusk, and night and day. Too cool! The Cappella Principi was beautiful!. The inlaid marble designs all over the surfaces were amazing. Also fascinating was the craftsmanship of the 16 coats of arms from the Tuscan cities under the Medici rule."

Belgium
5 years ago
Frederique
"The magnificience of the Medicis ! A great place to visit."

Italy
5 years ago
Marc
"magico !"

Canada
5 years ago
Debra
"Entering the Medici Chapel was so effortless. We were early but we're allowed to enter before our scheduled time. Wondrous site!"

United Kingdom
5 years ago
Kate
"Loved it here - really interesting -wish there was more!"

Italy
5 years ago
Andrea
"Luogo meraviglioso, sculture straordinarie, personale gentile. Tutto perfetto. Grazie mille."

Brazil
5 years ago
Maria
"good organized. no Line ! I strongly recomend"

Italy
5 years ago
Celestina
"Perfetto "

United Kingdom
5 years ago
Bryony
"Chapel of the princes was such a surprise! I did not expect it to be as amazing as it was. A definite must see with the amount of michalangelo aspects inside "

United States
5 years ago
Karen
"This was a wonderful experience. Mostly due to the unexpected free "tour guides" available to walk you through the museum - and provide you with very helpful information. They were so kind and polite and knowledgeable. Thank u !! "

United Kingdom
5 years ago
M A
"Fascinating trip through history"

Russian Federation
5 years ago
Vera
"Very good organization, very nice museum"

Colombia
5 years ago
Gustavo
"Bonita construcción en mármol. Digna de su período."

Slovakia
5 years ago
Ivan
"Super"