Duration: around 3 h
Photos allowed
Dinner with wine tasting
What to expect
Learn how to prepare the real Italian pizza
Discover all the secrets to make the perfect ice cream
Enjoy a dinner prepared with your own hands
Get your recipes booklet and an Attendance Certificate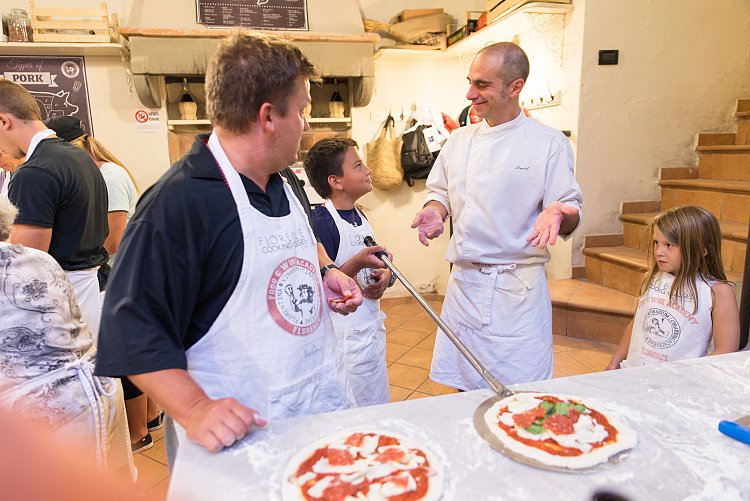 Pizza in Milan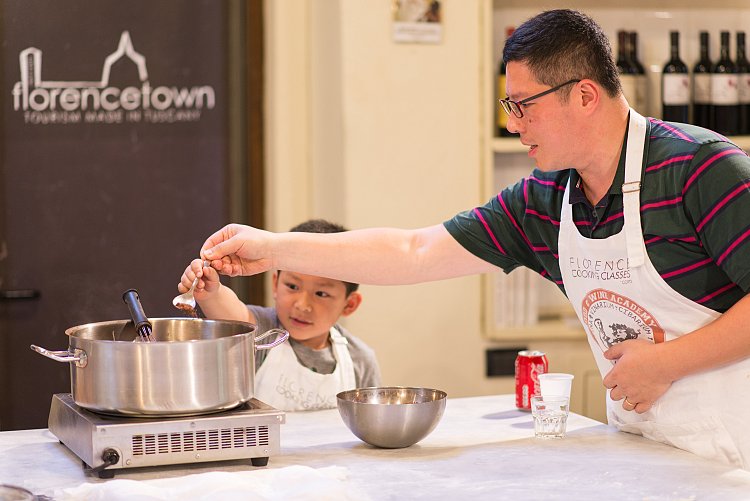 Pizza in Milan
---
Pizzaiolo for a day
Italians are arguably the most skilled in the world at making pizza and gelato. Now you can learn from the best and make them just as delicious, in a lovely location: our new and stylish cooking location in the center of Milan!
With us, you'll be in for one of the finest English-speaking Italian cooking class experiences in Milan.
There's no better way to learn than through a direct experience with the pros at work, and this is what will enable you to prepare the most authentic pizza and gelato. Our master "pizzaiolo" will be there to guide you and reveal all the hidden tricks behind the making of truly traditional Italian pizza.
He will show you how to knead flour, water and yeast to make the perfect pizza dough, and give you directions to prepare light but very savory tomato sauce.
Now that the doughs are resting, enjoy tasting a selection of wines and olive oil, and when you're ready, start learning the making of gelato, and the gelato cone! Follow our entertaining chef as he tells you all about Italian ice-cream history and the best producers, then mix your raw ingredients and let them churn while moving on to discover and combine the ingredients to make the batter and bake your cone. In the meantime, the doughs will be waiting for you to roll them out, garnish and top them with your favorite variety of flavors and slide them into the oven.
There is time for another glass of lovely red wine before the pizzas come out deliciously hot and fragrant from the oven. Then, everything will be ready for you to enjoy certainly one of the best pizza dinners you've ever had, the one you made yourself in Milano.
As a takeaway, you will be given an Attendance Certificate and a full Booklet of Recipes, so you'll be able to share this fantastic pizza and gelato experience with your family and friends back home.
What is included
Pizza and ice cream cooking class with a professional chef
Apron and cooking utensils
All ingredients needed
Dinner with the dishes prepared
Recipes booklet
Attendance Certificate
Reductions
Reduced/Half Ticket:
Children between 4 and 12 years old (valid identity document needed)
Free Ticket:
Infants between 0 and 3 years old (valid identity document needed)
Meeting Point
MERCATO CENTRALE INFO POINT, via Giovanni Battista Sammartini 1 (corner piazza IV Novembre) inside the Central Rail Station.
To remember
The tour is conducted only in ENGLISH
The meeting point is located in MILAN at MERCATO CENTRALE INFO POINT, via Giovanni Battista Sammartini 1 (corner piazza IV Novembre) inside the Central Rail Station.
Tickets will be sent via e-mail within 24-48 hours after purchase (weekdays) with all the instructions on how to get to the meeting point.
We inform you that, once booked, the date and time selected are binding. Please arrive at the meeting point 15 minutes before the starting time.
Children under 18 years old must be accompanied by an adult. Please note that Italy's law doesn't permit selling alcoholic beverage to teens under 18 y.o. so clients under this age will be served non-alcoholic beverages.
It is necessary to inform us of any food intolerance/allergy in advance, as well as any eventual dietary restictions.
Please let us know in advance any special need or impaired mobility of the clients and we will do our best to accomodate them.