Duration: around 3 h
Photos allowed
Dinner with wine tasting
What to expect
Learn how to prepare the real Italian pizza
Discover all the secrets to make the perfect ice cream
Enjoy a dinner prepared with your own hands
Get your recipes booklet and an Attendance Certificate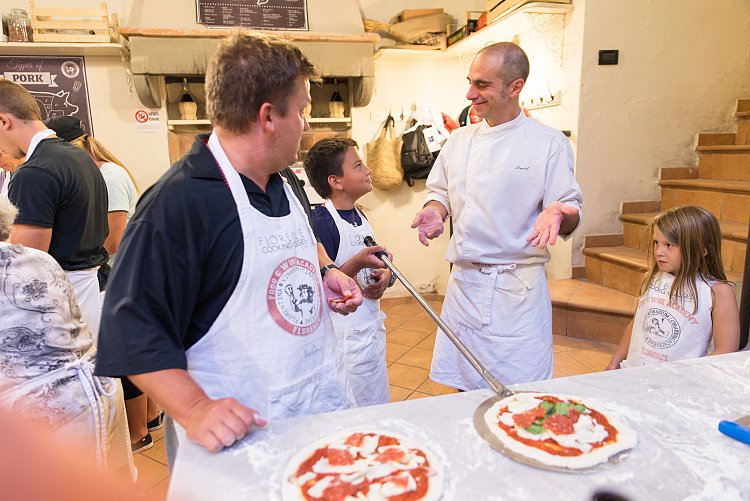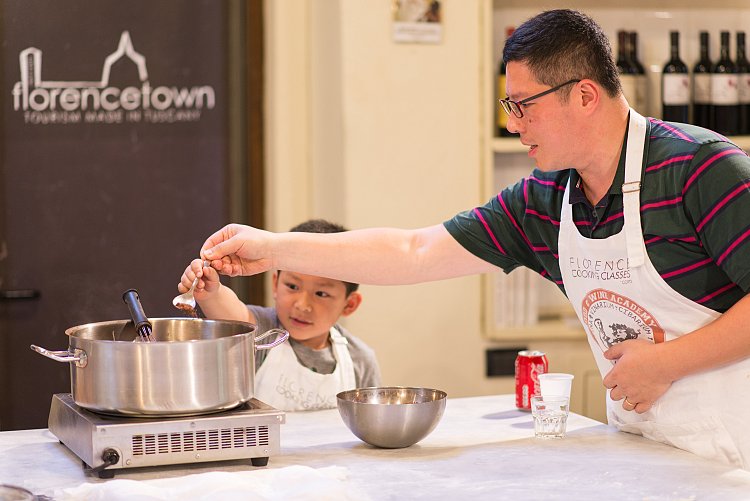 Gelato And Pizza Making Class In Milan

Gelato And Pizza Making Class In Milan











---
Pizzaiolo for a day
Italians are arguably the most skilled in the world at making pizza and gelato. Now you can learn from the best and make them just as delicious, in a lovely location: our new and stylish cooking location in the center of Milan!
With us, you'll be in for one of the finest English-speaking Italian cooking class experiences in Milan.
There's no better way to learn than through a direct experience with the pros at work, and this is what will enable you to prepare the most authentic pizza and gelato. Our master "pizzaiolo" will be there to guide you and reveal all the hidden tricks behind the making of truly traditional Italian pizza.
He will show you how to knead flour, water and yeast to make the perfect pizza dough, and give you directions to prepare light but very savory tomato sauce.
Now that the doughs are resting, enjoy tasting a selection of wines and olive oil, and when you're ready, start learning the making of gelato, and the gelato cone! Follow our entertaining chef as he tells you all about Italian ice-cream history and the best producers, then mix your raw ingredients and let them churn while moving on to discover and combine the ingredients to make the batter and bake your cone. In the meantime, the doughs will be waiting for you to roll them out, garnish and top them with your favorite variety of flavors and slide them into the oven.
There is time for another glass of lovely red wine before the pizzas come out deliciously hot and fragrant from the oven. Then, everything will be ready for you to enjoy certainly one of the best pizza dinners you've ever had, the one you made yourself in Milano.
As a takeaway, you will be given an Attendance Certificate and a full Booklet of Recipes, so you'll be able to share this fantastic pizza and gelato experience with your family and friends back home.
Description
Milan is finally hosting Italy's Best Pizza and Gelato Class!
Duration
Hours three
About
Come to our brand new and trendy cooking studio in downtown Milan to master the art of making authentic Italian pizza and smooth gelato. As the saying goes, "Italians do it better" and we can show you first-hand how true that is. Indulge in the deliciousness of these classic Italian treats while learning the skills to replicate them at home. Florencetown Cooking School's English class in Milano is unparalleled and arguably the best cooking class in Milan from among the many Italian cooking classes available! Discover the secrets to making authentic and delicious pizza and gelato from the pros of the most divine of Italian arts. Meet our expert "pizzaiolo" and follow his cues as he demonstrates and illustrates the trade tricks which lead to a picture-perfect and scrumptious pizza. In comes our cooking studio, a delightful atmosphere set for an exciting and interesting experience. Observe as the chef demonstrates the art of making yeast dough, its fine and elastic texture a result of delicate kneading. In addition, you will discover how to concoct a tart, yet airy tomato sauce, perfect for spreading atop your masterpiece. Gear up, for it's about time you took charge, mixing measurements, kneading and rolling to your heart's content. In the cozy cooking setting, take a break and let the dough rest while soaking up the hospitable and posh vibes. Get familiarized with making gelato and even crafting the cone with a special technique. Get engrossed in the stories behind the origins of Italian gelato, explore the fundamentals of the ingredients, and find out the top locations to obtain them, alongside an amusing culinary expert. Combine all the components and stir up your hunger while observing them transform into a rich, smooth cream. While your chef prepares the gelato for you, you'll be shown how to cook your cone by combining the ingredients for the batter. While the gelato is churning away, you can get back to making your pizza. You'll be rolling out the dough, sprinkling toppings of your choice, adding seasoning and flavor to your heart's content, and finally putting it in the oven. The heart of downtown Milan is the perfect spot to treat your taste buds to the best meal in the world: fragrant home-baked pizza and luscious gelato. After baking your piping hot pizza, relax and indulge in the temptation of its unique flavors. In Milan, after completing your pizza making class, a full Digital Recipe Booklet will be given to you along with a Certificate of Attendance so you may replicate the delicious pizza and gelato recipes with family and friends upon your return home. Looking for an amusing, yet informative experience for your family in Milan? Our gelato and pizza making class is the perfect activity for you! The relaxed and enjoyable atmosphere of the class makes it ideal for children to learn about the local culture while having fun.
Details, Further Explanations
Sometimes, it is important to gather more information before making a decision. Knowledge gives power and helps one make wise decisions. Acquiring more info can drag you out of a state of confusion, bring you clarity, and provide you with an informed perspective. This can be true in various facets of life, from personal growth to business decisions. Keeping this in mind, it is always beneficial to continue learning, and there's never a wrong time to obtain more info. Don't hesitate to reach out to experts in the field or do your research thoroughly.
"In the heart of Milan, food enthusiasts can partake in a unique culinary experience - a class taught by expert cooks on the art of pizza and gelato making.
Utensils for cooking and aprons in use
Pizza and gelato ingredients, everything you need
Soft drinks and vino for the kiddies
Prepared dishes dictate dinner
Please notify us ahead of time if you are a vegetarian. You will receive a digital booklet with recipes and a Certificate of Attendance that are both suitable for vegetarians.
"Unfortunately, it appears that the cooking class cannot accommodate individuals who are affected by celiac disease. We extend our sincere apologies for this unforeseen circumstance.
Pizza and ice cream cooking class with a professional chef
Apron and cooking utensils
All ingredients needed
Dinner with the dishes prepared
Recipes booklet
Attendance Certificate
Meeting Point
Via Giovanni Battista Sammartini corner, Piazza Quattro Novembre, 20125 Milano MI, Milan
Look for our chef at the info Point inside Mercato Centrale, on the ground floor.
Address: Via Giovanni Battista Sammartini 1 (corner piazza IV Novembre) next to Central Rail Station.
Clients are required to be at the meeting point 15 minutes prior to the scheduled departure time.
To remember
We cannot wait to welcome you to the land of authentic products and unforgettable experiences.
Clients are kindly encouraged to arrive at the meeting point 15 minutes ahead of the scheduled departure time.
We kindly request that you factor this into your travel plans. Regrettably, we are unable to accommodate any delays, no matter how brief, and we regret to inform you that failing to attend the experience will not qualify for a refund, including partial refunds.
Please inform us of any food intolerance or allergy in advance.
We regret to inform you that the cooking class is not suitable for celiac.
Please let us know in advance any special need or impaired mobility of the clients and we will do our best to accomodate them.
*Vegetarians and/or those suffering from intolerance and/or allergies are more than welcome: vegetarian and other alternative recipes are available and included (advance notice is appreciated).
Please note that pets are not allowed on this tour.