Duration: 3h
Earphones available
Photos allowed
Ice cream included
Guided tour
What to expect
An original and fun bike tour to discover the major tourist attractions in Florence

Histories, secrets and fun facts about the city narrated by a professional guide

A fresh ice cream in the characteristic Oltrarno district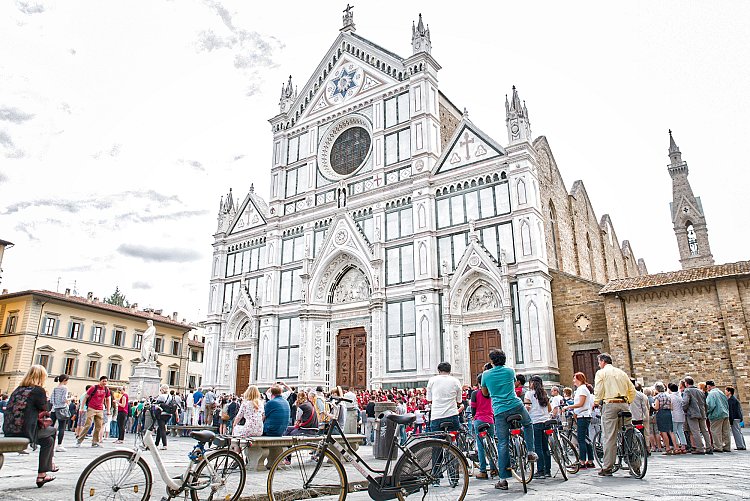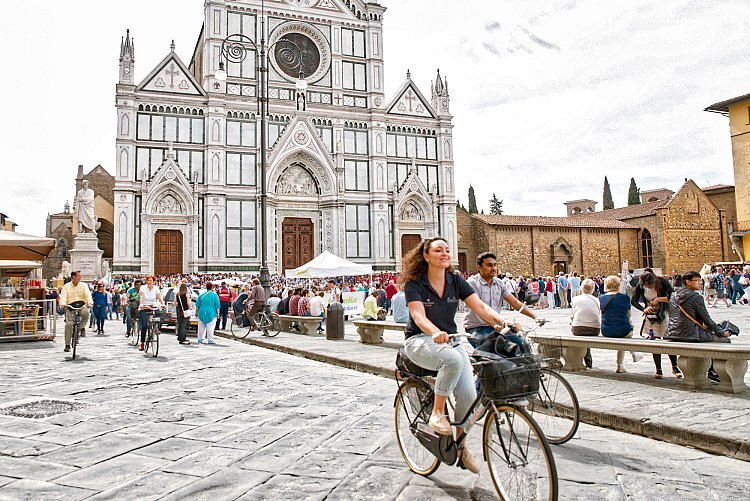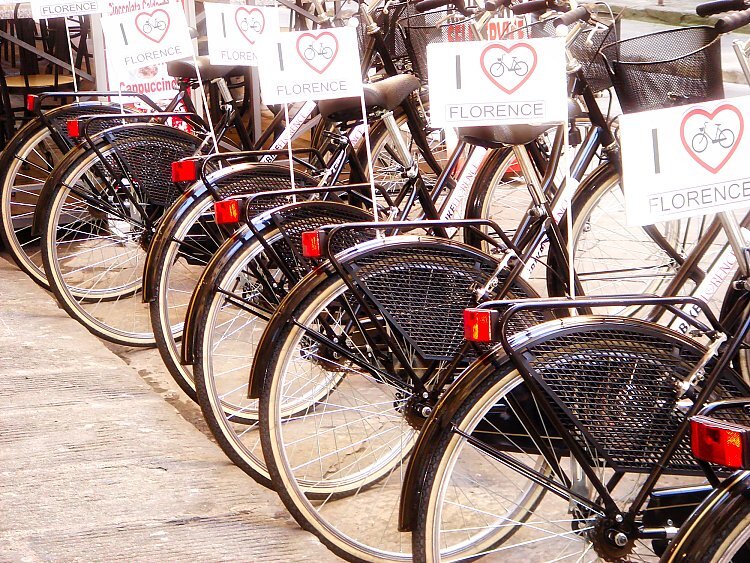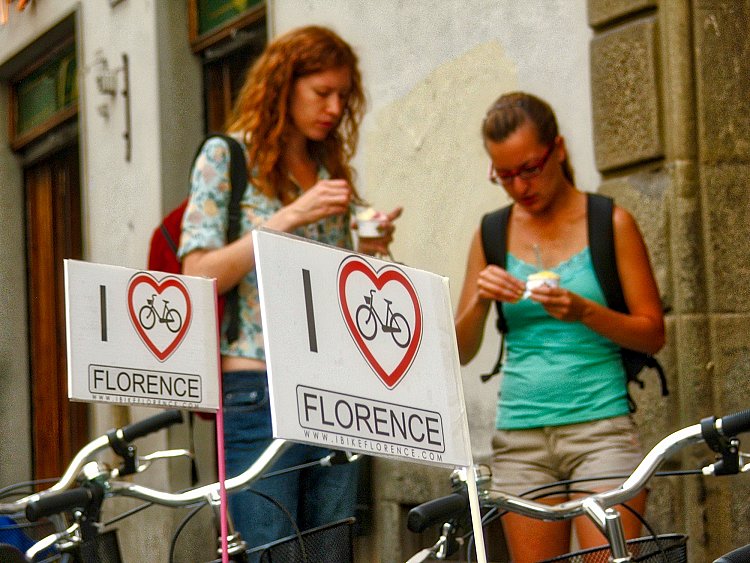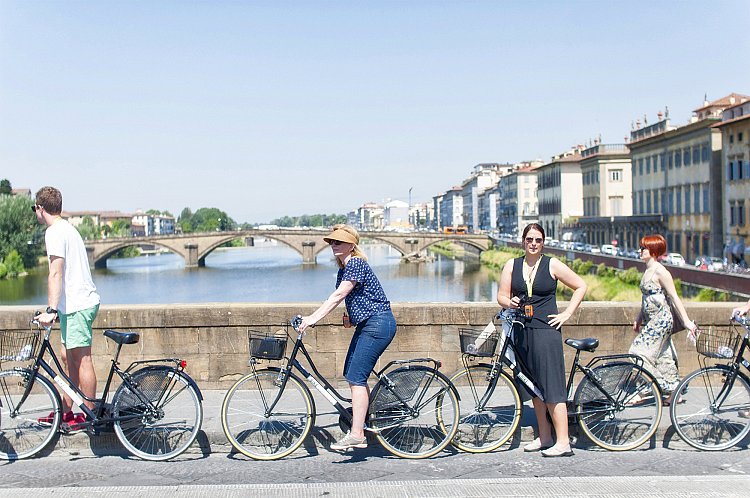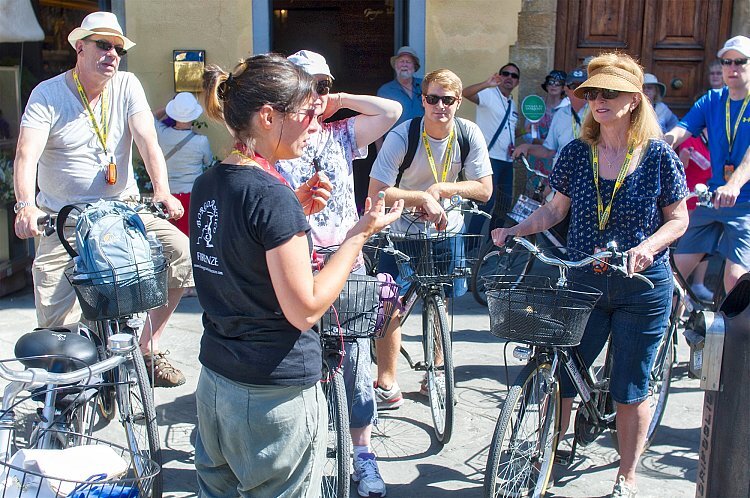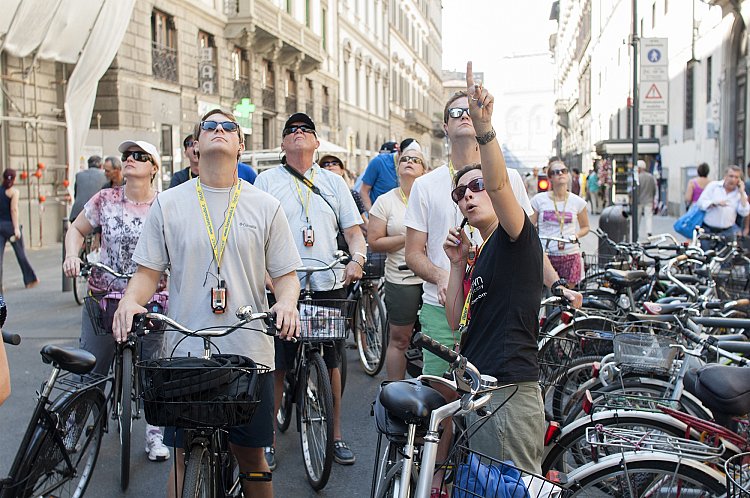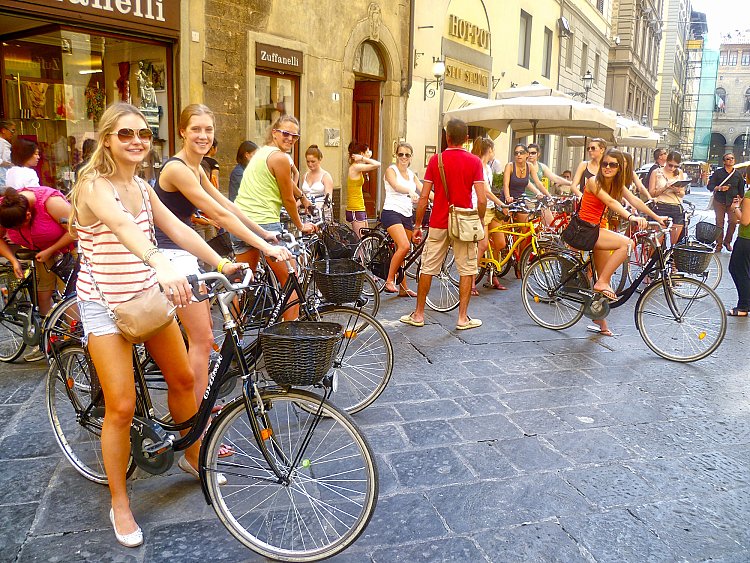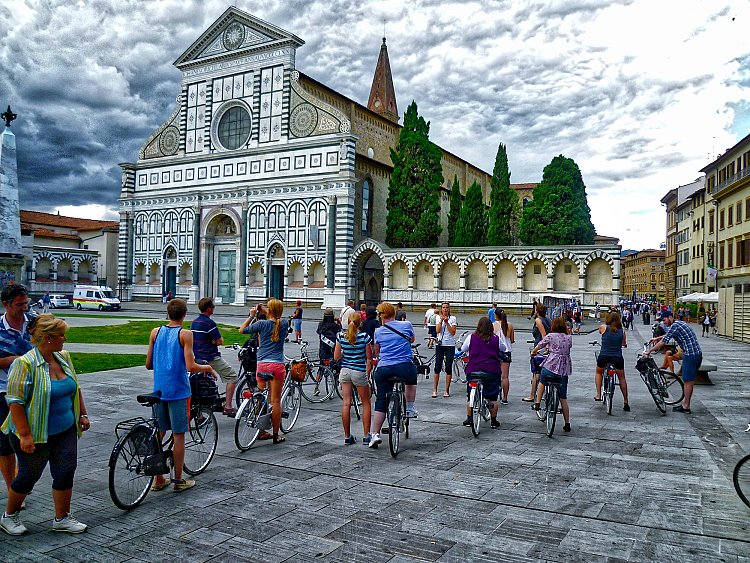 ---
An unforgettable ride
The perfect way to get around in the centre of Florence is by bike. With all the pedestrian areas closed to traffic you can easily move through narrow streets and stunning squares. The historical centre of Florence is quite small and you can visit the major historical and architectural attractions with a quiet bike ride.
In about 3 hour tour you will visit the major monuments of the city accompanied by an experienced and professional guide who will reveal stories, curiosities and anecdotes about the city of Florence, its past, its present.
The tour will go through the typical streets of the city reaching Piazza della Repubblica, Piazza Strozzi, the Duomo, Piazza Santa Maria Novella, the characteristic Oltrarno district, Palazzo Pitti, Ponte Vecchio, the Uffizi square, Piazza Signoria, Piazza Santa Croce. During the tour, the guide will stop to give historical information about the "cradle of the Renaissance" and allow those who want to take pictures. At the end of the tour you will taste a refreshing italian ice cream!
The tour is easily suitable for children of all ages. We have different sizes of bikes and helmets.
Description
Florence's bike tours guided by a professional
The original experience of cycling through Florence with an expert guide is a must-try for anyone visiting the Italian city. With a local to show you the way, you can explore the city and its iconic sights in a fun and eco-friendly way. Whether you're an avid cyclist or just looking to try something new, our bike tours cater to everyone. We'll provide you with a high-quality bike, a helmet, and of course, our knowledgeable guide who will share their passion for Florence with you. Join us for an unforgettable experience!
Duration
Hours: 2.5
About
Discovering the soul of Florence while wandering through the maze of small piazzas and cobblestone alleys. Looking to explore the true essence of its charm? Pedal your way through Florence and discover hidden gems with our Small-Group bike tours! See more of the city than you would on a walking tour and delight in the major sights. Explore various neighborhoods, the historic center and Oltrarno, all while avoiding the usual tourist areas. Follow your knowledgeable guide and have a thrilling adventure! Indulge in a delightful bike tour and discover Florence's clandestine views and confidential corners! Marvel at the city's most astonishing landmarks, like Piazza della Repubblica, Piazza Strozzi, the Duomo, Santa Maria Novella, the artisan district, Palazzo Pitti, Ponte Vecchio, Piazza della Signoria, Santa Croce and many others. Delve into Florence's rich cultural legacy and savor the flavor of a mouthwatering gelato (complimentary). Visiting the "birthplace of the Renaissance" in Florence is always an exciting opportunity, whether you are a seasoned traveler or a first-time visitor. Our bike tours in the city provide a unique and informative way to explore the historical landmarks and hidden gems in this charming Italian destination. All bikers, regardless of age, are invited! Those who bring along kids aged 0-3 years old need not worry as we offer complimentary child seats. Meanwhile, for those aged 4 and up, we have a selection of options, including child seats, available for a small fee.
Additional Details
Here are some more particulars you might be interested in. Please note that a regular biking skill is required, although the itinerary is not challenging and is flat. We want to make clear that exploring the inner chambers of museums and monuments is not something we partake in. "We kindly ask that you give us prior notice of any limitations in mobility or specific needs of your party, as we strive to provide optimal care and convenience tailored to each individual.
Guided tour of 3 hours with an official guide
Bike and helmet rental
Ice cream
Earphones for bigger groups
A bottle of water
Meeting Point
Florencetown Booking Office - Piazza Mentana, 2red, Firenze (FI)
Opposite side of the Arno river.
Clients are required to be at the meeting point 15 minutes prior to the scheduled departure time.
To remember
We cannot wait to welcome you to the land of authentic products and unforgettable experiences.
Clients are required to be at the meeting point 15 minutes prior to the scheduled departure time.
We kindly request that you factor this into your travel plans. Regrettably, we are unable to accommodate any delays, no matter how brief, and we regret to inform you that failing to attend the experience will not qualify for a refund, including partial refunds.
Children and teenagers under 18 years of age should always be accompanied by at least one adult. In the event that this requirement is not met, we retain the right to exclude the underage participant, and unfortunately, no refund will be provided.
Please note that pets are not allowed on this tour.
Please note, we do not visit the inside of monuments and museums.
We regret to inform that this tour is not suitable for guests with wheelchairs or with impaired mobility.
The described itineraries may undergo slight modifications due to unforeseen operational requirements.
Cancellation Policy
Please note that the tour remains unaffected by the weather conditions, be it sunny or rainy. However, there are certain exceptions to this, which will be mentioned in the text below. Rain will never be a cause for cancelling the tour. Possible uniques of the paragraph are: - Even though we plan to embark on the bike tour, bad weather might force us to deviate from the plan and switch to a walking tour instead (or modify the plan altogether if the weather doesn't permit us to cycle at the scheduled time). If the rain stops and conditions improve, we'll attempt to cycle again at some point during the excursion. - Our intention is to commence the bike tour, but we have to be flexible in case of inclement weather. If it's pouring down, we may opt to change to a walking tour instead (or commence with a walking tour directly if the climate isn't conducive for cycling at the appointed location). If the rain eases up, we'll endeavor to resume biking, provided circumstances permit. - Our aim is to conduct the bike tour as planned, but we acknowledge that the weather is beyond our control. If it's pouring, it might be better to switch to a walking tour (or adapt the schedule if it's not possible to use the bikes at the meeting point). If the weather improves, we'll make an effort to get back on the bikes when it's feasible. On a rainy day, guests have a few different options to choose from. Hoping for a break in weather, we invite you to join our tour, with the caveat that no compensation will be offered if we're unable to ride due to rain or if the tour must be cut short due to weather. Rest assured, we'll make every effort to ensure you're able to cycle, as long as the weather allows. A voucher called a "Rain check" can be redeemed for the same value that clients paid. It can be used on the following day or any future date, depending on availability. The Rain check voucher is transferable and valid for up to one year from the date given. It holds a value that can be applied to any of our company's tours. For the safety and comfort of our clients, it is absolutely essential that those who opt to ride in wet weather conditions must wear appropriate rain gear. Please keep this in mind.