Duration: 6h
Lunch with Tuscan specialities
Olive oil and wine tasting
Guided tour
Photos
What to expect
Try the unique experience of horse riding through the Chianti vineyards

Enjoy a full day in the Tuscan countryside

Visit wineries where wine is produced and discover something more about wine and oil production

Experience a taste of Tuscan cuisine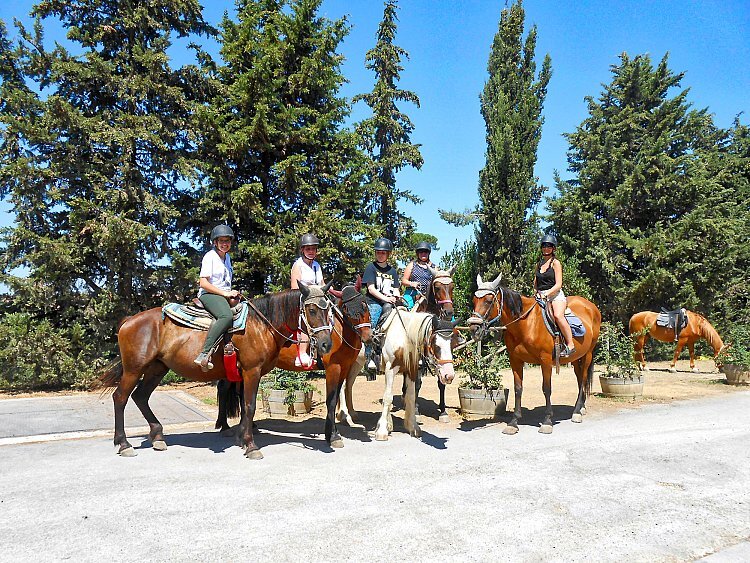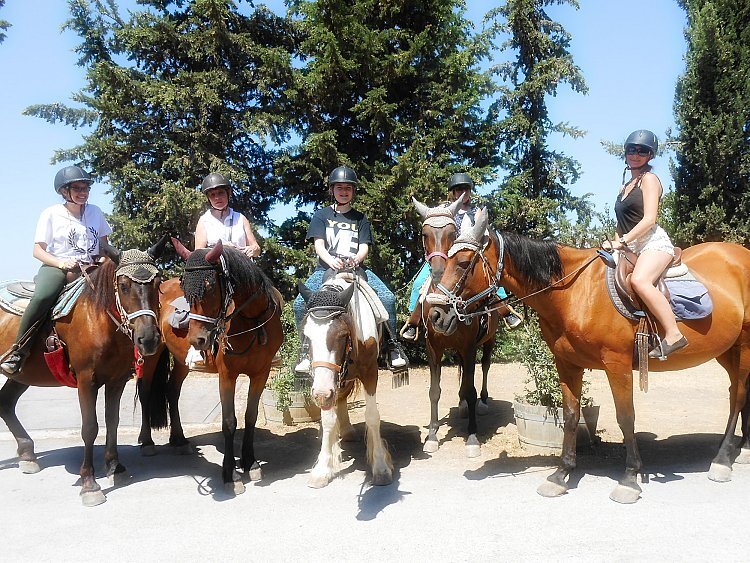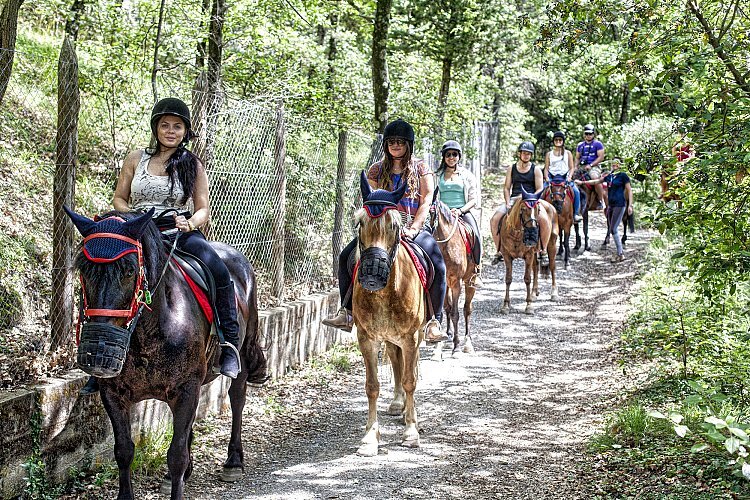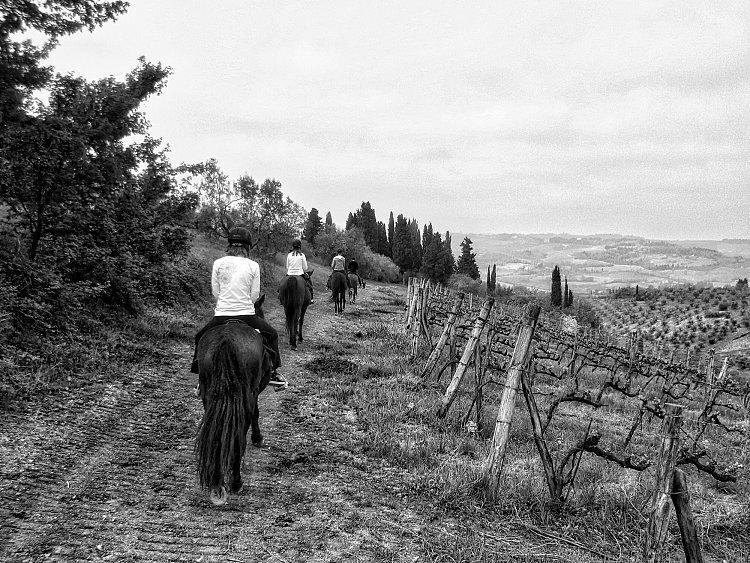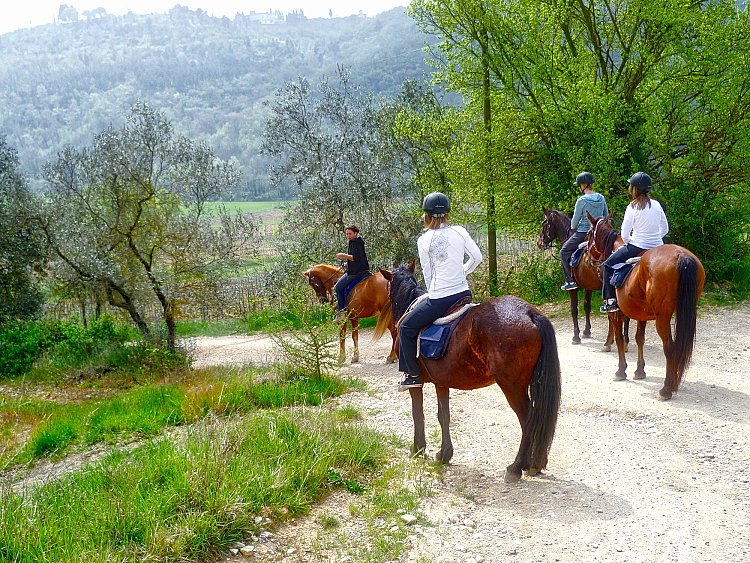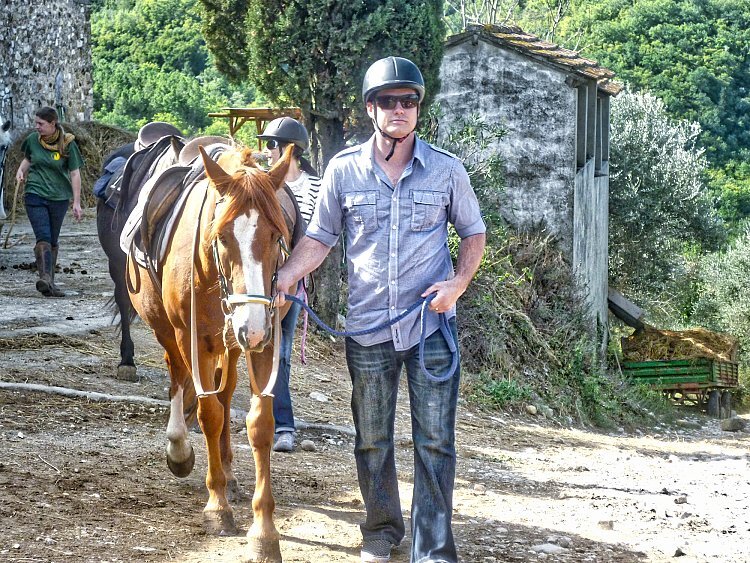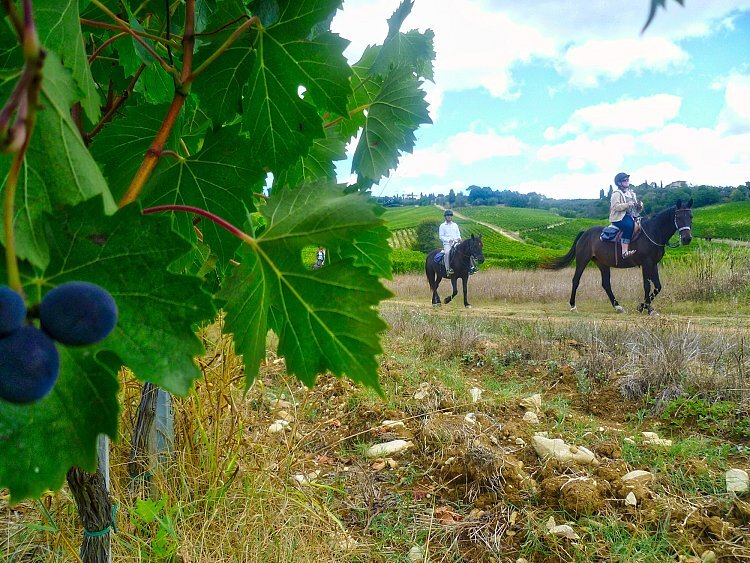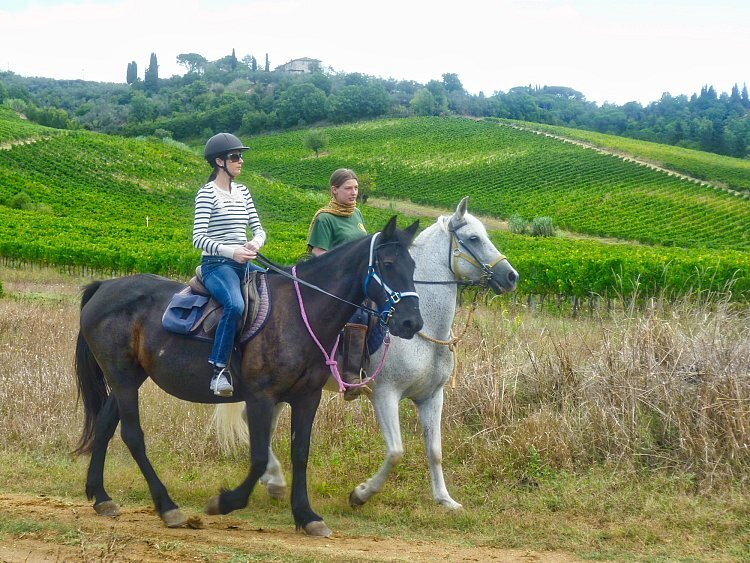 Private Horseback Riding near Florence and Wine tasting










---
An amazing adventure
It will be really an unforgettable experience, surrounded by the beauty of Tuscan countryside and by nature, exploring vineyards in the most natural way: horseback.
The shuttle will take you to the Chianti area, not far from Florence, where one of the most famous wines in the world is produced. The horseback ride does not require previous experience, it is suitable both for experts and beginners. You will be given all the information you need to ride a horse, even if it is the first time. And, after a short lesson, you will enjoy a peaceful horseback ride through an extraordinary scenery of hills, olive groves and vineyards.
After the horse ride you will reach a family-run farm where you will learn a lot with our guided tour on how oil and wine are produced. You will visit a winery, vineyards and take extraordinary photographs that will remind you these moments forever. Then, you will have your lunch in a Renaissance villa, with Tuscan products and specialities. The day will end up tasting wines produced in the vineyards just visited.
Description
Chianti vines swaying in the breeze, horses trotting gracefully, and delicious wines are the perfect combination for an unforgettable and unique experience. Imagine tasting wines as you ride horseback through scenic hills, taking in the stunning scenery and enjoying the flavors of the region. The Chianti region of Italy offers this and more to those who are adventurous enough to try it. So come and experience the beauty of Tuscany, from the saddle of a horse, with a glass of fine wine in hand.
Duration
Hours will pass by six of them.
About
On horseback is the best way to explore the lovely and unpredictable Tuscan countryside. Our private riding tour will take you through fields dotted with flowers, and vineyards nearby Florence. This experience affords you the opportunity to enjoy the Chianti hillside in unparalleled bliss with your family or group of friends. It's a personalized experience that ensures many cherished memories. Travel to the Chianti region with your own personal English-speaking driver and experience the home of some of the world's most rewarding wine. With lush landscapes consisting of undulating green hills, glimmering vineyards and bright silver olive groves, Chianti's heavenly surroundings offer a special blend of fresh country air and unforgettable vistas that you won't want to miss. In the middle of the hillside, encounter a horseback riding expert who speaks English. Your guide, a learned individual, will be there to meet you, along with skilled horses. You and your riding companions will receive a mount specifically suited to your abilities under your guide's direction. Follow your guide as you embark on a journey through vineyards and meadows that will leave you breathless. The trail ahead of you is nothing short of splendid, lined with lush vineyards, thick woods offering some much needed shade, and olive groves aplenty. Don't forget to take a break to visit an ancient winery owned by a noble family, where you can learn all there is to know about traditional Tuscan wine making. Finish off your adventure exploring a boutique wine cellar in Chianti that produces exceptional blends. Indulge yourself in delectable regional dishes, such as a light Tuscan lunch, that perfectly complement the rich Chianti blend. Ultimately, this will be the cherry on top of your experience. An authentic Tuscan experience can be had through private horseback riding near Florence. No need to have riding abilities beforehand and safety gear will be given-- particularly headgear for horseback riding. For those with youthful companions on the journey, please take note that children under the age of fourteen will not be permitted. Suitable for all, this easy and relaxed ride will not include any trotting or cantering. Don't get your hopes up for a faster pace! "Suitable clothing is required to be worn alongside closed toe shoes," the note read.
Info Added Here
Furthermore, it is essential for you to be conscious of all relevant information regarding the matter at hand. Therefore, you should pay attention to details and take note of any relevant factors that may arise. Additionally, it is important for you to consult with others and gather opinions from different perspectives in order to obtain a well-rounded understanding. Any uncertainties or questions should be addressed as soon as possible in order to prevent any complications from arising later on.
City center Florence transportation arranged for
Horse riding lesson orientation
Through the Chianti countryside, you can experience an hour-long leisurely ride atop an equestrian companion. Tour Leader & Professional Guide for Horses
Helmets
2 distinct boutique wineries will be toured under guidance
Wine Tasting accompanied by a typical Tuscan Meal
Access special discounts online on wine and typical products with a free subscription to our Food & Wine Club, a value of 25 Euros
Guided tour of 6 hours
Shuttle from/to Florence
1 hour horse riding tour
Helmet
Tuscan lunch
Olive oil and wine tasting
Guided tour to a winery
Meeting point
BOOKING OFFICE, Piazza Mentana 2red FIRENZE (opposite the Arno River)
To remember
We cannot wait to welcome you to the land of authentic products and unforgettable experiences.
We cannot wait to welcome you!
Clients are kindly encouraged to arrive at the meeting point 15 minutes ahead of the scheduled departure time.
We kindly request that you factor this into your travel plans. Regrettably, we are unable to accommodate any delays, no matter how brief, and we regret to inform you that failing to attend the experience will not qualify for a refund, including partial refunds.
Please note that pets are not allowed on this tour.
The described itineraries may undergo slight modifications due to unforeseen operational requirements.
Please note that this tour is not permitted for children under 13.
Children and teenagers under 13 years of age should always be accompanied by at least one adult. In the event that this requirement is not met, we retain the right to exclude the underage participant, and unfortunately, no refund will be provided.
Horses can bear up to 220 lbs (100 kg).
The horseback ride is easy and relaxed and does not require previous experience. Please do not expect to trot or canter.
Long-leave pants and sports shoes are required (no flip-flops please!)
Please let us know in advance any special need or impaired mobility of the clients and we will do our best to accommodate them.
Please note that Italy's law doesn't permit selling alcoholic beverage to teens under 18 y.o. so clients under this age will be served non-alcoholic beverages.
Please inform us of any food intolerance or allergy in advance.