Czas trwania: 1 godzina i 30 min
Priorytetowy dostęp
Zdjęcia bez lampy błyskowej
Audioprzewodnik dostępny
Dla osób na wózkach inwalidzkich
Tego możesz się spodziewać
Wycieczka z profesjonalnym przewodnikiem
Omiń kolejkę i nie trać czasu
Zobacz słynnego Dawida Michała Anioła, Czterech Niewolników i Św. Mateusza
Po zakończeniu wycieczki możesz zostać w muzeum tak długo jak chcesz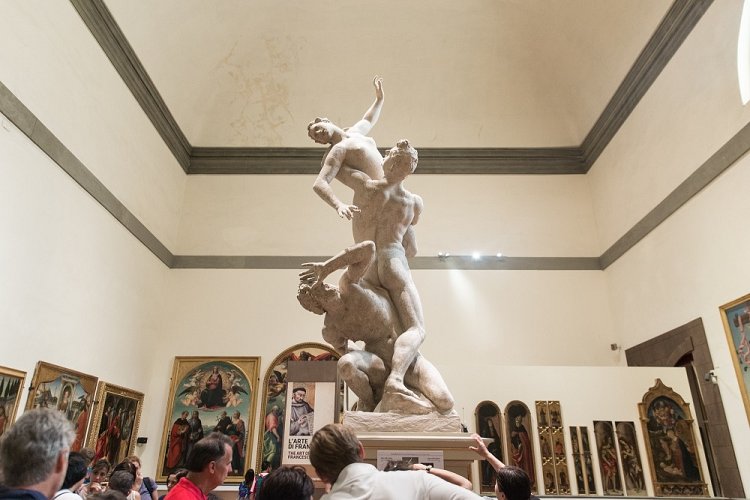 1 hour with David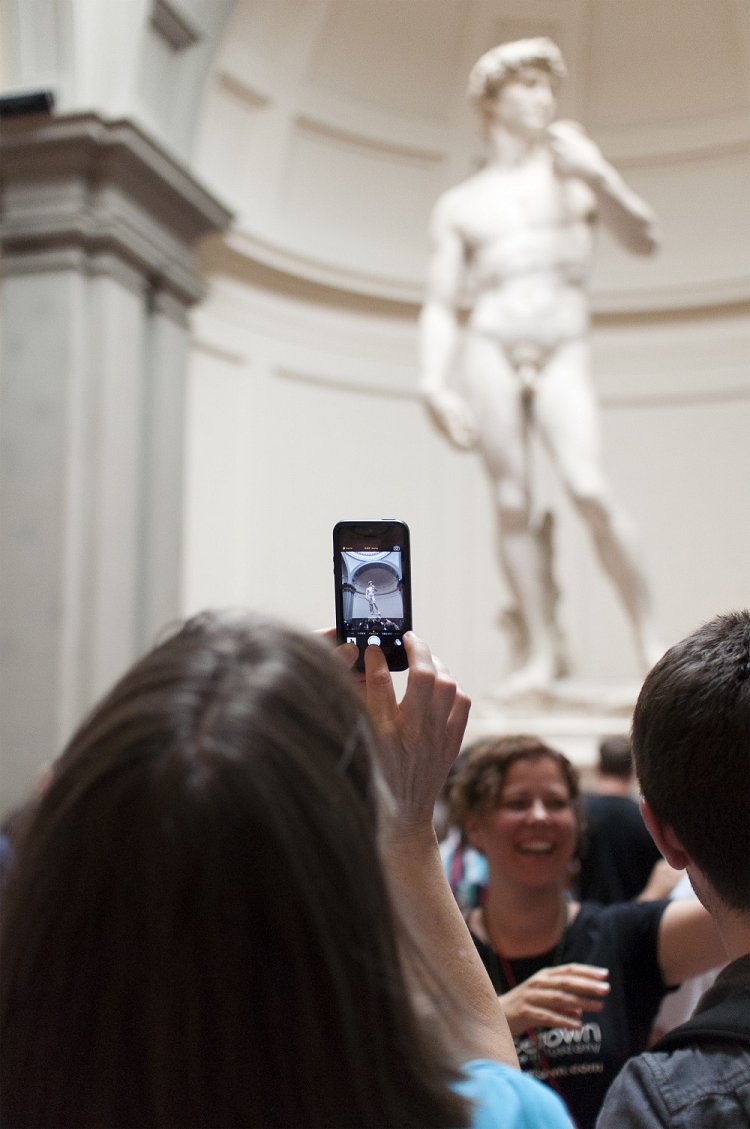 1 hour with David
---
Nie tylko Michelangelo...
Muzeum
Położone w sercu Florencji, jest jednym z najczęściej odwiedzanych muzeów na świecie ze względu na obecność wielu dzieł Michała Anioła, w tym słynnego Dawida, wystawionego we wspaniałej, specjalnie do tego celu stworzonej trybunie.
Historia
W 1784, wykorzystując powierzchnię Szpitala św. Mateusza oraz Klasztoru św. Mikołaja z Cafaggio, Wielki Książe Piotr Leopold Lotaryński stworzył Akademię Sztuk Pięknych; razem z nią założono Galerię Akademii, muzeum mające służyć jako dydaktyczny zbór dzieł sztuki, z którego korzystać mieli przyszli artyści. Przez wieki Galeria była wielokrotnie zmieniana, aż do osiągnięcia dzisiejszego wyglądu i stania się muzeum poświęconym Michałowi Aniołowi.
Kolekcje
Pierwsza kolekcja dzieł sztuki została powiększona o nowe prace pochodzące z kościołów i klasztorów Florencji, po represjach w XVIII dokonanych przez Wielkiego Księcia Piotra Leopolda Lotaryńskiego oraz w 1810 r. przez Napoleona. W 1872 r. z placu Piazza della Signoria przeniesiono Dawida Michała Anioła i umieszczono go w sali nazwanej Trybuną. W 1906 r. przeniesiono tu także Św. Mateusza, a trzy lata później, w 1909 r. cztery rzeźby Niewolników pochodzące z Groty Buontalenti w Ogrodzie Boboli. W Galerii znajduje się również kolekcja odlewów gipsowych Lorenzo Bartoliniego a także dział poświęcony dawnym instrumentom muzycznym; na szczególną uwagę zasługują niektóre obrazy na desce z manufaktury florenckiej pochodzące XIII-XVI w. oraz zbiór ikon rosyjskich.
Dzieła
Michał Anioł, Dawid, 1501-1504, z placu Piazza della Signoria
Michał Anioł, Czterech Niewolników, ok. 1530, z Groty Buontalenti w Ogrodzie Boboli, wyrzeźbieni do Nagrobka Papieża Juliusza II
Michał Anioł, Św. Mateusz , 1505-1506, z Katedry we Florencji
Michał Anioł (dzieło przypisane), Pietà, z kościoła Św. Rozalii w Palestrinie (Rzym)
Giambologna, odlew gipsowy Porwania Sabinek, 1582
Obrazy Taddeo Gaddi, Bernardo Daddi, Pacino di Bonaguida, Sandro Botticelli, Pietro Perugino, Andrea Orcagna, Lorenzo Monaco, Giovanni da Milano, Andrea del Sarto, Pontormo, lo Scheggia, Filippino Lippi, Fra' Bartolomeo, Agnolo Bronzino, Alessandro Allori, Santi di Tito.
Wliczone w cenę
Wejście z dostępem priorytetowym
Lokalny licencjonowany przewodnik
Po zwiedzaniu z przewodnikiem, pozostać wewnątrz tak długo jak chcesz
Opłata za rezerwację
Dostęp do wystaw czasowych
System audio-odbiorników (tylko w przypadku grup powyżej 12 osób)
Obniżki cen
Bilet ulgowy:
Dzieci w wieku od 6 do 12 lat (ważny dokument tożsamości wymagany przy wejściu)
Bilet darmowy:
Niemowlęta w wieku od 0 do 5 lat (ważny dokument tożsamości wymagany przy wejściu)
MEETING POINT
Accademia Ticket Office - Via Ricasoli, 58/60 (Florence)
How to find your Guide
Look for Florencetown tour guide in front of civic number 58
Zapamiętać
Wycieczka jest dostępna tylko w języku Angielskim
The meeting point is located in Piazza della Repubblica at the corner with Via Pellicceria (right at the KIOSK – TOURS & NEWS STAND under the arches, on the left of the APPLE STORE) - Florence
Tickets will be sent via e-mail within 24-48 hours after purchase (weekdays) with all the instructions on how to get to the meeting point
We inform you that, once booked, the date and time selected are binding. Please arrive at the meeting point 15 minutes before the starting time.
Big bags, large umbrellas and liquid bottles are not allowed inside the museum.
Please note that even with a skip the line ticket, the security check at the entrance of the museum may cause some delays.
---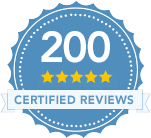 What means?
38 Reviews

United States
5 years ago
Brandon
"Our tour was so wonderful! My husband and I are on our honeymoon and have done multiple tours since we arrived in Italy and this was the first one where it was just the guide and us. We learned so much and were able to ask questions since it was just us. Highly recommend even if there are a few more people with your group!"

United States
5 years ago
Stephen
"It was great!"

United States
6 years ago
Cathy
"We had the most wonderful guide who gave us such interesting and fun information. She made me want to take an art history class. Thank you Helma. "

Canada
6 years ago
Kevin
"Flavia was amazing. Very friendly and found us outside the museum as soon as we arrived. Very informative and comfortable to be with. Would definitely have Flavia as a guide again. "

United Kingdom
6 years ago
Miguel
"Very happy with our choice. Our guide was superb."

United States
6 years ago
Fred
"Splendid tour guide ..staff allowed us to join the tour in progress after arriving 15 minutes late... Thank you!!"

United Kingdom
6 years ago
David
"A very knowledgeable guide Flavia concentrated on the essentials and made the tour both informative and interesting. "

Canada
6 years ago
Valerie
"We had a small group of 6 with an entry time at 12:30. Our tour experience was excellent! Our guide is very knowledgeable and he highlights the art pieces and significance along the way and spends more time at the David sculpture, where we looked all around and paid a lot of attention to the details. Defining recommend this tour."

United Kingdom
6 years ago
Steve
"Thanks Francesco, a wonderful tour round the Accademia. You really helped us understand the wonderful art on display."

United States
6 years ago
Jeff
"Our guide, Giana, was the best guide we have ever had, She was informative and charming the entire tour. We would love to have her for any tour if she is available."

Canada
6 years ago
Thaia
"Very informative! Flavia was kind and answered all questions. Her passion for the art and the history made this tour fabulous! "

United States
6 years ago
Stephen
"Francesca was amazing- informative, funny and pleasant "

United Kingdom
6 years ago
Lesley
"Informative and very enthusiastic guide. Statue of David amazing sight to see "

United States
6 years ago
Lilliam
"Our guide was very patient and extremely thorough and knowledgeable. Great tour!"

United Kingdom
6 years ago
Russell
"Fabulous: a group of 4 with an informative and interesting guide."

United Kingdom
6 years ago
Linda
"An excellent guided tour of the highlights of the Accademia conducted with great knowledge and passion. We would particularly recommend this to first time visitors such as ourselves. Linda Jones and Allan Shaw"

Singapore
6 years ago
Wayne
"Our Guide ,Lia was great, very knowledgeable and conducted a well paced tour. "

United States
6 years ago
Alan
"Excellent guide."

United States
6 years ago
Tom
"What a treat to go on a tour with Flavia. Very knowledgeable great storyteller and kind and engaging to all of us. Being with her was the highlight of the day. It made our visit fascinating. Thank you so much"

United States
6 years ago
Ashley
"Great tour! Buy tickets ahead of time to avoid the line "