Valabilitate: 1 zi
Accesul prioritar
Fotografii permis
Audio Ghid disponibil
Accesibil pentru persoanele cu handicap
La ce să te aștepți
Un oras roman ramas blocat in timp dupa eruptia din 79 d.C.
Numeroasele temple si magnificul amfiteatru.
Detaliile vieti cotidiene din acea epoca: casele, termele,magazinele, transpuse si in numeroasele fresce.
Mulajele din ghips ale victimelor eruptiei dupa ce cenusa sa solidificat imprejur.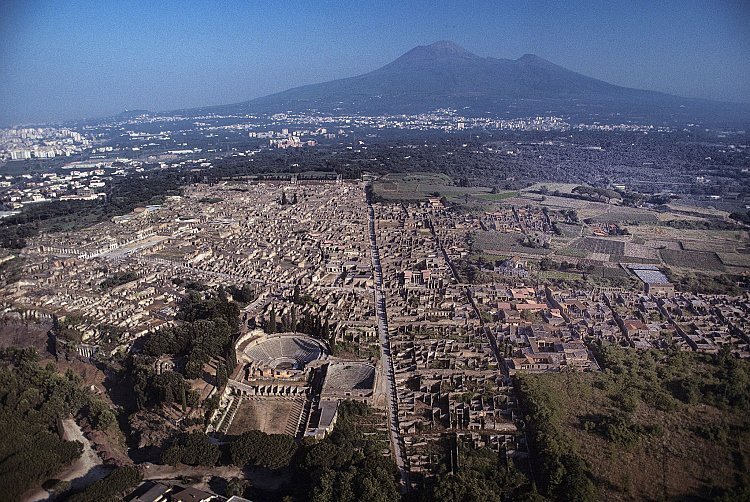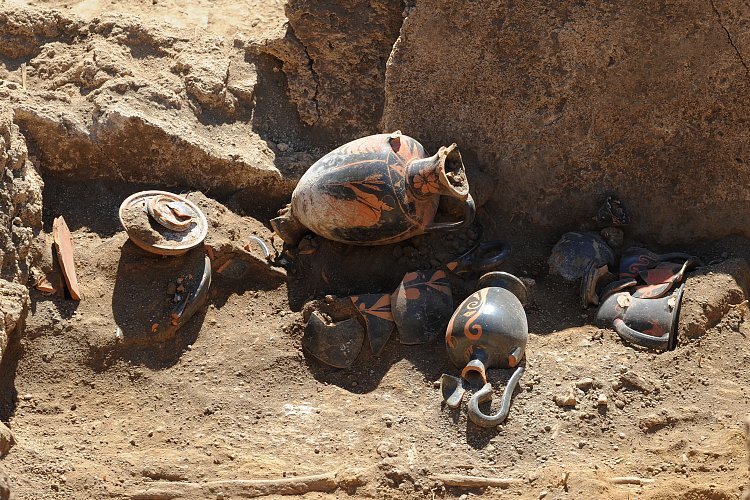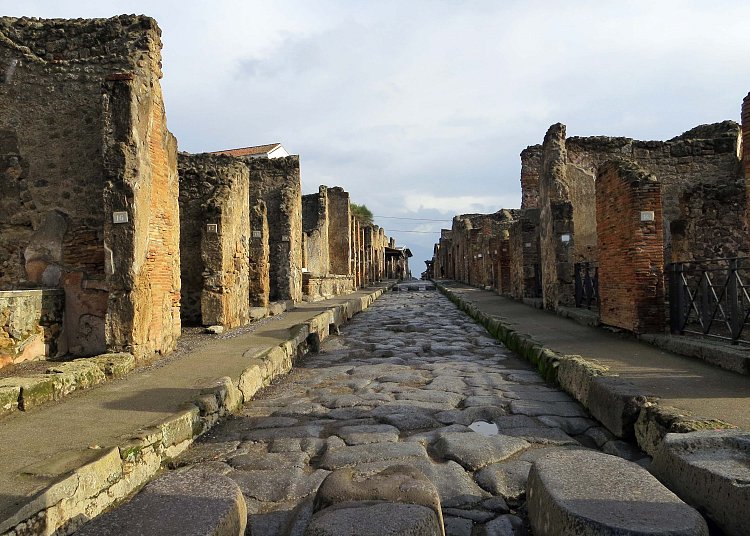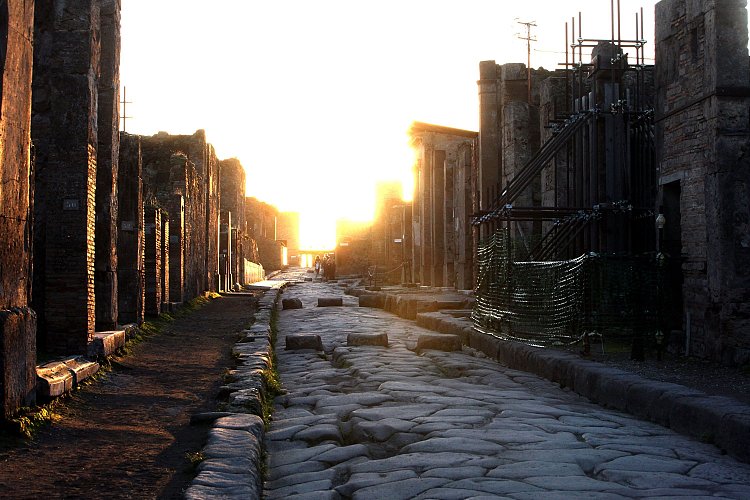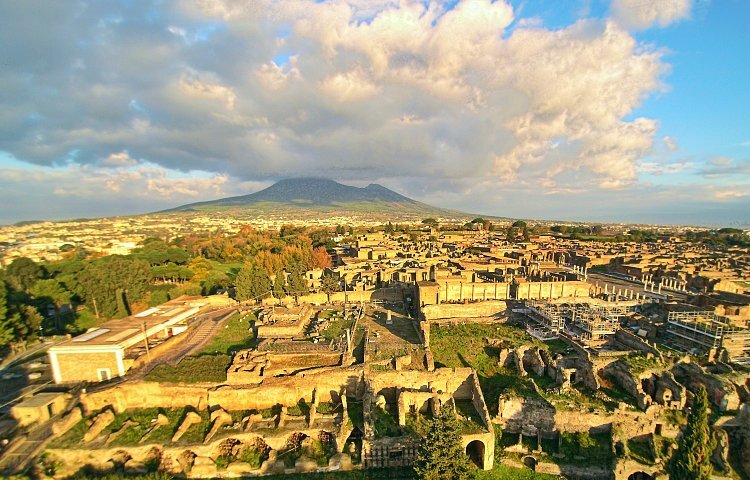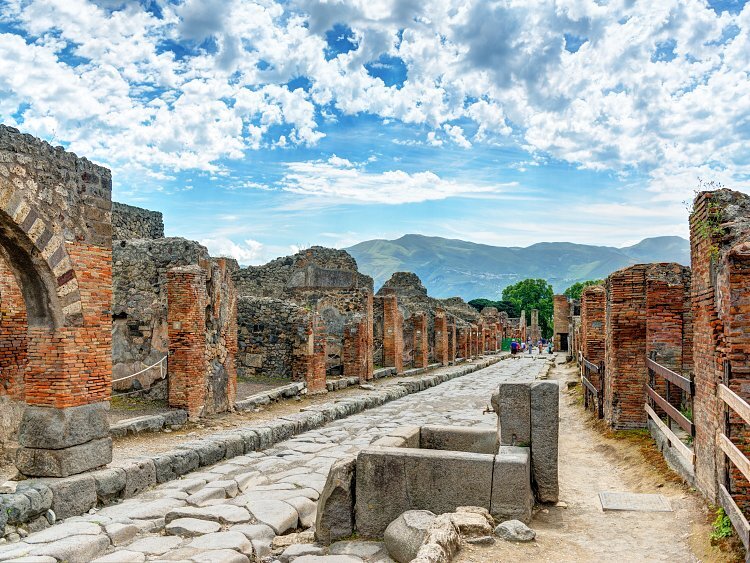 ---
Plimbare prin ruine
Pompei este una dintre cele mai importante marturii ale civilizatiei romane: orasul a ramas intact la intunericul pe care Vezuviu la adus cu eruptia din '79 d.c..Ruinele ramase in conditii bune,in special datorita eruptiei de cenusa si lapilli,care le-a pastrat intacte,ne permit sa vizitam un autentic oras al Imperiului Roman, de la obiectele vietii cotidiene mana la marile monumente ale vietii publice intense.
Istoric
Pompei, ingropata 79 d.C., a fost descoperita doar in anul 1748 in timpul domniei lui Carlo di Borbone, Re delle Due Sicilie, pentru a da importanta casei regale. Sapaturile au fost facute in mod discontinuu, asa ca Pompei a fost descoperit ca atare doar cativa ani dupa. Pana in anul 1800 cand sapaturile au fost preluate intens,dupa l'Unità d'Italia in anul 1861 de Giuseppe Fiorelli ca director al sapaturilor. Procedand in mod sistematic, incercand sa lege ceea ce era ce era deja descoperit, au iesit la lumina comori pe care Pompei le ascundea. A fost introdusa si metoda mulajelor de ghips ce permiteau recuperarea imaginilor victimelor eruptiei. In secolul trecut,sub indrumarea lui Amedeo Maiuri, tot orasul a fost delimitat si restaurat . In 1997 Pompei a fost declarat "Patrimoniul Umanittii" Unesco.
Colectii
Pompei nu detine o adevarata si proprie colectie, dar intruchipeaza arta clasica, conservand capodopere ca mozaicuri, fresce, statui, temple si cladiri. Se pot vizita termele, vilele romane, amfitteatrul, templele dedicate divinitati romane, foro, centrul vietii publice in comunitàtiile romane, dar si straziile, magazinele si casele antice ale orasului.
Capodopere
In interiorul zonei archeologice se pot admira capodopere ca:
Vila Otium, ca Villa Misterelor, Vila Diomedesi cea Imperiala ce conserva fresce cu obiceiurile si traditiile din epoca romana.
Amfiteatrul, Teatrul Mare si locuri de joaca din epoca romana .
Foro, inima orasului si Macellum, piata orasului.
Numeroase structuri sacre: Temple, printre care cea a lui Apollo, Iside, Giove si Vespasiano.
Termele Stabiane si Sala Mare de Sport.
Marele Necropoli in apropierea portilor Pompei.
Numeroasele cladiri din viata cotidiana ale orasului roman.
Ce este inclus
Intrarea cu acces prioritar
Full-time și să rămână în interior, atâta timp cât doriți
Taxele de rezervare
Accesul la expoziții temporare
Optiuni Disponibile
Următoarele opțiuni pot fi achiziționate în plus față de bilete în rezervare ghidate de pe acest site.
Ghid audio: disponibil în Italiană, Engleză, Franceză, Germana si Spaniola
Reduceri de preț
Bilete reduse:
Cetatenii cu varsta cuprinsa intre 18-24 ani (prezentati un document de identitate la intrare), ce apartin UE si Statelor supuse conditiilor de reprocitate (Austria, Belgia, Bulgaria, Cipru, Danemarca, Estonia, Finlanda, Franta, Germania, Grecia, Irlanda, Italia, Letonia, Lichtenstein, Lituania, Luxemburg, Malta, Norvegia, Olanda, Polonia, Portugalia, Anglia, RepublicaCeha, Romania, Slovacia, Spania, Elvetia, Svetia si Ungaria)
Bilete gratuite (este încă obligată să plătească presale pentru a sări peste linia) :
Cetatenii sub 18 ani (prezentati un document de identitate la intrare) ce apartin UE
Temporary and permanent teachers of Italian public and private schools equipped with the appropriate documentation issued by MIUR
Cetatenii din UE purtatori de handicap insotiti de un familiar sau de un asistent socio-sanitar
A ține minte
The ticket is valid all day until closing time of the site starting from entrance time.

The entrance time written on the tickets may be subject to small changes depending on the actual availability of the site.

For a satisfying experience it is recommended to reserve at least 1 hour and half to visit the site.

The tickets will be sent via email within 24-48 hours after purchase (on weekdays) with instructions on how to get there and what to do to enter.

We inform you that, once booked, the date and time selected are binding. Please pick up your ticket at least 15 minutes before the reserved entrance. Who does not respect the time booked will not enter. To pick up the audio guide, you need a valid ID.

The site has a maximum capacity of people, in some periods of the year or special days you may experience short delays or waits not dependent on the siteor Italy Tickets.
---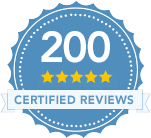 What means?
41 Reviews

Italy
5 years ago
Mariah
"This voucher was great! It was easy to find the line. My only suggestion is to make it to where you can have a moblie friendly one to swap. Pompeii was amazing!"

United States
5 years ago
Patti
"Even though it was early in the day, there was a fairly long line of people waiting to purchase entrance tickets. How nice for us to just walk up to a window, present our voucher, and get our tickets. We had a tour booked and no one else on the tour read that we still needed to purchase entrance, so we did not have the surprise of having to pay for this additional expense. "

Ireland
5 years ago
Grainne
"The tour was really enjoyable and very informative. The guide was very knowledgeable and helpful "

United States
5 years ago
Jennifer
"Get tickets online so you don't have to wait. Worth it!"

Spain
5 years ago
Eugenio
"Get to the main entrance, show the copy of your reservation and they will provide youe tickets right the way. Make sure you go to the right entrance otherwise you will have a long walk."

Spain
5 years ago
Natalia
"Todo fue muy bien. No hicimos colas y no tubimos nongun problema"

Spain
5 years ago
Elvira
"Ha valido la pena sacar con antelacion las entradas. No hemos hecho cola."

Italy
5 years ago
Luigi
"ottima "

Spain
5 years ago
Elena
"Me esperaba ver lava volcánica por todas partes y la verdad es que sólo vi ruinas, eso sí impresionantes, una ciudad enorme para la época por donde anduvimos más de 5 horas y no terminamos de verlo todo, el circo romano y el anfiteatro son alucinantes, vale la pena ir a visitarlos"

Italy
5 years ago
Michela
"Bellissimo"

Portugal
6 years ago
Carlos Manuel Dos Santos
"Imperdível"

Spain
6 years ago
Romualdo
"Buena gestión. Aunque para temporada baja quizá no sea necesario."

United Kingdom
6 years ago
Karen
"When you're visiting any site with less time than you'd like, buying tickets in advance is a great way to maximise your experience. We were on a cruise and had only a morning in Pompeii, so every minute spent not queuing was a real bonus. I made a mistake with the the timing of our visit because I had booked our entry for the time that our party were due to leave the ship, BUT to this company's credit, although we pitched up more than an hour late, we were simply welcomed and ushered through the turnstiles. Thus, our exploration time was extended and our visit was a joy. I warmly recommend buying tickets in advance for Pompeii through this company."

France
6 years ago
Marion
"Ticket acheté sur ce site,nous sommes entrés tout de suite ! Excellente journée à pompei !!!"

France
6 years ago
Muriel
"Un site magnifique à visiter absolument. Le train circumvesuviana vous laisse devant l'entrée du site pour un prix ridicule. Prévoir plusieurs heures de visite il y a beaucoup à voir... "

Brazil
6 years ago
Flavia
"Espetacular. "

France
6 years ago
Daniel
"Dommage que l'on soit obligé d'attendre dans la file quand on a réservé un billet sur internet !!!"

United States
6 years ago
Barbara
"Luciano was wonderful, he tailed the tour to meet our needs. thank you "

Spain
6 years ago
Jorge
"Todo fue correcto, no hicimos ninguna cola"

United States
6 years ago
Tina
"Unbelievable place. Planning to visit again. It's a very big place for a one day visit. GOD bless the loss of the lives that were lost. Give them peace Lord."