Discovering Brunello and its territory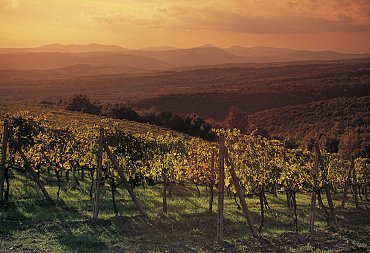 One of the most famous Italian wines, Brunello di Montalcino, grows in one of the most beautiful areas of Tuscany, the Val d'Orcia. UNESCO World Heritage Site since 2004 - well deserved title - the Val d'Orcia is characterized by rolling hills, rows of vines and small, quaint villages. To all this we have to add - as we said - one of the finest wines in the world, Brunello di Montalcino.
A holiday in this land regenerates spirit and body in every season. You can choose a hotel in a quaint village or a farm in the middle of the Crete Senesi, or search for accommodation in Siena - about 45 minutes by car - and then from there start to discover of the surrounding territory.
Elegant and precious, Brunello di Montalcino is a noble red wine and also the first Italian wine to have obtained the Denomination of Controlled and Guaranteed Origin DOCG. This wine is ruby red, leaning toward garnet; it has a unique, intense and persistent scent with hints of underbrush, aromatic wood, berries and vanilla. It is also characterized by a dry, warm, slightly tannin flavour and a long, persisting aroma. Brunello di Montalcino is also a wine that get better over time. It must be kept for at least two years in oak containers and then in bottle before being placed on the market. It can be called Reserve only if has passed an aging period not lower than five years, with at least three years of aging in oak and six months in bottle.The aging of Brunello can last over 20 years.
Brunello di Montalcino DOCG goes well with stews, braised meats, red meats, grilled meats and game, but also with aged cheeses. It is a meditation or relaxation wine, to be served in large crystal glasses that allow to enjoy its harmonious bouquet.
Thanks to the warm and pleasant climate, the area around Montalcino is perfect for growing Sangiovese grapes, those who are called here Brunello. In this area you can find about 200 wine producers, most of which carry on a family business.
We strongly recommend to explore this territory not missing a nice tasting tour in some of these wineries and wine cellars. During these visits, in fact, you will have the opportunity to chat with people directly involved in the production of wine, taste wine and other products, purchasing them directly from the producer.
The town of Montalcino is surrounded by ancient medieval walls and is characterized by an architecture style original from Siena. The pentagonal Fortezza di Montalcino overlooks the hill with its mighty towers guarding the strategic geographical location - and a breathtaking 360 degree view of the surrounding valley.
Among the things to see we suggest the Diocesan Museum of Sacred Art, the Town Hall, and a few kilometers further south, the Abbey of St. Antimo. Then you can not miss a visit to the quaint village of Pienza and to the extraordinary city of Siena, rich in art and culture. A holiday in Tuscany, between Val Orcia and the Crete Senesi, has so much to offer in terms of scenery, culture, food and wine!