Duration: 2 hours
Priority access
Photos allowed
Accessible
What to expect
Tour met een officiële gids van de Provincie Campania
Sla de wachtrij over en verspil geen tijd met de voorrangs toegang tot de Ruïnes van Pompeii.
Na de 2 uur durende tour kun je de rest van de dag in het gebied verblijven
Luister naar de fascinerende geschiedenis van de oude Romeinen
Bewonder het Forum, de Baden, de Tempels van Apollo, Jupiter en Isis en nog veel meer
Wandelen door de ruïnes
Geschiedenis
Pompeii werd gesticht rond de 7e eeuw voor Chr. en werd veroverd door de Romeinen in de 3e eeuw voor Chr. Het kreeg een grote stedelijke ontwikkeling met de constructie van het Forum, enkele tempels en de vele huizen. In 79 na Chr. werd het volledig begraven door de eruptie van de Vesuvius en bleef het voor ongeveer 1700 jaar verborgen.
In 1748 begon men in opdracht van Charles III van Bourbon met de opgravingen waardoor, gedurende vele jaren op een onderbroken manier, deze prachtige archeologische plek zichtbaar werd en wat in 1997 onderdeel werd van het UNESCO Wereld Erfgoed.
Meesterwerken
In het archeologische gebied kan men privé en openbare gebouwen aantreffen zoals:
het Forum, het hart van de stad wat verrijkt werd met beelden die nooit zijn gevonden en waar de meeste belangrijke gebouwen van de stad op uit keken.
de Tempel van Apollo, één van de oudste van Pompeii, gebouwd tussen 575 en 550 voor Chr.
de Tempel van Jupiter, genoemd na de ontdekking van het hoofd van een beeld van Jupiter.
het Lupanar, het beroemdste bordeel van Pompeii gekenmerkt door vele erotische wandschideringen
Inbegrepen
Entrance with priority access
Local guide officially authorized
After the guided tour, stay inside as long as you want
Reservation fees
Access to temporary exhibitions
Available options
The following options can be purchased in addition to the tickets in the booking Wizard on this website.
Price reductions
Gereduceerde/ halve prijs:
Inwoners tussen de 18 en 24 jaar (geldig identiteitsbewijs nodig bij de ingang) uit de Europese Gemeenschap en de Verenigde Staten onder voorwaarde van wederkerigheid (Oostenrijk, België, Bulgarije, Cyprus, Denemarken, Estland, Finland, Frankrijk, Duitsland, Griekenland, Ierland, Ijsland, Italië, Letland, Liechtenstein, Lithouwen, Luxemburg, Malta, Nederland, Noorwegen, Polen, Portugal, Groot Brittanië, Tsjechië, Roemenië, Slowakije, Slovenië, Spanje, Zweden, Zwitserland, Hongarije).
Gratis Ticket (het is nog steeds nodig is om de voorverkoop te betalen aan de lijn overslaan) :
Burgers uit de EU onder de 18 jaar (geldig identiteitsbewijs nodig bij de ingang)
Temporary and permanent teachers of Italian public and private schools equipped with the appropriate documentation issued by MIUR
Minder valide personen uit de EU, vergezeld door een familielid of begeleider.
To remember
The ticket is valid 1 day, starting from entrance time. After the guided tour you can stay inside the site as long as you want until closing time.
The tickets will be sent via email within 24-48 hours after purchase (on weekdays) with instructions on how to get there and what to do to enter.
We inform you that, once booked, the date and time selected are binding. 15 minutes before the starting time, meet the guide at the Infopoint of Via Villa dei Misteri n.1 (inside the Circumvesuviana train station, platform 1). Please note that you do not have to enter the Pompeii Ruins from the main entrance, but you have to go first to the meeting point specified above. Who does not respect the time booked will not enter.
You will receive two vouchers: the first one for the guided tour, that you have to show to the Infopoint of Via Villa dei Misteri n.1; the second one for the entrance to the Pompeii Excavations, that you have to show to the ticket office.
---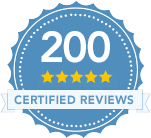 What means?
2 Reviews

United Kingdom
4 years ago
Lynda
"A very good tour, unfortunately I can't remember the guides name but he was brilliant, very good knowledge and able to answer all our questions as well as showing us the best sights."

United States
4 years ago
Deborah
"Guide was very knowledgable. Group size was very good. I had hoped to see more than three people suspended in time. Overall it was a good tour. "