Duración: 3 horas
Acceso prioritario
Fotos sin flash
Audioguía disponible
Accesible
Qué puedes esperar
Visita con un guía profesional
Salte la línea y no pierda su tiempo
Admire las famosas obras maestras como la Sagrada Familia de Miguel Angel, el Nacimiento de Venus y la Primavera de Botticelli
Tour en grupo pequeño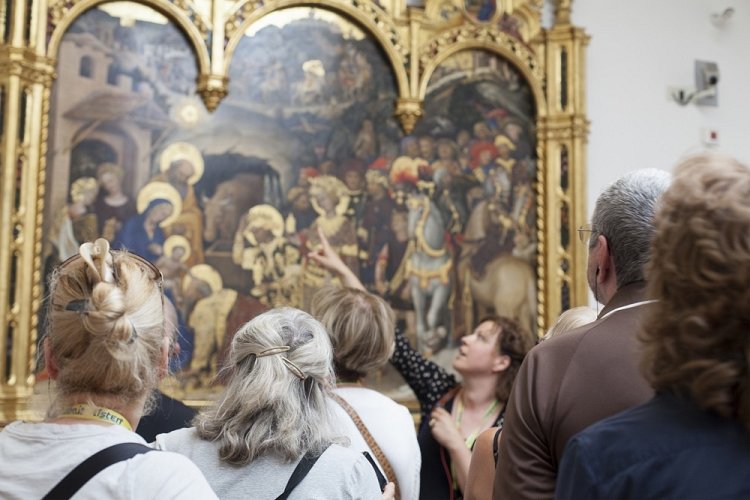 Uffizi guided tour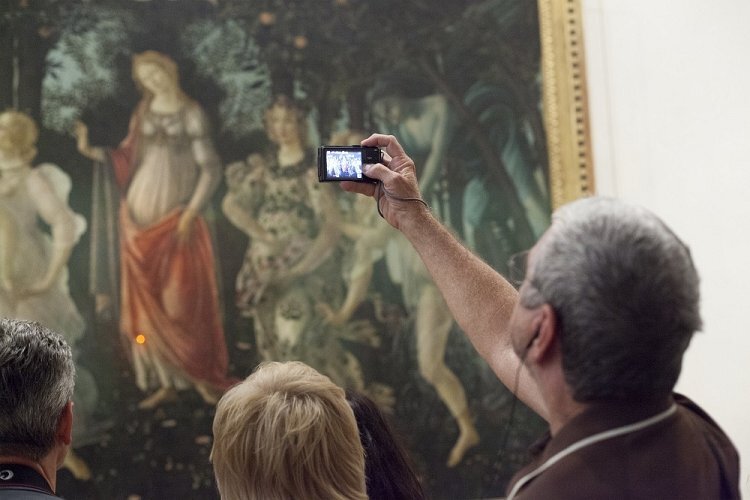 Uffizi guided tour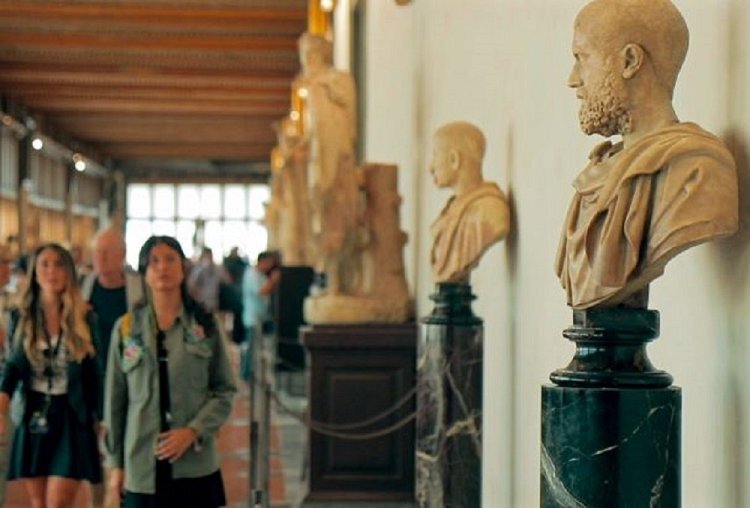 Uffizi guided tour
---
Un viaje inolvidable
Con este tour, tendrá la oportunidad de visitar una de las principales atracciones de Florencia, la galería de arte más importante de Italia, con sus miles de obras de arte inestimables que cubren el período de casi cinco siglos: los Uffizi.
En 1574, el primer piso de este edificio se convirtió en una galería de obras de arte por voluntad de Francesco I de los Medici, quien encargó el trabajo a Buontalenti, que luego también realizó la "Tribuna" para albergar los tesoros de los Medici, y el Teatro de los Medici. En 1737, Anna Maria Luisa de los Medici estipuló la "Convención" por la cual todas las obras aquí contenidas, estaban vinculadas de manera inseparable a la ciudad de Florencia.
Hoy, con la explicación de nuestro experto guía, puede admirar las obras de los más importantes pintores florentinos, como Giotto y Masaccio, y obras maestras eternas como el Tondo Doni de Miguel Ángel, la Anunciación de Leonardo da Vinci, la Primavera y la Venus de Botticelli sólo por nombrar algunas...
Luego admirará el exterior del mundialmente conocido Corredor de Vasari, el pasaje secreto construido por el mismo Vasari para la familia Medici; aprenderá que fue utilizado por los Señores de Florencia para caminar escondidamente desde el Palazzo Vecchio hasta el Palazzo Pitti, pasando por el famoso Ponte Vecchio. ¡Y esta es solo una de las anécdotas que nuestra guía compartirá con usted!
Incluido
Entrada con acceso prioritario
Guía local autorizado oficialmente
Tasas de reserva
Acceso a exposiciones temporales
Sistema de auriculares (incluido sólo para grupos de más de 12 personas)
Guided tour in English only
Reducciones
Entrada Reducida:
Niños entre 6 y 12 años (presentar un documento de identidad a la entrada)
Entrada Gratuita:
Bebés entre 0 y 5 años (presentar un documento de identidad a la entrada)
MEETING POINT
BOOKING OFFICE, Piazza Mentana 2red FIRENZE (opposite the Arno River)
Cancellation Policy
Clients will receive a full refund or credit when they cancel their activity at least 48 hours in advance.
If you do not show up for your activity, you will be charged the full price.
Para recordar
El tour se realiza únicamente en INGLÉS
El punto de encuentro es en la Piazza della Repubblica en la esquina con Via Pellicceria (justo en el QUIOSCO - TOURS & NEWS debajo de los arcos, a la izquierda de la tienda APPLE) - Florencia
Los billetes serán enviados por correo electrónico dentro de 24-48 horas después de la compra (días laborables) con instrucciones sobre cómo llegar al punto de encuentro
Le informamos que, una vez reservada, la fecha y la hora seleccionadas son vinculantes. Por favor lleguen al punto de encuentro 15 minutos antes de la hora de inicio.
Dentro del museo no se permiten bolsas grandes, paraguas grandes y botellas con líquidos.
Por favor tenga en cuenta que incluso con un billete para saltar la línea, el control de seguridad en la entrada del museo puede causar algunos retrasos.
Tenga en cuenta que el Corredor de Vasari todavía está en obras de restauración, por lo que podrá admirar solo su exterior.
---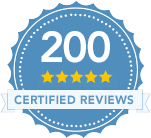 What means?
118 Reviews

United Kingdom
1 year ago
Tamsin
"Frederica was an excellent guide. Funny, insightful, patient, flexible and obviously passionate about art. Thank you!"

United States
5 years ago
Andre
"Francesco was outstanding! Extremely knowledgeable and more than willing to answer additional questions. Right on time, friendly, and generally top notch. Highly recommend!"

United States
5 years ago
Brian
"Was worth every penny .... a great tour. Thank you"

United Kingdom
5 years ago
Alexandra
"Great tour, really helped us appreciate the works of art"

India
5 years ago
Yamini
"Ornella was an amazing guide. Mind blowing experience. "

United States
5 years ago
Carmen
"We had a lovely tour. It was just the right amount of time and in a small group. So helpful to have someone guide us through and know so much about the art and the history of the art periods. I would highly recommend this tour! Grazie! "

Chile
5 years ago
Sergio
"Francesco, the guide, was great. He took us to the best of UFFIZI showing his knowledge in every painting, painter and every place of the museum. Great experience. Thank you ver much. "

United States
5 years ago
Nancy
"Great guide who knew his art history and was accommodating to my friend who had mobility issues"

United States
5 years ago
Tamara
"Thank you so much for calling us when we didn't arrive on time. Our trip to Italy was canceled due to a serious illness of my 98 year old mother in law. We would love to be able to use our tickets for a private tour of Uffizi this spring when we reschedule our trip. Thank you so very mych for your kind call. Warmest regards, Tamara and John Frank"

United States
5 years ago
Franco
"Loved the small group. Our Guide was excellent and knowledgeable! "

Australia
5 years ago
Susan
"Francesco our guide was great; he was very informative, interesting, up=to=date, generous in his responses to our questions and comments, and the selection of art works and the timing of it all was great. We found the traffic flow difficult when we stayed afterwards and think it could be improved in the Uffizi."

Australia
6 years ago
Meriza
"We had an amazing tour of the Uffizi Gallery. Our guide was Leonardo who shared his incredible knowledge about the paintings, the artists and the history relating to the paintings and sculptures. So much to see but Leonardo was able to take us to the most significant works and succinctly describe the meaning and techniques used by the pre-eminent artists of the time. Thanks Leonardo for a most memorable experience ! "

United States
6 years ago
Jeffrey
"Great tour, very knowledgeable guide. "

United States
6 years ago
Kelley
"Lea was our guide and she was knowledgeable and courteous. She gave us so much interesting information that I was left wanting to learn more, not only about art but about the history behind the art as well. Worth every penny!"

United States
6 years ago
Stephen
"It was great!"

United Kingdom
6 years ago
David
"I have no problem giving a recommendation. Our guide arrived on time, the group was small as promised, and the audio worked well. Our guide (Francesco) was very knowledgeable, explained things in detail about the paintings, and answered all questions we put to him. His English was also very good. Although the cost of a guided tour may seem high I thought it was worth it for the extra understanding you get in a once in a lifetime visit."

United Kingdom
6 years ago
Trevor
"A wonderful experience (despite the enormous crowds)! Our Guide Andrea was brilliant so knowledgeable, and enthusiastic, but still with a sense of humour. We learned so much about the important paintings that we simply would not have noticed for ourselves. Not to be missed but try to get on a group led by Andrea !!!!!!!"

United States
6 years ago
Charlene
"The guide was extremely knowledgeable and easily understandable. "

United Kingdom
6 years ago
Steve
"I want to give a big thank you to our guide, Francesca. My wife was taken ill at the start of the tour, but Francesca managed to look after her, park us somewhere safe, and continue to run the tour while still occasionally checking we were OK. Meanwhile, my two teenage boys continued as part of the tour party and thoroughly enjoyed it. Excellent work all round Francesca, thanks again!"

United States
6 years ago
Michael
"Excellent tour . Our guide, Francesco, was amazing! The depth of his knowledge was quite impressive. "