Czas trwania: 2 godziny i 30 min
Priorytetowy dostęp
Zdjęcia bez lampy błyskowej
Audioprzewodnik dostępny
Dla osób na wózkach inwalidzkich
Tego możesz się spodziewać
Wycieczka z profesjonalnym przewodnikiem
Omiń kolejkę i nie trać czasu
Zobacz słynne dzieła sztuki, takie jak Święta Rodzina Michała Anioła, Narodziny Wenus czy Wiosna Botticellego
Po zakończeniu wycieczki możesz zostać w muzeum tak długo jak chcesz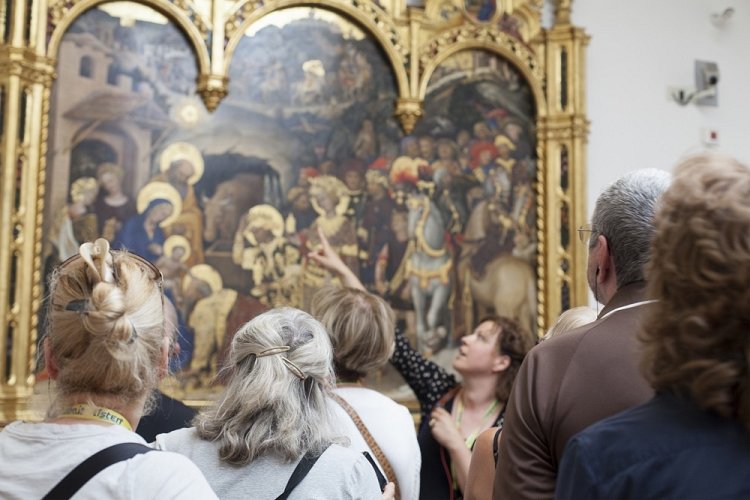 Uffizi guided tour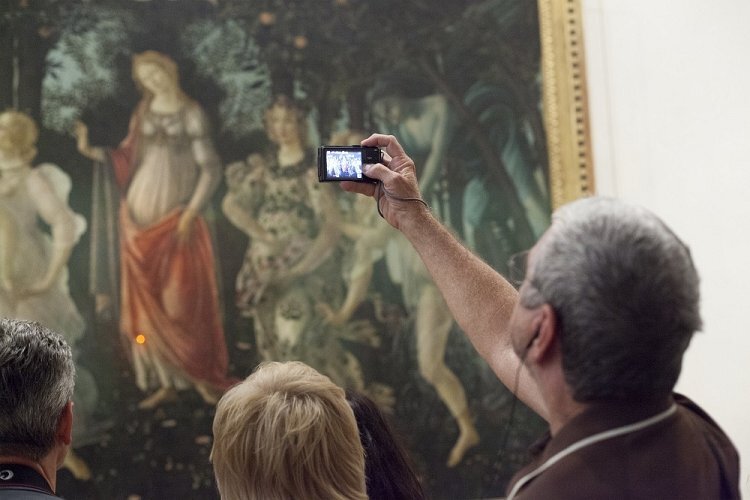 Uffizi guided tour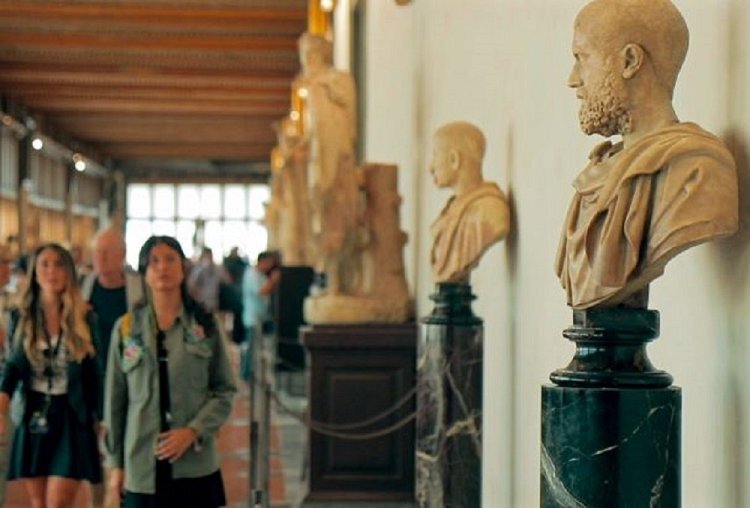 Uffizi guided tour
---
Niezapomniana podróż
Muzeum
Muzeum to jest jedną z głównych atrakcji Florencji, przechowuje tysiące dzieł sztuki o niemożliwej do oszacowania wartości, które powstały na przestrzeni pięciu wieków.
Historia
Kiedy Kosma I Medyceusz przeniósł swoją rezydencję do Palazzo Vecchio, rozkazał opróżnić biura administracyjne i sądowe i w latach 1560-1570 zlecił Giorgio Vasari budowę nowego budynku, do którego można by je przenieść (stąd właśnie pochodzi nazwa muzeum); w 1565 roku wybudował także korytarz (słynny Corridoio Vasariano) łączący Palazzo Vecchio z Palazzo Pitti.
Kolekcje
W 1574 roku pierwsze piętro zostało przekształcone na polecenie Franciszka I Medyceusza na galerię dzieł sztuki, który zlecił wykonanie prac Buontalenti, który w późniejszym czasie wykonał również "Trybunę" ("Tribuna"), która miała gościć skarby Medyceuszów i Teatru Medyceuszów. Ważną dla galerii datą był rok 1737, kiedy to Anna Maria Luisa de' Medici podpisała "Konwencję", na mocy której wszystkie przechowywane tu dzieła zostały nierozerwalnie powiązane z miastem. Również w czasach panowania dynastii habsbursko-lotaryńskiej, Muzeum wzbogaciło się o dzieła z różnych epok i różnego pochodzenia, co przyczyniło się do stworzenia najważniejszej Galerii sztuki we Włoszech.
Dzieła
Malarze florenccy: Giotto, Masaccio, Michał Anioł, Paolo Uccello, Cimabue, Leonardo da Vinci, Filippo Lippi, Sandro Botticelli, Pontormo, Rosso Fiorentino.
Malarze włoscy: Gentile da Fabriano, Piero della Francesca, Duccio di Buoninsegna, Rafael, Tycjan, Caravaggio, Simone Martini, Perugino, Tintoretto, Veronese, Canaletto.
Malarze europejscy: El Greco, Rubens, Rembrandt, Hugo Van der Goes, Hans Memling, Lucas Cranach, Albrecht Dürer.
Arcydzieła:
Michał Anioł, Tondo Doni, około 1506 r.
Botticelli, Wiosna, około 1482 r.
Botticelli, Narodziny Wenus, około 1484 r.
Leonardo da Vinci, Zwiastowanie, około 1475 r.
Tycjan, Wenus z Urbino, około 1538
Rafael, Portret Leona X, około 1518 r.
Caravaggio, Bachus, około 1597 r.
Wliczone w cenę
Wejście z dostępem priorytetowym
Lokalny licencjonowany przewodnik
Opłata za rezerwację
Dostęp do wystaw czasowych
System audio-odbiorników (tylko w przypadku grup powyżej 12 osób)
Guided tour in English only
Obniżki cen
Bilet ulgowy:
Dzieci w wieku od 6 do 12 lat (ważny dokument tożsamości wymagany przy wejściu)
Bilet darmowy:
Niemowlęta w wieku od 0 do 5 lat (ważny dokument tożsamości wymagany przy wejściu)
MEETING POINT
BOOKING OFFICE, Piazza Mentana 2red FIRENZE (opposite the Arno River)
Cancellation Policy
Clients will receive a full refund or credit when they cancel their activity at least 48 hours in advance.
If you do not show up for your activity, you will be charged the full price.
Zapamiętać
The tour is conducted only in ENGLISH
The meeting point is located in Piazza della Repubblica at the corner with Via Pellicceria (right at the KIOSK – TOURS & NEWS STAND under the arches, on the left of the APPLE STORE) - Florence
Tickets will be sent via e-mail within 24-48 hours after purchase (weekdays) with all the instructions on how to get to the meeting point
We inform you that, once booked, the date and time selected are binding. Please arrive at the meeting point 15 minutes before the starting time.
Big bags, large umbrellas and liquid bottles are not allowed inside the museum.
Please note that even with a skip the line ticket, the security check at the entrance of the museum may cause some delays.
---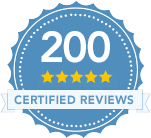 What means?
118 Reviews

United Kingdom
1 year ago
Tamsin
"Frederica was an excellent guide. Funny, insightful, patient, flexible and obviously passionate about art. Thank you!"

United States
5 years ago
Andre
"Francesco was outstanding! Extremely knowledgeable and more than willing to answer additional questions. Right on time, friendly, and generally top notch. Highly recommend!"

United States
5 years ago
Brian
"Was worth every penny .... a great tour. Thank you"

United Kingdom
5 years ago
Alexandra
"Great tour, really helped us appreciate the works of art"

India
5 years ago
Yamini
"Ornella was an amazing guide. Mind blowing experience. "

United States
5 years ago
Carmen
"We had a lovely tour. It was just the right amount of time and in a small group. So helpful to have someone guide us through and know so much about the art and the history of the art periods. I would highly recommend this tour! Grazie! "

Chile
5 years ago
Sergio
"Francesco, the guide, was great. He took us to the best of UFFIZI showing his knowledge in every painting, painter and every place of the museum. Great experience. Thank you ver much. "

United States
5 years ago
Nancy
"Great guide who knew his art history and was accommodating to my friend who had mobility issues"

United States
5 years ago
Tamara
"Thank you so much for calling us when we didn't arrive on time. Our trip to Italy was canceled due to a serious illness of my 98 year old mother in law. We would love to be able to use our tickets for a private tour of Uffizi this spring when we reschedule our trip. Thank you so very mych for your kind call. Warmest regards, Tamara and John Frank"

United States
5 years ago
Franco
"Loved the small group. Our Guide was excellent and knowledgeable! "

Australia
5 years ago
Susan
"Francesco our guide was great; he was very informative, interesting, up=to=date, generous in his responses to our questions and comments, and the selection of art works and the timing of it all was great. We found the traffic flow difficult when we stayed afterwards and think it could be improved in the Uffizi."

Australia
6 years ago
Meriza
"We had an amazing tour of the Uffizi Gallery. Our guide was Leonardo who shared his incredible knowledge about the paintings, the artists and the history relating to the paintings and sculptures. So much to see but Leonardo was able to take us to the most significant works and succinctly describe the meaning and techniques used by the pre-eminent artists of the time. Thanks Leonardo for a most memorable experience ! "

United States
6 years ago
Jeffrey
"Great tour, very knowledgeable guide. "

United States
6 years ago
Kelley
"Lea was our guide and she was knowledgeable and courteous. She gave us so much interesting information that I was left wanting to learn more, not only about art but about the history behind the art as well. Worth every penny!"

United States
6 years ago
Stephen
"It was great!"

United Kingdom
6 years ago
David
"I have no problem giving a recommendation. Our guide arrived on time, the group was small as promised, and the audio worked well. Our guide (Francesco) was very knowledgeable, explained things in detail about the paintings, and answered all questions we put to him. His English was also very good. Although the cost of a guided tour may seem high I thought it was worth it for the extra understanding you get in a once in a lifetime visit."

United Kingdom
6 years ago
Trevor
"A wonderful experience (despite the enormous crowds)! Our Guide Andrea was brilliant so knowledgeable, and enthusiastic, but still with a sense of humour. We learned so much about the important paintings that we simply would not have noticed for ourselves. Not to be missed but try to get on a group led by Andrea !!!!!!!"

United States
6 years ago
Charlene
"The guide was extremely knowledgeable and easily understandable. "

United Kingdom
6 years ago
Steve
"I want to give a big thank you to our guide, Francesca. My wife was taken ill at the start of the tour, but Francesca managed to look after her, park us somewhere safe, and continue to run the tour while still occasionally checking we were OK. Meanwhile, my two teenage boys continued as part of the tour party and thoroughly enjoyed it. Excellent work all round Francesca, thanks again!"

United States
6 years ago
Michael
"Excellent tour . Our guide, Francesco, was amazing! The depth of his knowledge was quite impressive. "