Durée: 3 h
Accès prioritaire
Photos sans flash
Audioguide disponible
Accessible
Ce qui vous attend
Visite avec un guide professionnel
Evitez la ligne et ne perdez pas votre temps
Admirez les chefs-d'oeuvre célèbres tels que la Sainte Famille de Michel-Ange, la Naissance de Vénus et le Printemps de Botticelli
Tour en un petit groupe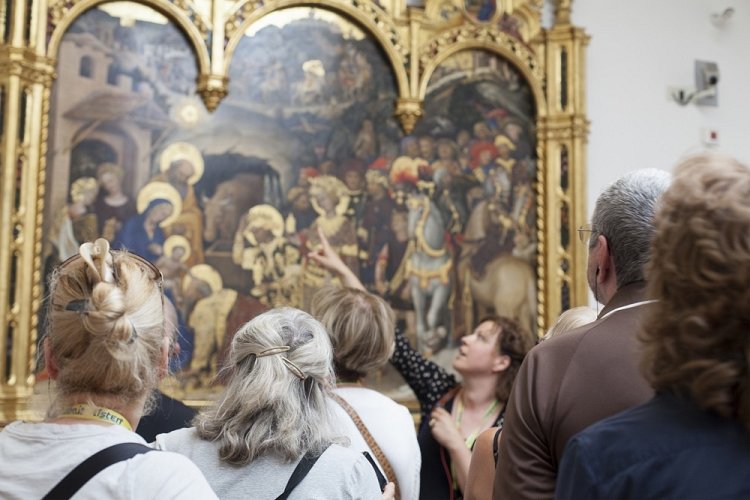 Uffizi guided tour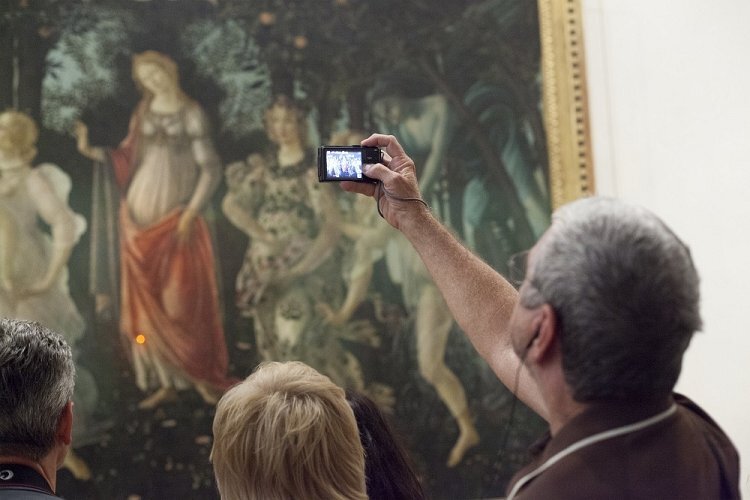 Uffizi guided tour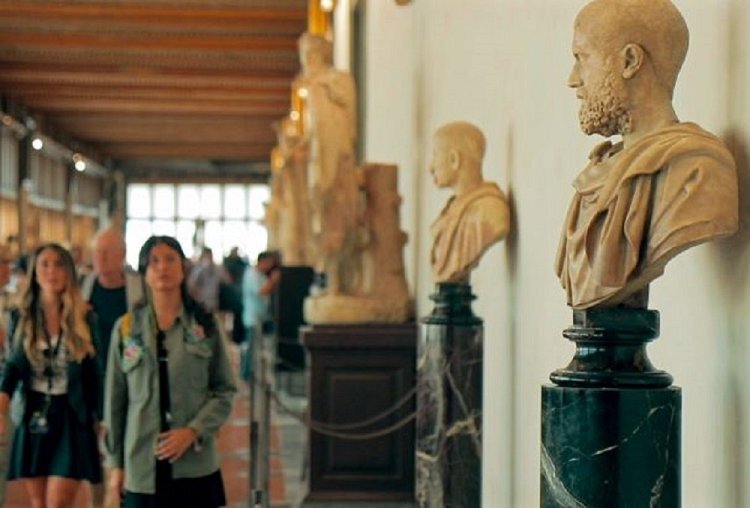 Uffizi guided tour
---
Un voyage inoubliable
Avec cette visite, vous aurez la chance de visiter l'une des principales attractions de Florence, la plus importante galerie d'art d'Italie avec ses milliers d'oeuvres d'art inestimables qui couvrent une période de près de cinq siècles: les Offices.
En 1574, le premier étage de ce bâtiment fut transformé en galerie d'oeuvres d'art pour la volonté de Francesco I des Médicis, qui commanda l'oeuvre à Buontalenti qui réalisa plus tard le "Tribuna", où seraient conservés les trésors des Médicis, et le Théâtre des Médicis. En 1737, Anna Maria Luisa de Medici stipulait la "Convenzione", par laquelle toutes les oeuvres ici contenues étaient liées inextricablement à la ville de Florence.
Aujourd'hui, avec l'explication de notre guide expérimenté, vous pourrez admirer les oeuvres des plus grands peintres florentins, tels que Giotto et Masaccio, ainsi que des chefs-d'oeuvre intemporels comme le Tondo Doni de Michelangelo, l'Annonciation de Leonardo da Vinci, le Printemps et la Vénus de Botticelli pour n'en nommer que quelques-uns!
Ensuite, vous admirerez l'extérieur du célèbre Couloir de Vasari, le passage secret construit par Vasari lui-même pour la famille des Médicis; vous apprendrez que les Seigneurs de Florence l'utilisaient pour se promener sans être vus depuis le Palazzo Vecchio jusqu'au Palazzo Pitti, en passant par le célèbre Ponte Vecchio. Et ce n'est là que l'une des anecdotes que notre guide partagera avec vous!
Ce qui est inclus
Entrée avec accès prioritaire
Guide local officiellement autorisé
Frais de réservation
Accès aux expositions temporaires
Whisper Système (inclus uniquement pour les groupes de plus de 12 personnes)
Guided tour in English only
Réductions
Tarif réduit:
Enfants de 6 à 12 ans (à l'entrée du musée il vous sera demandé un document d'identité)
Tarif gratuit:
Bébés âgés de 0 à 5 ans (à l'entrée du musée il vous sera demandé un document d'identité)
MEETING POINT
BOOKING OFFICE, Piazza Mentana 2red FIRENZE (opposite the Arno River)
Cancellation Policy
Clients will receive a full refund or credit when they cancel their activity at least 48 hours in advance.
If you do not show up for your activity, you will be charged the full price.
À retenir
La visite se déroule uniquement en ANGLAIS
Le point de rencontre est situé dans la Piazza della Repubblica au coin de Via Pellicceria (au KIOSQUE - TOURS & NEWS sous les arches, à gauche de la boutique APPLE) - Florence
Les billets seront envoyés par courrier électronique dans les 24-48 heures suivant l'achat (jours ouvrables) avec des instructions sur la façon d'arriver au point de rencontre
Nous vous informons que, une fois réservées, la date et l'heure sont obligatoires. S'il vous plaît arriver au point de rencontre 15 minutes avant l'heure de départ.
Les grands sacs, les grands parapluies et les bouteilles de liquides ne sont pas autorisées à l'intérieur du musée.
Veuillez noter que même avec un billet coupe-file, le contrôle de sécurité à l'entrée du musée peut causer des retards.
Veuillez noter que le Couloir de Vasari est encore en cours de restauration, vous ne pourrez donc admirer que son extérieur.
---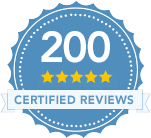 What means?
118 Reviews

United Kingdom
1 year ago
Tamsin
"Frederica was an excellent guide. Funny, insightful, patient, flexible and obviously passionate about art. Thank you!"

United States
5 years ago
Andre
"Francesco was outstanding! Extremely knowledgeable and more than willing to answer additional questions. Right on time, friendly, and generally top notch. Highly recommend!"

United States
5 years ago
Brian
"Was worth every penny .... a great tour. Thank you"

United Kingdom
5 years ago
Alexandra
"Great tour, really helped us appreciate the works of art"

India
5 years ago
Yamini
"Ornella was an amazing guide. Mind blowing experience. "

United States
5 years ago
Carmen
"We had a lovely tour. It was just the right amount of time and in a small group. So helpful to have someone guide us through and know so much about the art and the history of the art periods. I would highly recommend this tour! Grazie! "

Chile
5 years ago
Sergio
"Francesco, the guide, was great. He took us to the best of UFFIZI showing his knowledge in every painting, painter and every place of the museum. Great experience. Thank you ver much. "

United States
5 years ago
Nancy
"Great guide who knew his art history and was accommodating to my friend who had mobility issues"

United States
5 years ago
Tamara
"Thank you so much for calling us when we didn't arrive on time. Our trip to Italy was canceled due to a serious illness of my 98 year old mother in law. We would love to be able to use our tickets for a private tour of Uffizi this spring when we reschedule our trip. Thank you so very mych for your kind call. Warmest regards, Tamara and John Frank"

United States
5 years ago
Franco
"Loved the small group. Our Guide was excellent and knowledgeable! "

Australia
5 years ago
Susan
"Francesco our guide was great; he was very informative, interesting, up=to=date, generous in his responses to our questions and comments, and the selection of art works and the timing of it all was great. We found the traffic flow difficult when we stayed afterwards and think it could be improved in the Uffizi."

Australia
6 years ago
Meriza
"We had an amazing tour of the Uffizi Gallery. Our guide was Leonardo who shared his incredible knowledge about the paintings, the artists and the history relating to the paintings and sculptures. So much to see but Leonardo was able to take us to the most significant works and succinctly describe the meaning and techniques used by the pre-eminent artists of the time. Thanks Leonardo for a most memorable experience ! "

United States
6 years ago
Jeffrey
"Great tour, very knowledgeable guide. "

United States
6 years ago
Kelley
"Lea was our guide and she was knowledgeable and courteous. She gave us so much interesting information that I was left wanting to learn more, not only about art but about the history behind the art as well. Worth every penny!"

United States
6 years ago
Stephen
"It was great!"

United Kingdom
6 years ago
David
"I have no problem giving a recommendation. Our guide arrived on time, the group was small as promised, and the audio worked well. Our guide (Francesco) was very knowledgeable, explained things in detail about the paintings, and answered all questions we put to him. His English was also very good. Although the cost of a guided tour may seem high I thought it was worth it for the extra understanding you get in a once in a lifetime visit."

United Kingdom
6 years ago
Trevor
"A wonderful experience (despite the enormous crowds)! Our Guide Andrea was brilliant so knowledgeable, and enthusiastic, but still with a sense of humour. We learned so much about the important paintings that we simply would not have noticed for ourselves. Not to be missed but try to get on a group led by Andrea !!!!!!!"

United States
6 years ago
Charlene
"The guide was extremely knowledgeable and easily understandable. "

United Kingdom
6 years ago
Steve
"I want to give a big thank you to our guide, Francesca. My wife was taken ill at the start of the tour, but Francesca managed to look after her, park us somewhere safe, and continue to run the tour while still occasionally checking we were OK. Meanwhile, my two teenage boys continued as part of the tour party and thoroughly enjoyed it. Excellent work all round Francesca, thanks again!"

United States
6 years ago
Michael
"Excellent tour . Our guide, Francesco, was amazing! The depth of his knowledge was quite impressive. "