Dauer: 2 h und 30 min
Vorrangiger Zugriff
Fotos ohne Blitz
Audioguide vorhanden
Für Rollstuhlfahrer geeignet
War Sie erwartet
Tour mit einem professionellen Reiseführer
Überspringen Sie die Schlange und sparen Sie Zeit
Bewundern Sie berühmte Meisterwerke wie Michelangelos 'Heilige Familie', Botticellis 'Geburt der Venus' und 'Frühling'
Bleiben Sie so lange im Museum wie Sie möchten, auch nach Ende der Tour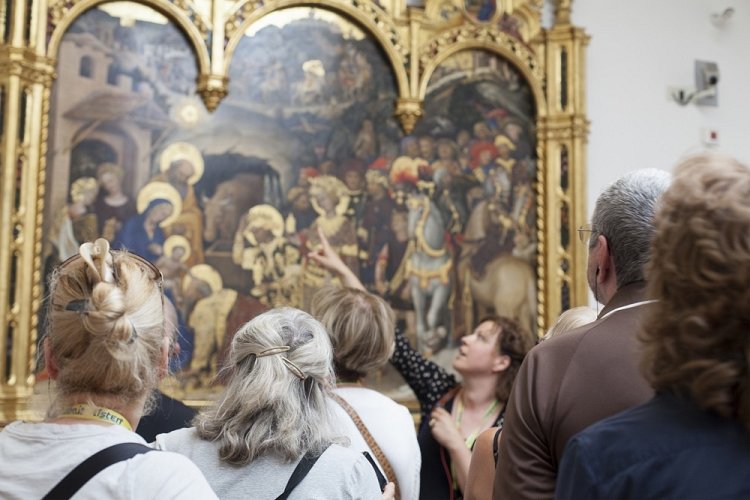 Uffizi guided tour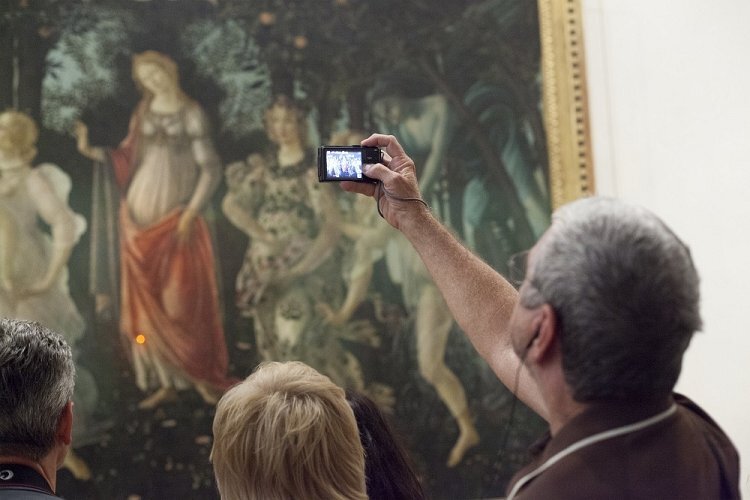 Uffizi guided tour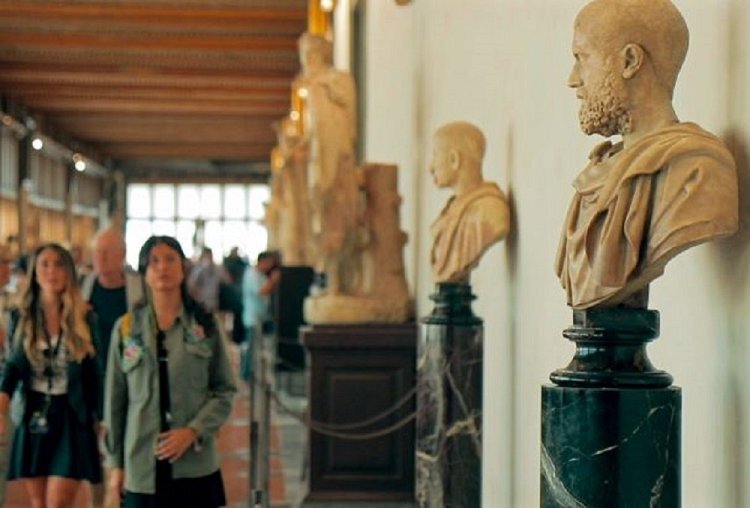 Uffizi guided tour
---
Eine unvergessliche Reise
Museum
Dieses Museum gehört zu den Hauptattraktionen in Florenz dank seiner tausenden unschätzbaren Kunstwerken, die eine Zeitspanne von fast fünf Jahrhunderten abdecken.
Geschichte
Als Cosimo I de' Medici seine Residenz in den Palazzo Vecchio verlegte, befahl er alle administrativen und juristischen Räume zu leeren und beauftragte zwischen 1560 und 1570 Giorgio Vasari einen angemessenen Sitz für ihn zu erbauen (in der Tat trägt das Museum den Namen des eigentlichen Zieles). 1565 baute er auch einen Korridor (der berühmten Vasari Korridor), der den Palazzo Vecchio mit dem Palazzo Pitti verband.
Sammlungen
1574 wurde das erste Stockwerk des Gebäudes nach dem Willen von Francesco I de' Medici in eine Kunstsammlung verwandelt. Er beauftragte Buontalenti mit dieser Aufgabe, der später auch das "Tribuna" realisiert, in dem die Schätze der Medici aufbewahrt werden, sowie das Medici Theater. Ein wichtiges Datum für die Galerie war das Jahr 1737, in dem Anna Maria Luisa de' Medici die "Convenzione" festsetzte, dass alle Werke, die mit Florenz verbunden waren, hier aufbewahrt werden sollten. Sogar unter der Herrschaft der Lorena wurde das Museum durch Werke aus allen Perioden und jeglicher Herkunft angereichert und wurde so zu der wichtigsten Kunstgalerie von Italien.
Meisterwerke
Florentinische Maler: Giotto, Masaccio, Michelangelo, Paolo Uccello, Cimabue, Leonardo da Vinci, Filippo Lippi, Sandro Botticelli, Pontormo, Rosso Fiorentino.
Italienische Maler: Gentile da Fabriano, Piero della Francesca, Duccio di Buoninsegna, Raffaello, Tiziano, Caravaggio, Simone Martini, Perugino, Tintoretto, Veronese, Canaletto.
Europäische Maler: El Greco, Rubens, Rembrandt, Hugo Van der Goes, Hans Memling, Lucas Cranach, Albrecht Dürer.
Bedeutende Werke:
Michelangelo, Tondo Doni, ca. 1506
Botticelli, Der Frühling,ca. 1482
Botticelli, Die Geburt der Venus, ca. 1484
Leonardo da Vinci, Verkündigung, ca. 1475
Tiziano, Venus von Urbino, 1538
Raphael, Porträt von Leo X, ca. 1518
Caravaggio, Bacchus, ca. 1597
Was ist enthalten
Eingang mit vorrangigem Zugang
Lokaler, offiziell autorisierter Fremdenführer
Reservierungsgebühren
Zugang zu temporären Ausstellungen
Flüstersystem (im Preis inbegriffen für Gruppen mit mehr als 12 Personen)
Verfügbare Optionen
Folgende Optionen können zusätzlich zu den Tickets in der geführten Buchung auf dieser Website erworben werden.
Leitfaden: verfügbar in Italienisch, Englisch, Französisch, Deutsch, Spanisch und Japanisch
Preisreduktionen
Ermäßigte Eintrittskarten:
Kinder zwischen 6 und 12 Jahren (gültiger Ausweis wird am Eingang benötigt)
Freikarten:
Kleinkinder zwischen 0 und 5 Jahren (gültiger Ausweis wird am Eingang benötigt)
MEETING POINT
BOOKING OFFICE, Piazza Mentana 2red FIRENZE (opposite the Arno River)
Erinnern
Die tour ist nur in ENGLISCH geführt
Der Treffpunkt ist an der Piazza della Repubblica (unter den Arkaden)- Der Treffpunkt ist an der Piazza della Repubblica (unter den Arkaden)
Die Tickets werden Ihnen per E-Mail innerhalb von 24-48 Stunden nach dem Kauf (an Wochentagen) mit allen notwendigen Anfahrtsbeschreibungen zuschickt
Wir informieren Sie, dass das Datum und die Uhrzeit nach der Buchung verbindlich sind. Bitte kommen Sie 15 Minuten vor der Startzeit am Treffpunkt an.
Big bags, large umbrellas and liquid bottles are not allowed inside the museum.
Please note that even with a skip the line ticket, the security check at the entrance of the museum may cause some delays.
---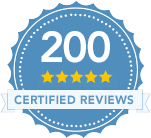 What means?
118 Reviews

United Kingdom
1 year ago
Tamsin
"Frederica was an excellent guide. Funny, insightful, patient, flexible and obviously passionate about art. Thank you!"

United States
5 years ago
Andre
"Francesco was outstanding! Extremely knowledgeable and more than willing to answer additional questions. Right on time, friendly, and generally top notch. Highly recommend!"

United States
5 years ago
Brian
"Was worth every penny .... a great tour. Thank you"

United Kingdom
5 years ago
Alexandra
"Great tour, really helped us appreciate the works of art"

India
5 years ago
Yamini
"Ornella was an amazing guide. Mind blowing experience. "

United States
5 years ago
Carmen
"We had a lovely tour. It was just the right amount of time and in a small group. So helpful to have someone guide us through and know so much about the art and the history of the art periods. I would highly recommend this tour! Grazie! "

Chile
5 years ago
Sergio
"Francesco, the guide, was great. He took us to the best of UFFIZI showing his knowledge in every painting, painter and every place of the museum. Great experience. Thank you ver much. "

United States
5 years ago
Nancy
"Great guide who knew his art history and was accommodating to my friend who had mobility issues"

United States
5 years ago
Tamara
"Thank you so much for calling us when we didn't arrive on time. Our trip to Italy was canceled due to a serious illness of my 98 year old mother in law. We would love to be able to use our tickets for a private tour of Uffizi this spring when we reschedule our trip. Thank you so very mych for your kind call. Warmest regards, Tamara and John Frank"

United States
5 years ago
Franco
"Loved the small group. Our Guide was excellent and knowledgeable! "

Australia
5 years ago
Susan
"Francesco our guide was great; he was very informative, interesting, up=to=date, generous in his responses to our questions and comments, and the selection of art works and the timing of it all was great. We found the traffic flow difficult when we stayed afterwards and think it could be improved in the Uffizi."

Australia
5 years ago
Meriza
"We had an amazing tour of the Uffizi Gallery. Our guide was Leonardo who shared his incredible knowledge about the paintings, the artists and the history relating to the paintings and sculptures. So much to see but Leonardo was able to take us to the most significant works and succinctly describe the meaning and techniques used by the pre-eminent artists of the time. Thanks Leonardo for a most memorable experience ! "

United States
5 years ago
Jeffrey
"Great tour, very knowledgeable guide. "

United States
5 years ago
Kelley
"Lea was our guide and she was knowledgeable and courteous. She gave us so much interesting information that I was left wanting to learn more, not only about art but about the history behind the art as well. Worth every penny!"

United States
6 years ago
Stephen
"It was great!"

United Kingdom
6 years ago
David
"I have no problem giving a recommendation. Our guide arrived on time, the group was small as promised, and the audio worked well. Our guide (Francesco) was very knowledgeable, explained things in detail about the paintings, and answered all questions we put to him. His English was also very good. Although the cost of a guided tour may seem high I thought it was worth it for the extra understanding you get in a once in a lifetime visit."

United Kingdom
6 years ago
Trevor
"A wonderful experience (despite the enormous crowds)! Our Guide Andrea was brilliant so knowledgeable, and enthusiastic, but still with a sense of humour. We learned so much about the important paintings that we simply would not have noticed for ourselves. Not to be missed but try to get on a group led by Andrea !!!!!!!"

United States
6 years ago
Charlene
"The guide was extremely knowledgeable and easily understandable. "

United Kingdom
6 years ago
Steve
"I want to give a big thank you to our guide, Francesca. My wife was taken ill at the start of the tour, but Francesca managed to look after her, park us somewhere safe, and continue to run the tour while still occasionally checking we were OK. Meanwhile, my two teenage boys continued as part of the tour party and thoroughly enjoyed it. Excellent work all round Francesca, thanks again!"

United States
6 years ago
Michael
"Excellent tour . Our guide, Francesco, was amazing! The depth of his knowledge was quite impressive. "