Duur: 1 uur en 30 min
Prioritaire toegang
Foto's zonder flits
Audiogids beschikbaar
Toegankelijk
Wat te verwachten
Rondleiding met professionele gids
Sla de wachtrij over en verspil geen tijd
Bezichtig de beroemde David van Michelangelo, zijn Vier Slaven en de Heilige Mattheus
Blijf in het museum zolang u wilt na afloop van de rondleiding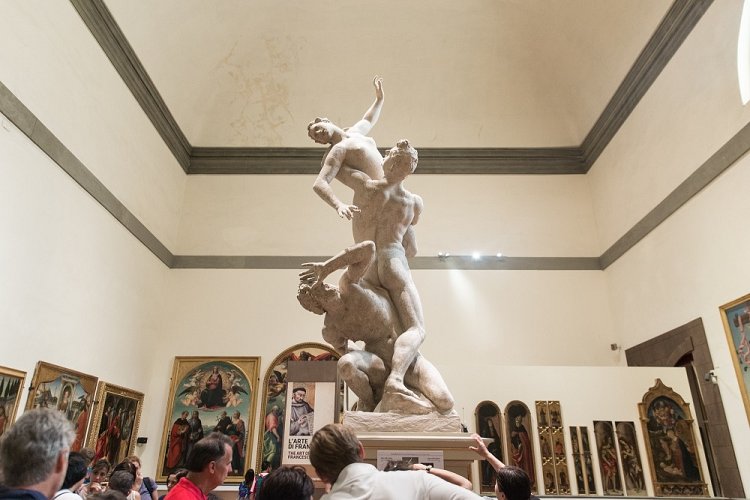 1 hour with David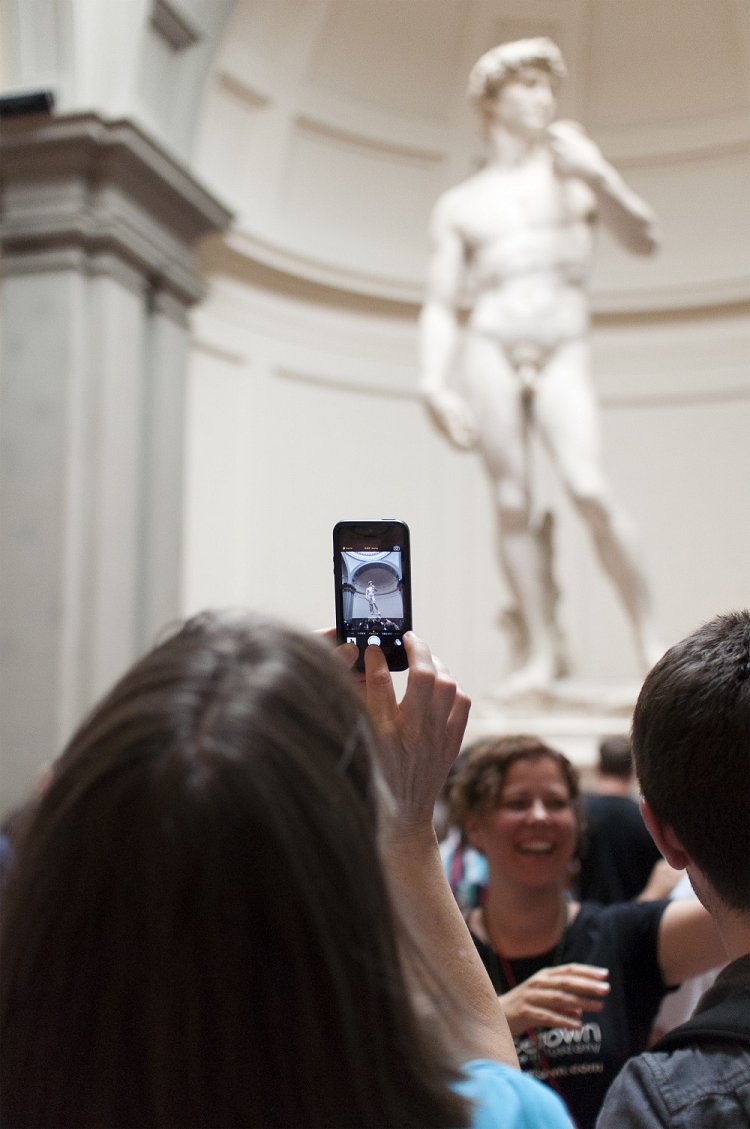 1 hour with David
---
Niet alleen Michelangelo...
Geschiedenis
De groothertog Peter Leopoldo van Lotharingen creëerde in 1784 de Kunstacademie, gebruik makende van het San Matteo ziekenhuis en het klooster San Nicola di Cafaggio; hiernaast werd ook de Accademia galerij gesticht: een museum opgericht om kunstwerken als lesmateriaal voor de kunstenaars aan te bieden. Tijdens de eeuwen erna heeft het verschillende veranderingen ondergaan om uiteindelijk het huidige museum te worden wat voornamelijk gewijd is aan Michelangelo.
Collecties
Aan de basis van de oorspronkelijke kunstwerken werden andere oude werken toegevoegd in de achttiende eeuw na het sluiten van kerken en kloosters in opdracht van groothertog Peter Leopoldo en in 1810 door Napoleon. In 1872 werd de David van Michelangelo van het Signoria plein naar een ruimte,genaamd Tribuna, in dit museum verplaatst. In 1906 werd ook de San Matteo en in 1909 de vier beeldhouwwerken van de Slaven, afkomstig uit de grot van Buontalenti in de Boboli tuinen, hierheen verplaatst. In het museum is ook een collectie gipsen modellen te vinden van Lorenzo Bartolini en een afdeling gewijd aan oude muziekinstrumenten. Erg opzienbarend zijn ook een aantal schilderijen op houten panelen van Florentijnse kunstenaars uit de dertiende tot de zestiende eeuw en de groep Russische ikonen.
Meesterwerken
Michelangelo, David, 1501-1504, van Piazza della Signoria
Michelangelo, Vier Slaven, 1530 ongeveer, van de grot van Buontalenti in de Boboli tuin, gemaakt voor de graftombe van paus Julius II
Michelangelo, San Matteo, 1505-1506, van de Florentijnse kathedraal
Michelangelo (toegeschreven), Pietà, uit de kerk St. Rosalia in Palestrina (Rome)
Giambologna, gipsen model van de Sabijnse maagdenroof, 1582
Schilderijen van Taddeo Gaddi, Bernardo Daddi, Pacino di Bonaguida, Sandro Botticelli, Pietro Perugino, Andrea Orcagna, Lorenzo Monaco, Giovanni da Milano, Andrea del Sarto, Pontormo, Lo Scheggia, Filippino Lippi, Fra' Bartolomeo, Agnolo Bronzino, Alessandro Allori, Santi di Tito.
Inbegrepen
Entree met toegang prioriteit
Officiëel goedgekeurdde lokale gids
Na de rondleiding, en binnen blijven zo lang als je wilt
Boekingskosten
Toegang tot de tijdelijke tentoonstellingen
Whisper systeem (alleen inbegrepen voor groepen groter dan 12 personen)
Prijsverlagingen
Gereduceerd/ half tarief:
Kinderen tussen 6 en 12 jaar (geldig identiteitsbewijs nodig bij de ingang)
Gratis Ticket:
Baby's tussen 0 en 5 jaar oud (geldig identiteitsbewijs nodig bij de ingang)
MEETING POINT
Accademia Ticket Office - Via Ricasoli, 58/60 (Florence)
Om te onthouden
De tour is alleen beschikbaar in het Engels
The meeting point is located in Piazza della Repubblica at the corner with Via Pellicceria (right at the KIOSK – TOURS & NEWS STAND under the arches, on the left of the APPLE STORE) - Florence
Tickets will be sent via e-mail within 24-48 hours after purchase (weekdays) with all the instructions on how to get to the meeting point
We inform you that, once booked, the date and time selected are binding. Please arrive at the meeting point 15 minutes before the starting time.
Big bags, large umbrellas and liquid bottles are not allowed inside the museum.
Please note that even with a skip the line ticket, the security check at the entrance of the museum may cause some delays.
---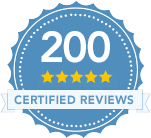 What means?
38 Reviews

United States
6 years ago
Brandon
"Our tour was so wonderful! My husband and I are on our honeymoon and have done multiple tours since we arrived in Italy and this was the first one where it was just the guide and us. We learned so much and were able to ask questions since it was just us. Highly recommend even if there are a few more people with your group!"

United States
6 years ago
Stephen
"It was great!"

United States
6 years ago
Cathy
"We had the most wonderful guide who gave us such interesting and fun information. She made me want to take an art history class. Thank you Helma. "

Canada
6 years ago
Kevin
"Flavia was amazing. Very friendly and found us outside the museum as soon as we arrived. Very informative and comfortable to be with. Would definitely have Flavia as a guide again. "

United Kingdom
6 years ago
Miguel
"Very happy with our choice. Our guide was superb."

United States
6 years ago
Fred
"Splendid tour guide ..staff allowed us to join the tour in progress after arriving 15 minutes late... Thank you!!"

United Kingdom
6 years ago
David
"A very knowledgeable guide Flavia concentrated on the essentials and made the tour both informative and interesting. "

Canada
6 years ago
Valerie
"We had a small group of 6 with an entry time at 12:30. Our tour experience was excellent! Our guide is very knowledgeable and he highlights the art pieces and significance along the way and spends more time at the David sculpture, where we looked all around and paid a lot of attention to the details. Defining recommend this tour."

United Kingdom
6 years ago
Steve
"Thanks Francesco, a wonderful tour round the Accademia. You really helped us understand the wonderful art on display."

United States
6 years ago
Jeff
"Our guide, Giana, was the best guide we have ever had, She was informative and charming the entire tour. We would love to have her for any tour if she is available."

Canada
6 years ago
Thaia
"Very informative! Flavia was kind and answered all questions. Her passion for the art and the history made this tour fabulous! "

United States
6 years ago
Stephen
"Francesca was amazing- informative, funny and pleasant "

United Kingdom
6 years ago
Lesley
"Informative and very enthusiastic guide. Statue of David amazing sight to see "

United States
6 years ago
Lilliam
"Our guide was very patient and extremely thorough and knowledgeable. Great tour!"

United Kingdom
6 years ago
Russell
"Fabulous: a group of 4 with an informative and interesting guide."

United Kingdom
6 years ago
Linda
"An excellent guided tour of the highlights of the Accademia conducted with great knowledge and passion. We would particularly recommend this to first time visitors such as ourselves. Linda Jones and Allan Shaw"

Singapore
6 years ago
Wayne
"Our Guide ,Lia was great, very knowledgeable and conducted a well paced tour. "

United States
6 years ago
Alan
"Excellent guide."

United States
6 years ago
Tom
"What a treat to go on a tour with Flavia. Very knowledgeable great storyteller and kind and engaging to all of us. Being with her was the highlight of the day. It made our visit fascinating. Thank you so much"

United States
6 years ago
Ashley
"Great tour! Buy tickets ahead of time to avoid the line "