Validity: 1 day
Mobile ticket
Priority access
Photos allowed
Audioguide available
Accessible
What to expect
See the largest imperial baths, caldarium, tepidarium and natatio, with ancient mosaics and decorations.
Skip the line and don't waste you time
Stay in the complex how long you want
In the baths of ancient Rome
Museum
The Caracalla Baths are one of the largest and best preserved ancient thermal complex, built during the Roman Empire.
History
Caracalla built the once known as Thermae Antonianae in 216 AD, in rectangular shape, typical of the imperial baths.
The building has 4 access doors on the north-east. On the central avenue of the baths are in sequence calidarium, tepidarium, frigidarium and natatio; to the side two gyms and other environments are symmetrically arranged.
A special branch of the Aqua Marcia aqueduct, Acqua Anthonys in fact, was built specifically to supply the Baths of Caracalla.
The thermal complex, restored several times over the course of the empire, was finally closed in 537 AD.
Collections
The baths in the Roman Empire were not only intended to swimming and body care, but they were places where they carried out other activities, like study and conversation maybe during the walk in the sumptuous avenues of the complex.
That's why the baths were increasingly constructed as real luxury and comfortable buildings, plenty of space. Some manuscripts found tell of huge columns and marble walls, as well as the pavement in colored oriental marble, rich mosaics, detailed decorations, painted stucco and hundreds of colossal statues and groups, were in all environments, both in the niches of the walls that in the roads, both in the most important halls and gardens.
Masterpieces
The calidarium, tepidarium, frigidarium and natatio of the imperial baths.
Rich mosaics, stucco work and decorations.
Statues of the classical Roman
What is included
Entrance with priority access
Full-time and stay much as you want
Reservation fees
Access to temporary exhibitions
Available options
The following options can be purchased in addition to the tickets in the booking Wizard on this website.
Audioguide: available in Italian, English, French, Spanish, German, Japanese
Price reductions
Reduced/Half Ticket:
EU citizens between 18 and 25 years old (valid identity document needed at the entrance)
Free Ticket (it is still required to pay the presale to skip the line) :
EU citizens under 18 years old (valid identity document needed at the entrance)

Temporary and permanent teachers of Italian public and private schools equipped with the appropriate documentation issued by MIUR

Any handicapped person accompanied by the certificate of disability and the escort
To remember
The ticket is valid all day until closing time of the complex starting from entrance time.

The entrance time written on the tickets may be subject to small changes depending on the actual availability of the complex.

For a satisfying experience it is recommended to reserve at least 1 hour and half to visit the complex.

The tickets will be sent via email within 24-48 hours after purchase (on weekdays) with instructions on how to get there and what to do to enter.

We inform you that, once booked, the date and time selected are binding. Please pick up your ticket at least 15 minutes before the reserved entrance. Who does not respect the time booked will not enter. To pick up the audio guide, you will need a valid ID.

The complex has a maximum capacity of people, in some periods of the year or special days you may experience short delays or waits not dependent on the complex or Italy Tickets.
---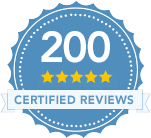 What means?
10 Reviews

Spain
6 years ago
Alberto
"Grata sorpresa. Visita muy interesante y cómoda. Poca gente para el estándar de Roma. "

United States
6 years ago
Robin
"Truly impressive place! Gives a great scale to the size of an Ancient Roman bath house."

United States
7 years ago
Margarita
"Very interesting to see history in front of your eyes. It was a great experience!"

France
7 years ago
Yves
"Merci tout etait parfait"

France
7 years ago
François
"Bravo tout était parfait nous avons gagnés beaucoup de temps pour les visites"

France
7 years ago
Stephane
"Beaucoup moins de monde que pour les sites plus connus de Rome, mais une visite magnifique. Nous recommandons vivement ! Le service de réservation est pratique."

France
7 years ago
Mégane
"Nous avons visités les thermes le dimanche 17 juillet visites très agréable sans bain de foules. Les vestiges des thermes sont splendides, nous nous mettons à rêver de cette époque lointaine. Une reconstitution photo par endroit et lieux pourrait être agréable pour pouvoir se plonger plus facilement dans les pièces. Tres belle visite, nous la recommandons! Mégane & Félix "

South Africa
7 years ago
Sabine
"Caracalla Baths is a hidden gem. after the manic busyness of all the famous sites in Rome, this quiet gem was a wonderful antidote. The ruins are impressive, the audio narrative very informative and the gardens beautiful. Don't miss it."

France
7 years ago
Nat
"superbe lieu à ne surtout pas manquer lors de la visite de Rome. Impressionnant et rempli de surprises "

France
7 years ago
Virginie
"Site historique vraiment sublime et très intéressant ! On peut y pic-niquer c'est très sympa. Par contre je déconseille de prendre les tickets en avance sur internet car c'est finalement plus cher et sans grande nécessité car c'est une visite beaucoup moins connue que le Colisée par exemple, nous n'avons eu aucune attente !!! "