Duração: 2 h e 30 min
Acesso prioritário
Fotos sem flash
Guia de Áudio disponível
Acesso para Cadeiras de Rodas
O Que Esperar da Atividade
Visita com um guia profissional
Evite a fila e não desperdice seu tempo
Admire obras-primas famosas como a Sagrada Família de Michelangelo, o Nascimento de Vênus e a Primavera de Botticelli
Permaneça no museu quanto quiser depois da visita guiada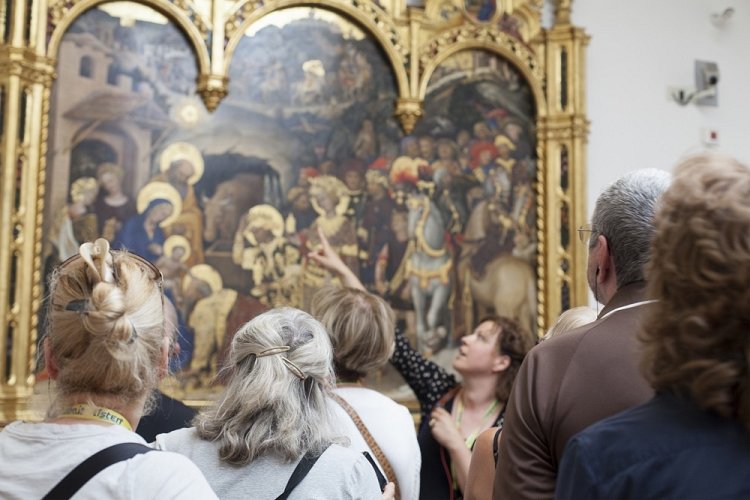 Uffizi guided tour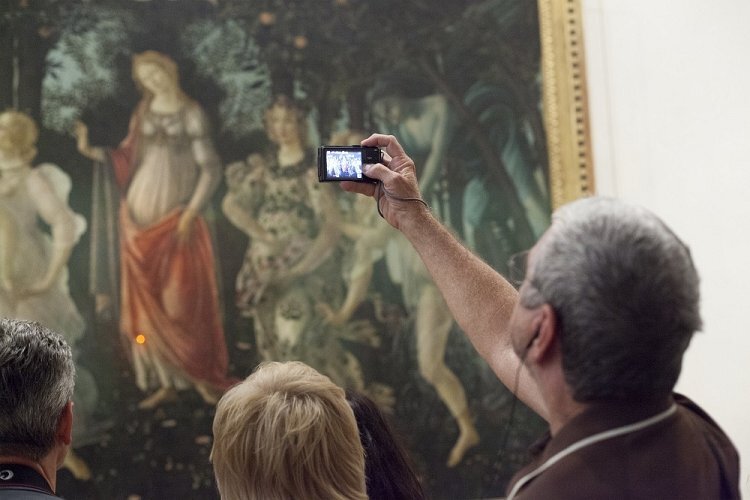 Uffizi guided tour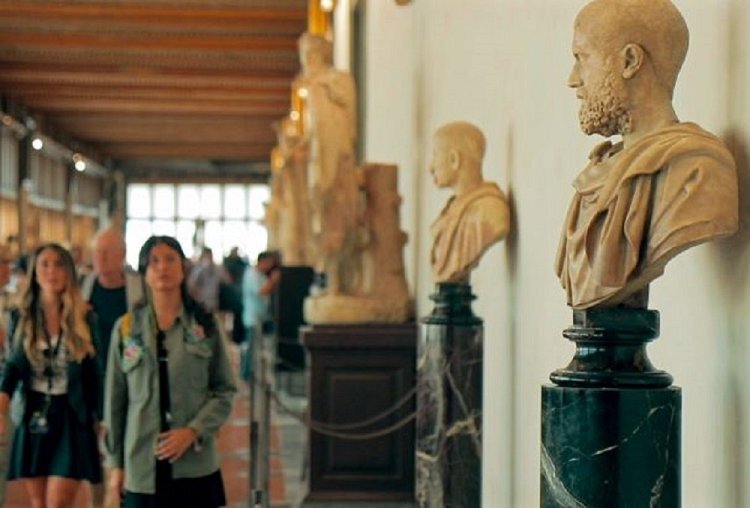 Uffizi guided tour
---
Uma viagem inesquecível
Museu
Este museu é uma das principais atrações de Florença, com as suas milhares de obras de arte de inestimável valor que abrangem um período de mais ou menos cinco séculos.
História
Quando Cosimo I de' Medici transferìu a sua residência para o Palácio Vecchio, ordenou desocupar os escritórios administrativos e judiciários e entre 1560 e 1570 encarregou Giorgio Vasari a construção de um edifício adaptado para obrigá-los (de fato o museu toma o nome da sua destinação originária); em 1565 construiu também um corredor (o famoso Corredor Vasariano) que unia o Palácio Vecchio ao Palácio Pitti.
Coleções
Em 1574 o primeiro andar deste edifício foi transformado em uma galeria de obras de arte a mando de Francesco I de' Medici, que encomendou os trablhos a Buontalenti que mais tarde realizou também a "Tribuna" para abrigar os tesouros dos Medici, e o Teatro dos Medici. Data importante para a galeria é 1737, quando Anna Maria Luisa de' Medici estipulou a "Convenção" com a qual todas as obras aqui contidas, foram indissoluvelmente legadas à cidade de Florença. Também sob a dinastia dos Lorena, o Museu foi enriquecido com obras de cada período e origem até criar a que hoje é a mais importante Galeria de arte da Itália.
Obras-primas
Pintores florentinos: Giotto, Masaccio, Michelangelo, Paolo Uccello, Cimabue, Leonardo da Vinci, Filippo Lippi, Sandro Botticelli, Pontormo, Rosso Fiorentino.
Pintores italianos: Gentile da Fabriano, Piero della Francesca, Duccio di Buoninsegna, Raffaello, Tiziano, Caravaggio, Simone Martini, Perugino, Tintoretto, Veronese, Canaletto.
Pintores uuropeus: El Greco, Rubens, Rembrandt, Hugo Van der Goes, Hans Memling, Lucas Cranach, Albrecht Dürer.
Obras-primas absolutas:
Michelangelo, Tondo Doni, 1506 c.
Botticelli, A Primavera, 1482 c.
Botticelli, O Nascimento de Vênus, 1484 c.
Leonardo da Vinci, Anunciação, 1475 c.
Tiziano, Vênus de Urbino, 1538
Raffaello, Retrato de Leone X, 1518 c.
Caravaggio, Baco, 1597 c.
Incluído
Entrada com acesso prioritário
Guia local oficialmente autorizado
Taxas de reserva
Acesso a exposições temporárias
Sistema auricular (incluído só para grupos superiores a 12 pessoas)
Opções disponíveis
As seguintes opções podem ser adquiridas além dos ingressos na reserva guiada neste site.
Guia de papel: disponível em Italiano, Inglês, Francês, Alemão, Espanhol e Japonês
Reduções de preços
Bilhete Reduzido:
Crianças entre 6 e 12 anos (apresentar documento de identidade na entrada)
Bilhete Gratuito:
Bebês entre 0 e 5 anos de idade (apresentar documento de identidade na entrada)
MEETING POINT
BOOKING OFFICE, Piazza Mentana 2red FIRENZE (opposite the Arno River)
Lembrar
The tour is conducted only in ENGLISH
The meeting point is located in Piazza della Repubblica at the corner with Via Pellicceria (right at the KIOSK – TOURS & NEWS STAND under the arches, on the left of the APPLE STORE) - Florence
Tickets will be sent via e-mail within 24-48 hours after purchase (weekdays) with all the instructions on how to get to the meeting point
We inform you that, once booked, the date and time selected are binding. Please arrive at the meeting point 15 minutes before the starting time.
Big bags, large umbrellas and liquid bottles are not allowed inside the museum.
Please note that even with a skip the line ticket, the security check at the entrance of the museum may cause some delays.
---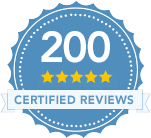 What means?
118 Reviews

United Kingdom
1 year ago
Tamsin
"Frederica was an excellent guide. Funny, insightful, patient, flexible and obviously passionate about art. Thank you!"

United States
5 years ago
Andre
"Francesco was outstanding! Extremely knowledgeable and more than willing to answer additional questions. Right on time, friendly, and generally top notch. Highly recommend!"

United States
5 years ago
Brian
"Was worth every penny .... a great tour. Thank you"

United Kingdom
5 years ago
Alexandra
"Great tour, really helped us appreciate the works of art"

India
5 years ago
Yamini
"Ornella was an amazing guide. Mind blowing experience. "

United States
5 years ago
Carmen
"We had a lovely tour. It was just the right amount of time and in a small group. So helpful to have someone guide us through and know so much about the art and the history of the art periods. I would highly recommend this tour! Grazie! "

Chile
5 years ago
Sergio
"Francesco, the guide, was great. He took us to the best of UFFIZI showing his knowledge in every painting, painter and every place of the museum. Great experience. Thank you ver much. "

United States
5 years ago
Nancy
"Great guide who knew his art history and was accommodating to my friend who had mobility issues"

United States
5 years ago
Tamara
"Thank you so much for calling us when we didn't arrive on time. Our trip to Italy was canceled due to a serious illness of my 98 year old mother in law. We would love to be able to use our tickets for a private tour of Uffizi this spring when we reschedule our trip. Thank you so very mych for your kind call. Warmest regards, Tamara and John Frank"

United States
5 years ago
Franco
"Loved the small group. Our Guide was excellent and knowledgeable! "

Australia
5 years ago
Susan
"Francesco our guide was great; he was very informative, interesting, up=to=date, generous in his responses to our questions and comments, and the selection of art works and the timing of it all was great. We found the traffic flow difficult when we stayed afterwards and think it could be improved in the Uffizi."

Australia
5 years ago
Meriza
"We had an amazing tour of the Uffizi Gallery. Our guide was Leonardo who shared his incredible knowledge about the paintings, the artists and the history relating to the paintings and sculptures. So much to see but Leonardo was able to take us to the most significant works and succinctly describe the meaning and techniques used by the pre-eminent artists of the time. Thanks Leonardo for a most memorable experience ! "

United States
5 years ago
Jeffrey
"Great tour, very knowledgeable guide. "

United States
5 years ago
Kelley
"Lea was our guide and she was knowledgeable and courteous. She gave us so much interesting information that I was left wanting to learn more, not only about art but about the history behind the art as well. Worth every penny!"

United States
5 years ago
Stephen
"It was great!"

United Kingdom
6 years ago
David
"I have no problem giving a recommendation. Our guide arrived on time, the group was small as promised, and the audio worked well. Our guide (Francesco) was very knowledgeable, explained things in detail about the paintings, and answered all questions we put to him. His English was also very good. Although the cost of a guided tour may seem high I thought it was worth it for the extra understanding you get in a once in a lifetime visit."

United Kingdom
6 years ago
Trevor
"A wonderful experience (despite the enormous crowds)! Our Guide Andrea was brilliant so knowledgeable, and enthusiastic, but still with a sense of humour. We learned so much about the important paintings that we simply would not have noticed for ourselves. Not to be missed but try to get on a group led by Andrea !!!!!!!"

United States
6 years ago
Charlene
"The guide was extremely knowledgeable and easily understandable. "

United Kingdom
6 years ago
Steve
"I want to give a big thank you to our guide, Francesca. My wife was taken ill at the start of the tour, but Francesca managed to look after her, park us somewhere safe, and continue to run the tour while still occasionally checking we were OK. Meanwhile, my two teenage boys continued as part of the tour party and thoroughly enjoyed it. Excellent work all round Francesca, thanks again!"

United States
6 years ago
Michael
"Excellent tour . Our guide, Francesco, was amazing! The depth of his knowledge was quite impressive. "